Make sure you use gluten-free sausages and pasta to make this recipe gluten-free.
Pre-order your copy on Amazon today.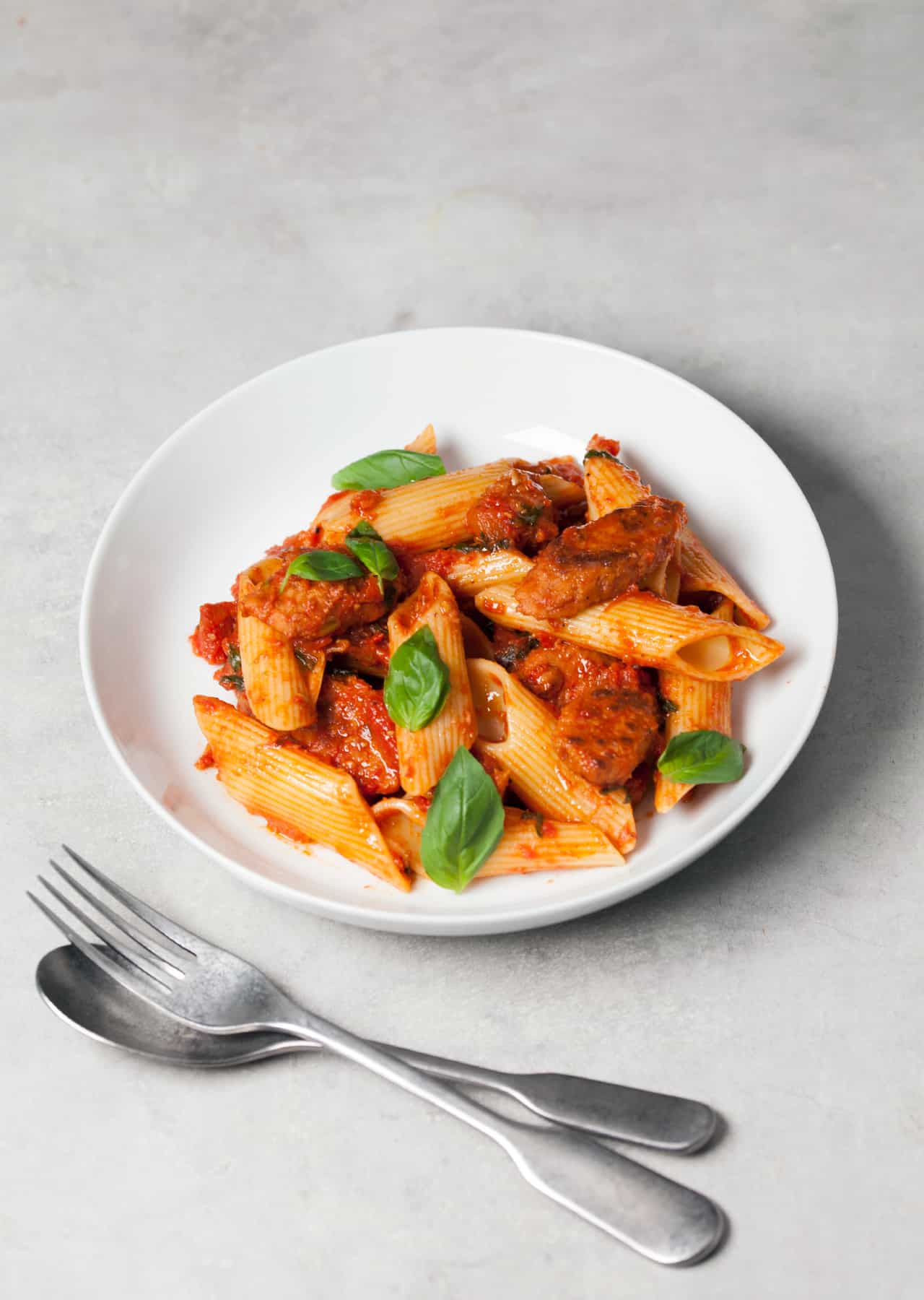 5-Ingredient Saucy Sausage Pasta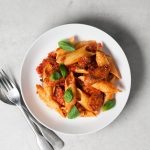 Roxy, So Vegan
The miso paste adds tons of depth and that comforting umami flavour.
Print This
Ingredients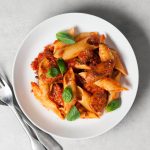 The 5 ingredients:
3 frozen vegan sausages (we use Linda McCartney plain sausages)

180g penne pasta

1 tbsp of brown rice miso paste

1 x 400g (14oz) tinned whole plum tomatoes

handful of fresh basil, plus extra for decorating
The cupboard essentials:
drizzle of olive oil

1 tsp of apple cider vinegar

pinch of pepper

pinch of salt

drizzle of extra virgin olive oil
Method
Leave the sausages out of the freezer to defrost or heat them in a microwave until soft.

Heat a drizzle of olive oil in a frying pan on a medium heat. Meanwhile, diagonally cut the sausages into 5mm thick slices, add them to the frying pan and fry for 10 minutes until the sausages are golden brown and crispy (turn them halfway through to make sure they're crispy on both sides).

Add the tinned tomatoes, miso paste and 1 tsp of apple cider vinegar to the pan. Then roughly chop the basil leaves and add them to the pan. Simmer for 10 minutes, leaving the tomatoes to break down by themselves into the sauce.

Meanwhile cook the pasta as per the packet instructions with a pinch of salt, then drain.

Season the sausage mixture with a generous pinch of black pepper and use the back of a wooden spoon to break down the tomatoes into the sauce. Then stir in the drained pasta until it's fully coated in the sauce.

Divide the sausage pasta between two serving bowls. Top with a drizzle of extra virgin olive oil (optional) and garnish with a few basil leaves.