The potato and cheese add an indulgently comforting touch, while the rosemary brings a lovely aroma to the bread.
We love using fresh rosemary in this recipe but fresh thyme and sage would work well too.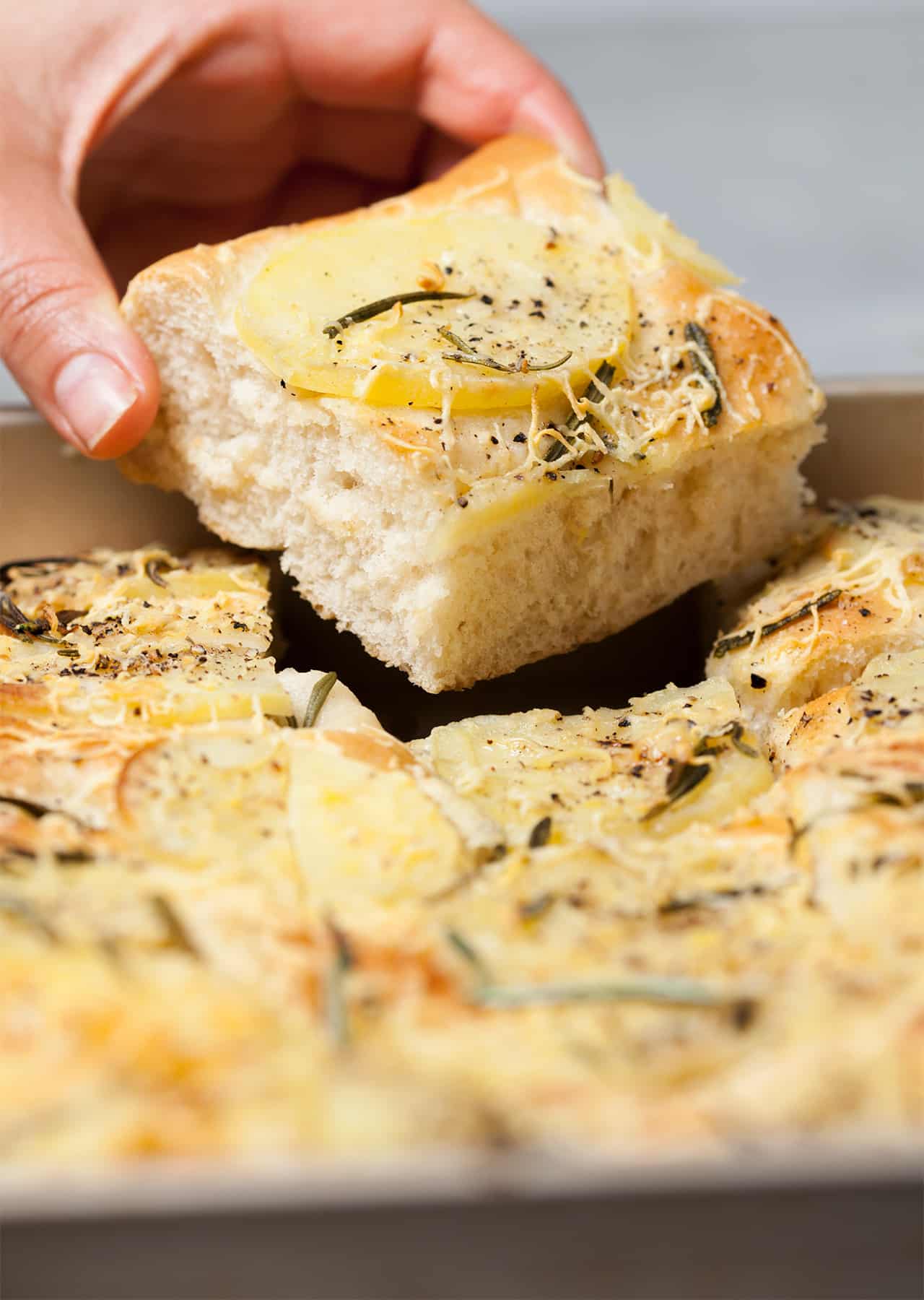 Ingredients
520 g (18.3 oz) strong white bread flour, plus extra for dusting

1/2 tbsp fast-action dried yeast

salt + pepper

olive oil

2 medium potatoes

2 sprigs of fresh rosemary, leaves picked

40 g (1.4 oz) vegan cheese
Method
Add the flour, yeast and 1 tsp of salt to a large mixing bowl, stir well to combine and make a well in the middle. Pour 3 tbsp of olive oil and 300 ml (10.1 fl.oz) of tepid water into the well and stir the mixture until it comes together, then transfer to a floured surface and knead the dough for 10 minutes. If the dough sticks to the surface, simply add pinches of more flour as you go.

Transfer the dough to a lightly oiled bowl and cover with a damp tea towel. Set aside to prove in a warm place for an hour or until the dough has double in size (this can take up to 2 hours).

Lightly oil a deep 30 cm x 20 cm (12" x 8") tray. Then transfer the dough to the tray and gently ease the dough into the edges and corners. Cover the dough with a damp tea towel and leave to prove for another 30 minutes.

Meanwhile peel and discard the skins of the potatoes, then slice into 3mm thick slices. Add the potato slices to a saucepan of cold water, bring to the boil, then immediately remove from the heat and drain. This will help soften the potatoes slightly so they cook fully in the oven. Set to one side while the dough finishes proving.

Preheat the oven to 200°C fan / 425°F.

Remove the tea towel from the dough and push your finger into the dough an inch or so apart at random intervals.

Then poke a few rosemary leaves at a time into the dough, distributing half of the rosemary evenly across the focaccia.

Cover the dough with the slices of potato, sprinkle over the remaining rosemary leaves, followed by a drizzle of olive oil and generous pinches of salt and pepper. Finally, grate the vegan cheese over the top.

Bake in oven for 20-25 minutes until golden brown.
Sprinkle with a little extra salt to serve and use a sharp bread knife to slice the bread into 9 squares.
Did You Make This Recipe?
Don't forget to share your SO VEGAN creations on Instagram and tag us at
@SOVEGAN
!