Big bowls of delicious plant-based food.
They're a thing of wonder.
This cauliflower taco bowl is a classic midweek meal in our household.
Quick, easy and packed with flavour.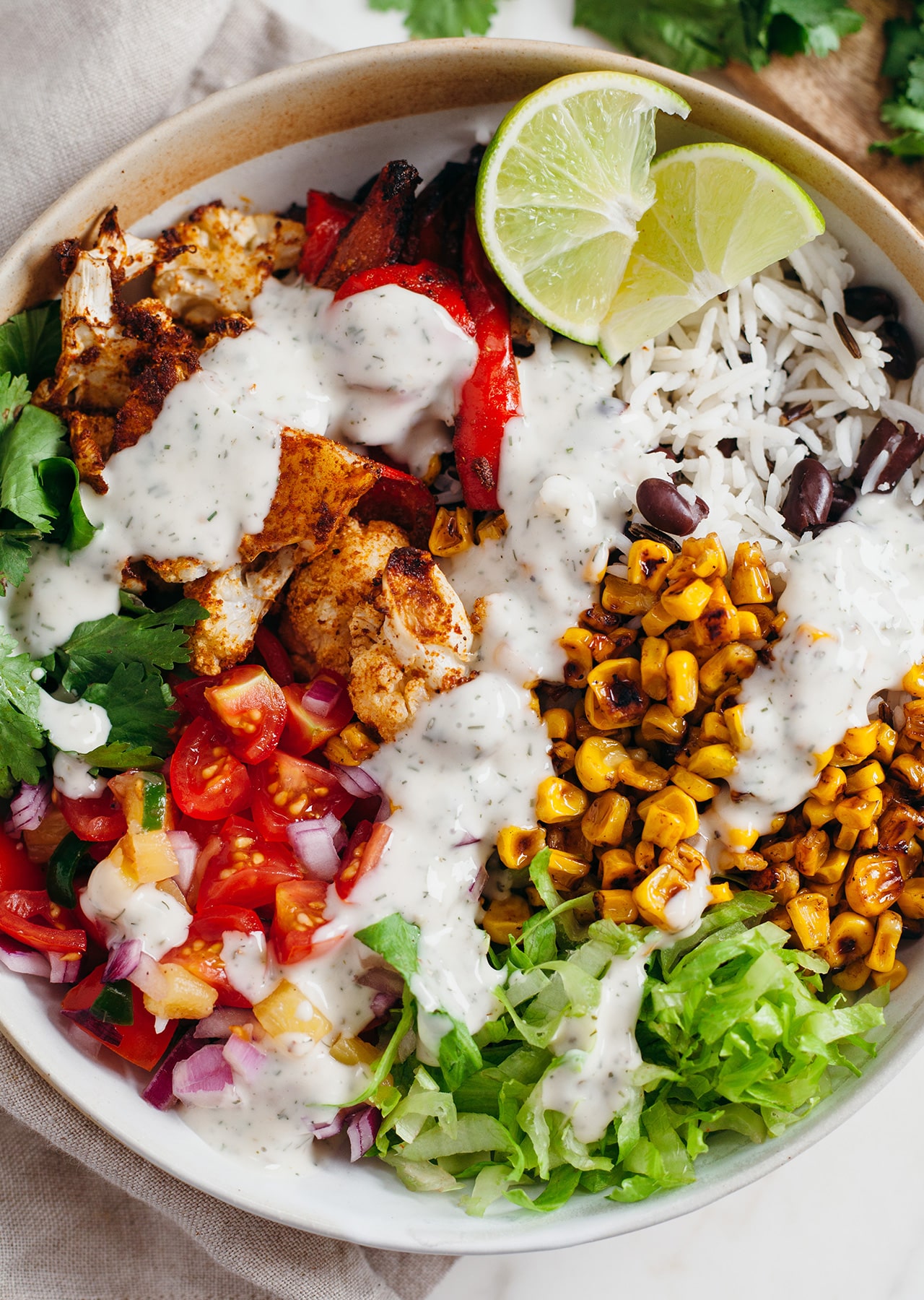 We make our own taco seasoning mix using everyday spices.
But you can speed things up even more using a pre-made mix from the supermarket.
The pineapple salsa is also a game-changer in this taco bowl. It adds a lovely sweetness to the dish.
We usually use tinned pineapple to keep things easy, unless of course we have a spare pineapple lying around!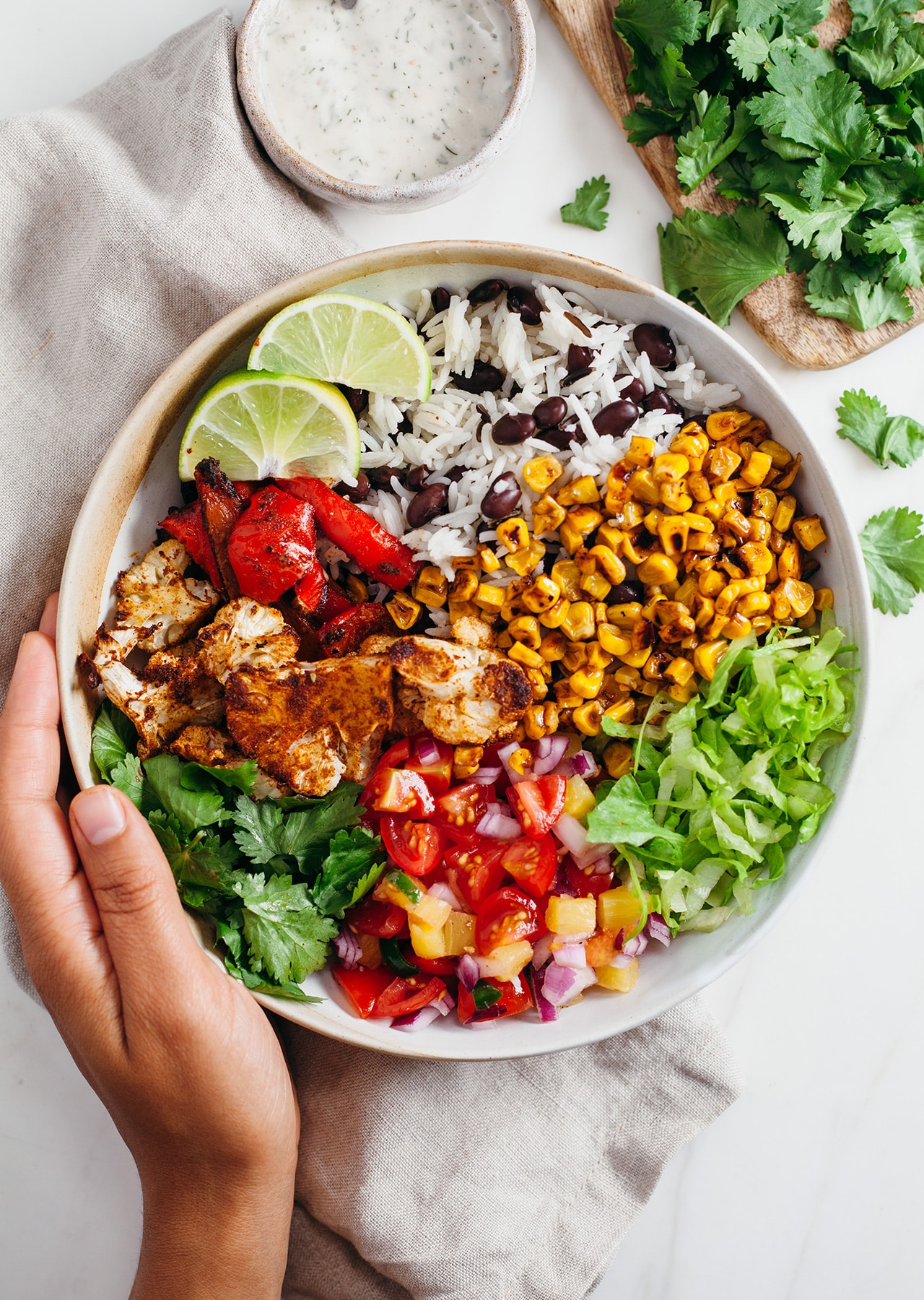 The charred sweetcorn is optional, but it does bring a wonderful roasted flavour to the bowl.
It's totally worth it.
Likewise you can experiment with different veggies and grains. Sometimes we use bulgur wheat for a simple twist.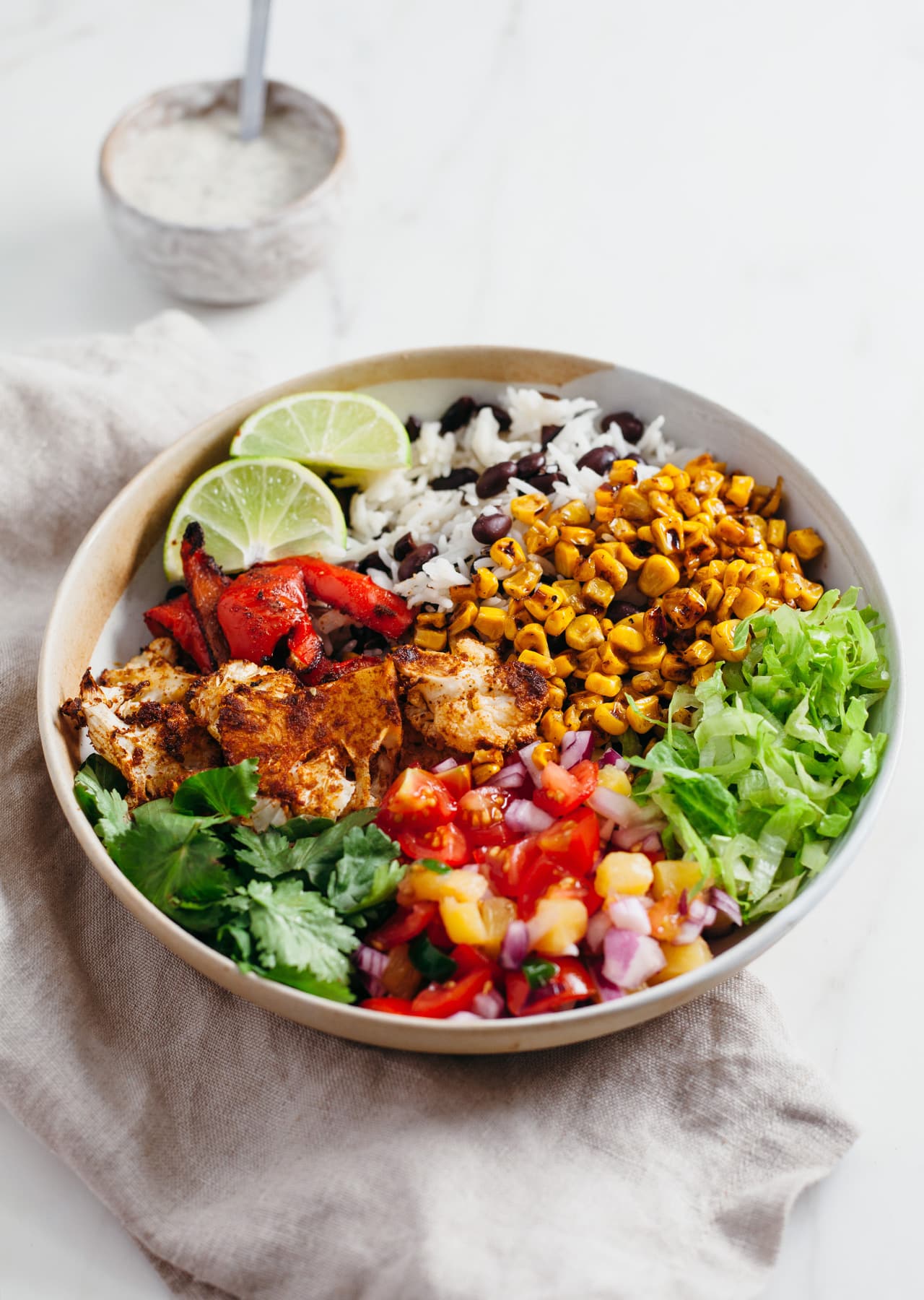 The ranch dressing recipe is super simple and you can store any leftovers in the fridge (in an air-tight container) for up to 5 days.
And did you know we have a cookbook? If you love this then you'll totally love our debut 5-ingredient cookbook So Vegan in 5, which is available to buy now.
Enjoy!
Roxy & Ben
Cauliflower Taco Bowl

Cauliflower Taco Bowl 😲 Did you know we have a cookbook? 👉 sovegan.co/cookbook

Posted by So Vegan on Tuesday, 10 September 2019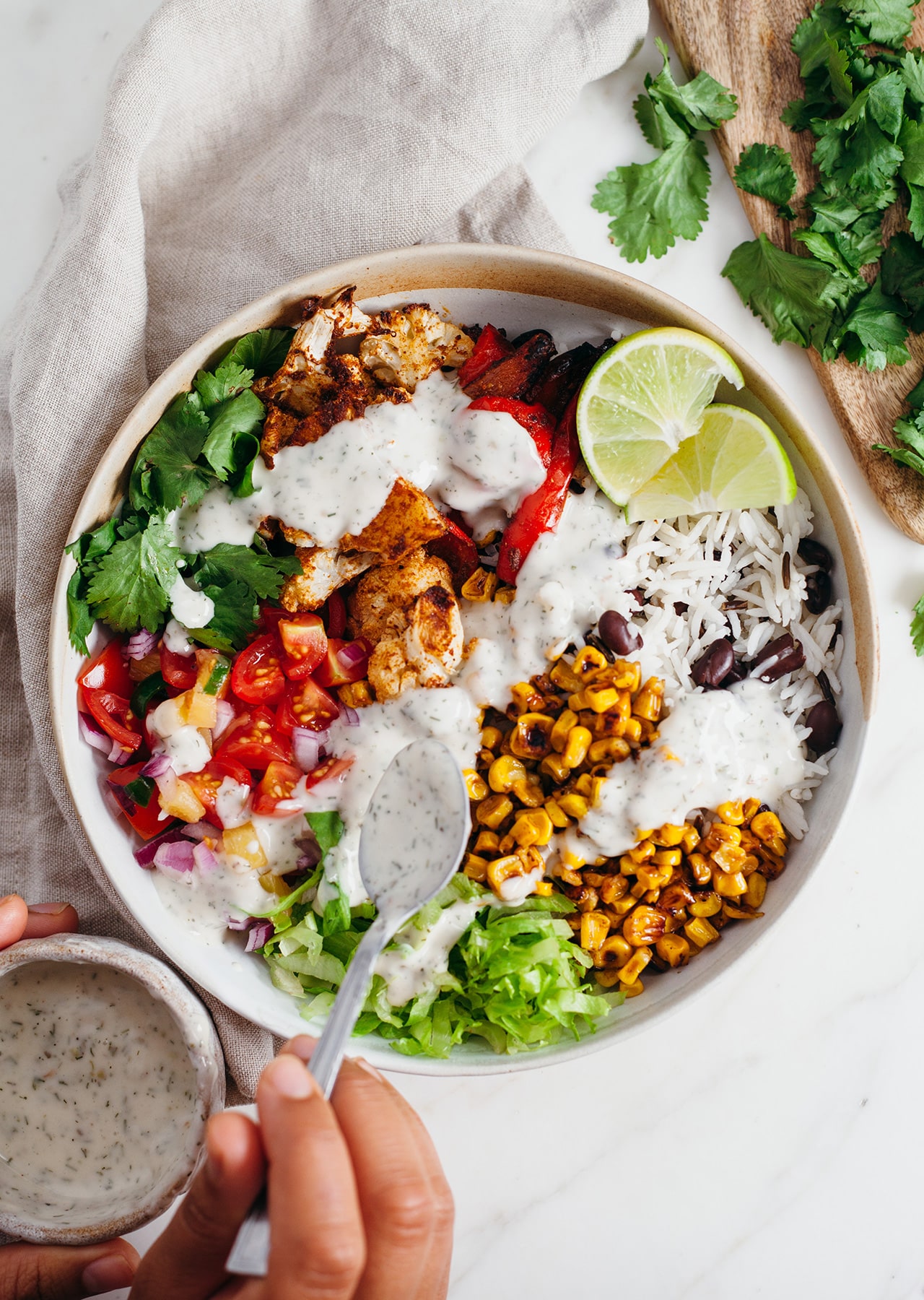 Cauliflower Taco Bowl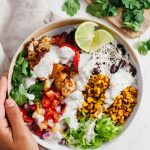 Roxy, So Vegan
Big bowls of delicious plant-based food. They're a thing of wonder. This cauliflower taco bowl is a classic midweek meal in our…
Print This
Ingredients
1/2 cauliflower 

1 red pepper

drizzle of vegetable oil

salt & pepper
For the salsa:
100g / 3.5oz tinned pineapple

1/2 red onion

150g / 5.3oz cherry tomatoes

1 green chilli

1 lime
To serve
2/3 cup basmati rice (we use a basmati wild rice mix)

400g / 14oz tinned black beans

200g / 7oz tinned sweetcorn

handful coriander

handful lettuce leaves

lime wedges
For the taco seasoning if making from scratch:
1 tsp paprika

1/2 tsp cumin powder

1/2 tsp garlic powder

pinch of chilli powder

1/4 tsp onion granules

1/4 tsp cinnamon powder
Ranch dressing (optional)
1/2 cup vegan mayonnaise

1 or 2 tbsp oat milk

1/2 tsp apple cider vinegar

1 garlic clove, crushed

1/2 tsp dry dill

1/4 tsp onion powder

pinches of salt & pepper

Instructions
Preheat the oven to 200°C / 390°F fan-assisted.

Slice the cauliflower into bite-sized pieces and cut the pepper into thin strips, removing the seeds as you go. Transfer both to a baking tray and drizzle with oil, and season with salt and pepper. If you're making the taco seasoning from scratch, combine all the ingredients in a bowl, then sprinkle the seasoning all over the veggies and combine with your hands. Roast for 20 minutes. 

Meanwhile cook the rice as per packet instructions.

To prepare the salsa, dice the pineapple, red onion, cherry tomatoes and green chilli, and transfer to a mixing bowl. Squeeze in the juice of the lime and season with salt and pepper. Stir to combine, then set to one side for later.

Heat a little oil in a frying pan on a medium heat. Drain the sweetcorn and add to the frying pan. Fry for 5-10 minutes until charred, stirring occasionally.

Once the rice is ready, drain and rinse the black beans and add them to the rice along with a pinch of salt. Stir to combine.

Prepare the toppings by picking the leaves off the coriander, slice the lettuce and cut the lime into wedges.

To build the cauliflower taco bowl, spoon half of the rice mixture into each bowl, followed by half the roasted red peppers, cauliflower, coriander, salsa, lettuce leaves and sweetcorn.

Prepare the ranch dressing by combining all of the ingredients in a small mixing bowl. 

To finish, drizzle the ranch dressing over the cauliflower taco bowls and voila!