Everyone knows what happens when you combine two of your favourite desserts.
Pure indulgence.
This recipe is a mix of Bakewell tarts and blondies. A classic British treat combined with a favourite American sweet.
We use almonds and cherries for the traditional Bakewell flavour, but you could sub the cherry jam and fresh cherries for raspberry jam and fresh raspberries for a cheaper alternative.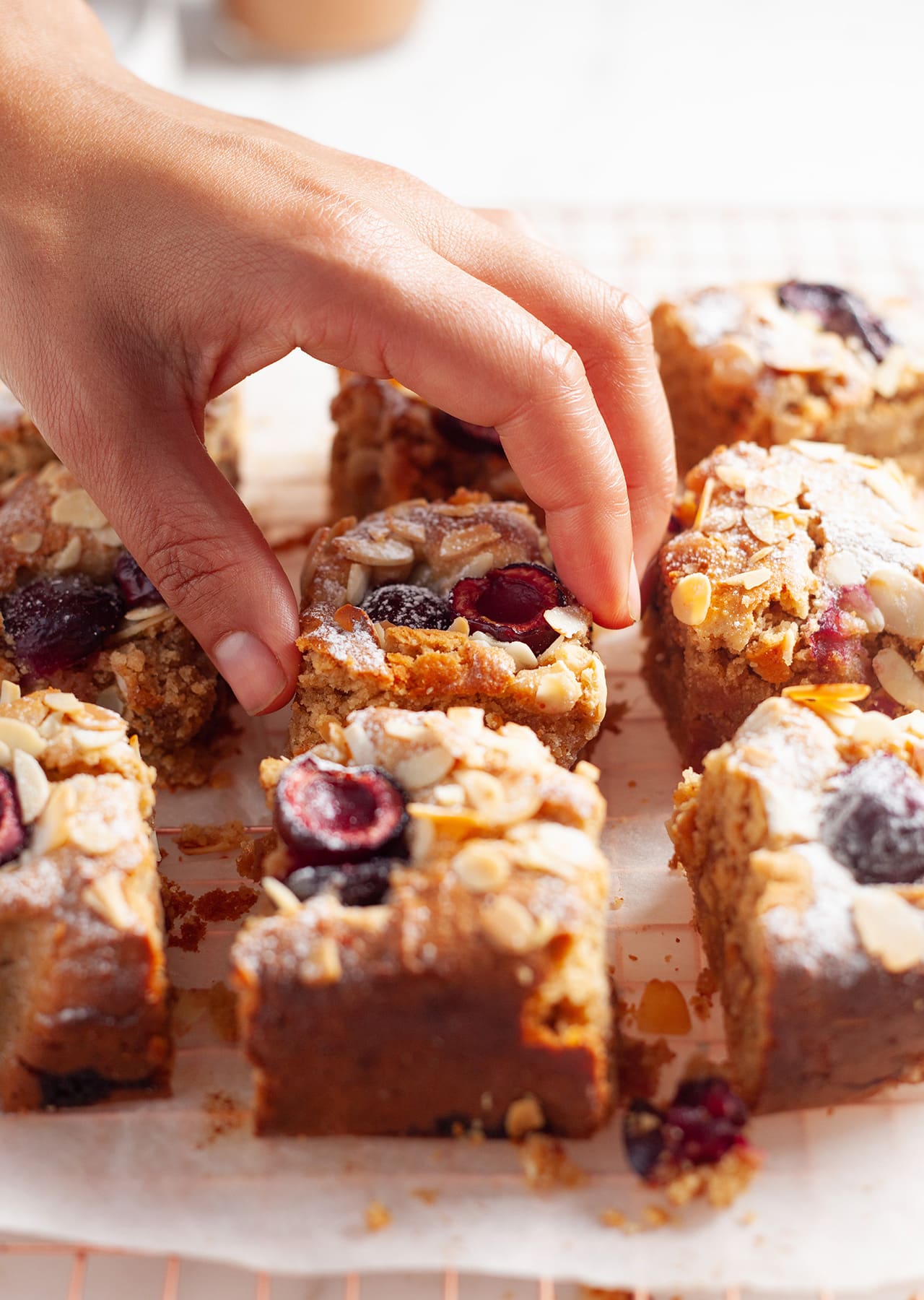 For next level indulgence, we serve these Bakewell blondies warm with a scoop of vegan ice cream.
The light brown sugar adds a lovely subtle caramel flavour, but you can use any sugar you like.
Oh, and don't forget, if you love this, then you'll totally love our debut 5-ingredient cookbook So Vegan in 5, which is available to buy right now.
Enjoy!
Roxy & Ben
Super easy Cherry Bakewell Blondies 😋

Love this? Then you'll also love our cookbook So Vegan in 5: sovegan.co/cookbook

Posted by So Vegan on Wednesday, 10 July 2019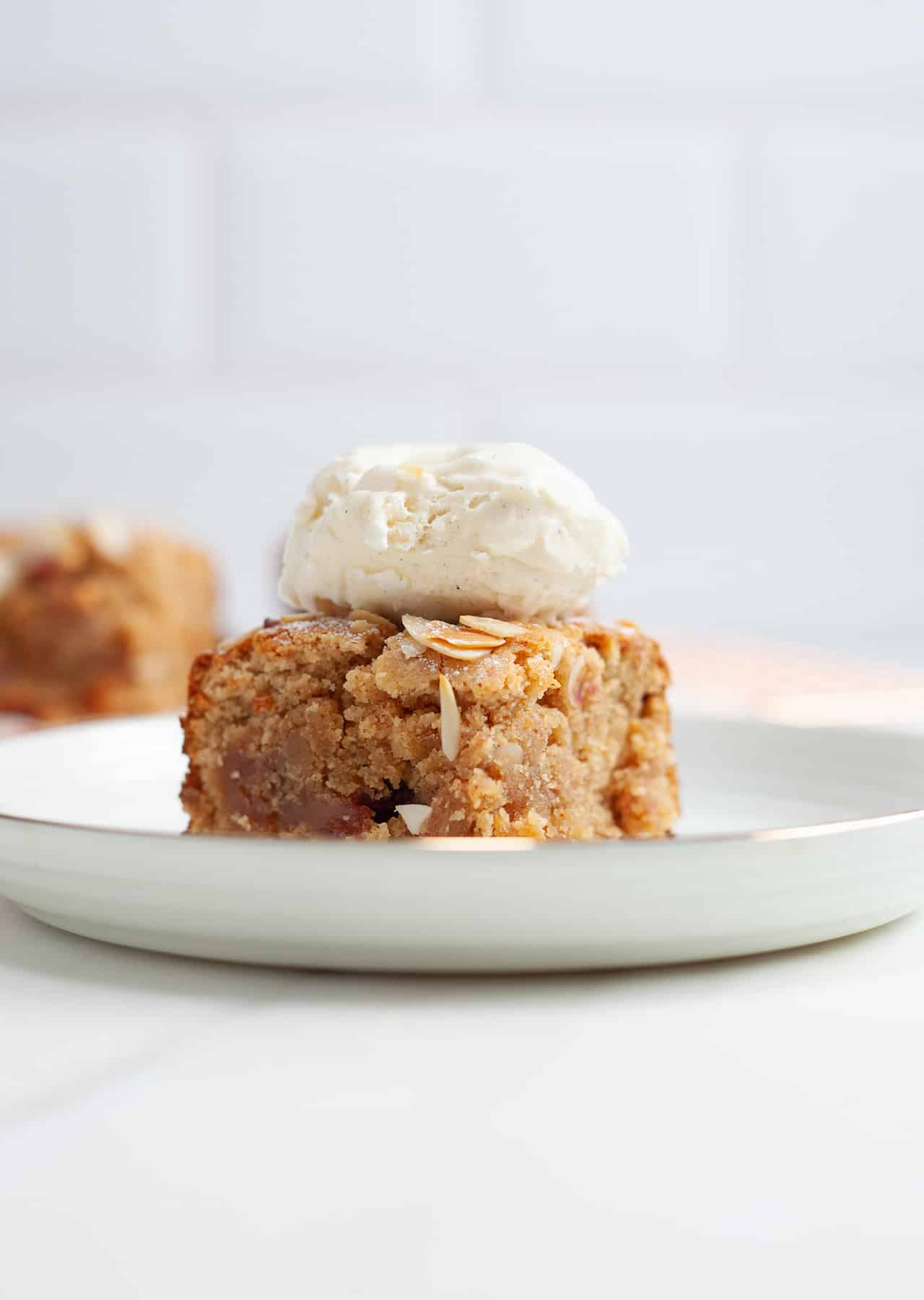 Cherry Bakewell Blondies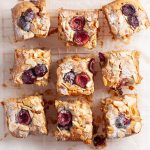 Roxy, So Vegan
Everyone knows what happens when you combine two of your favourite desserts. Pure indulgence. This recipe is a mix of Bakewell tarts…
Print This
Ingredients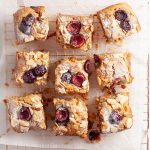 Blondie mixture:
120g / 4.2oz light brown sugar

200g / 7oz ground almonds

100g / 3.5oz plain flour

50g / 1.7oz margarine

50g  / 1.7oz almond butter 

3/4 cup oat milk (or any plant-based milk)

1 1/2 tsp baking powder 

2 tsp vanilla extract
Extras:
9 tsp cherry jam (or sub for raspberry jam)

large handful of almond flakes

large handful of cherries (or sub for raspberries)

1/2 tsp icing sugar
To serve (optional)
Instructions
Preheat the oven to 180°C / 356°F fan-assisted and line the base and sides of a square 7-inch baking tin with baking paper.

Add all the blondie ingredients to a food processor and process until smooth.

Pour half the blondie mixture into the baking tin and smooth it out. Then evenly distribute 9 tsp of cherry jam over the blondie mixture. Pour the remaining blondie mixture into the tin and spread it out evenly. Top with almond flakes, then slice the cherries in half, remove the stones and use the cherry halves to decorate. Bake in the oven for 40 minutes.

Remove the blondie from the oven and leave to cool for ten minutes. Then remove the blondie from the tin and dust with a little icing and cut into 9 equal squares.

For extra indulgence, serve with scoop of vegan ice cream while the blondies are still warm. Yum!