Cauliflower is available all year round and we put it to good use in this gorgeous creamy gnocchi.
You can make this a low calorie meal (less than 400 kcal) by skipping the olive oil as a topping.
You can also turn this into a gluten-free meal using gluten-free gnocchi.
A medium cauliflower should yield approximately 400g (14.1oz) in florets. This is how much you'll need to get the perfect creamy consistency in your sauce.
We use oat milk but you can use any plant-based milk you prefer.
Not all shop-bought gnocchi is vegan. Some contain milk so always check the labels to be 100% sure.
If you can't find vegan parmesan, simply substitute this for nutritional yeast. We suggest adding a tablespoon at a time and adjusting to your taste.
Freshly ground whole nutmeg makes a huge difference. The flavour from whole spices, especially nutmeg, will add so much more flavour to your food.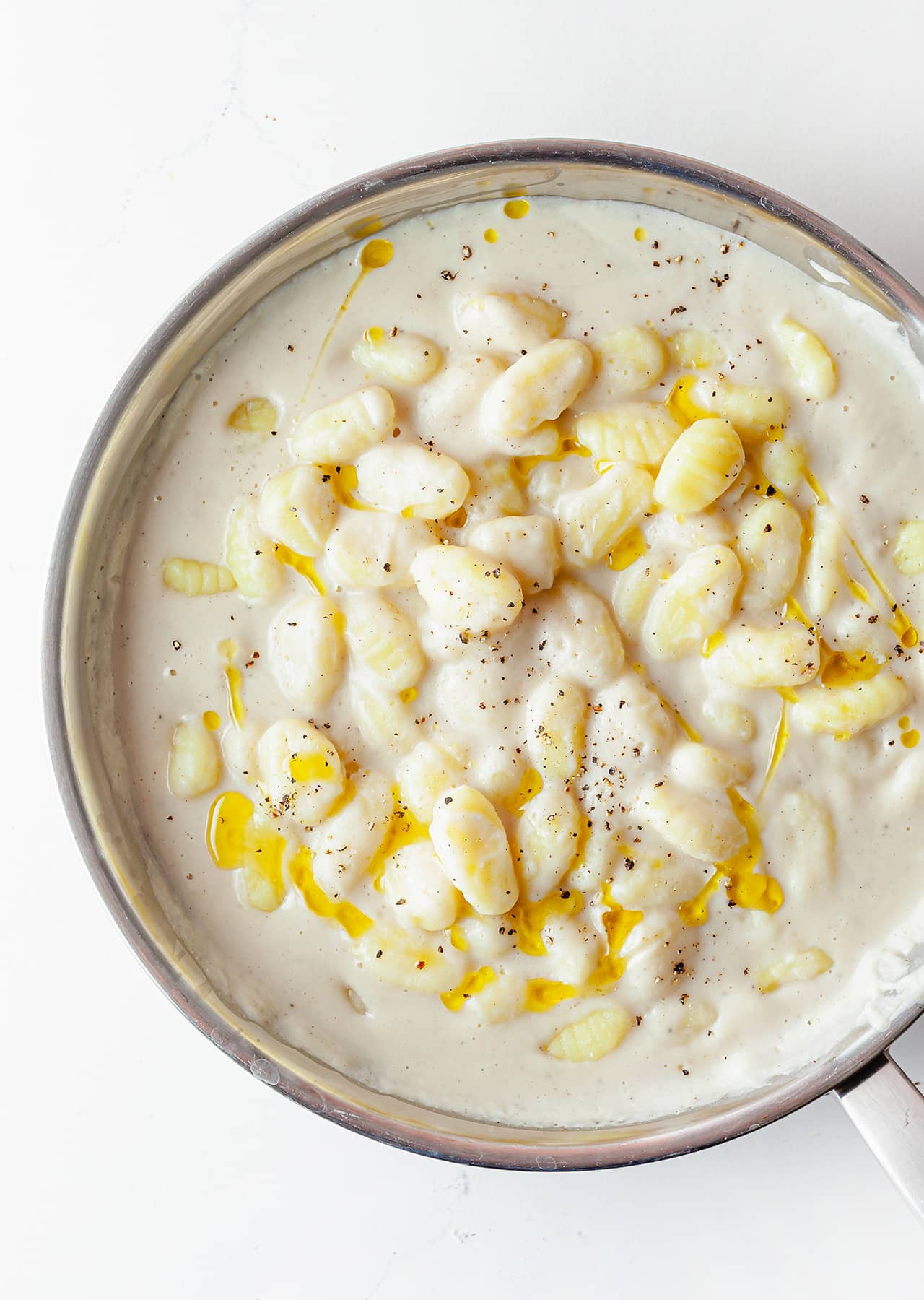 Ingredients
1 medium cauliflower, broken into small florets (see notes)
1.5 cups plant-based milk
1/2 tsp garlic powder
1/4 tsp nutmeg, freshly ground
salt + pepper
40g / 1.4oz vegan parmesan, plus extra for topping
700g / 24.7oz gnocchi (or gluten-free gnocchi)
1 small handful of of fresh parsley, chopped
olive oil, optional (skip for low-calorie meal)
Method
Steam the cauliflower in a steaming basket for 15 minutes or until soft. Alternatively boil until soft.
Transfer the cauliflower to a blender with the plant-based milk, garlic powder, nutmeg, pinches of salt and pepper and vegan parmesan. Blend until smooth. If the sauce is too thick, add a splash more milk.
Pour the cauliflower sauce into a pan over a low-medium heat and heat through for a couple of minutes.
Meanwhile cook the gnocchi in boiling water until they float to the surface, then scoop them out and stir them into the cauliflower sauce, then serve.
Top with a drizzle of olive oil, freshly ground black pepper, fresh parsley and vegan parmesan.
Did You Make This Recipe?
Don't forget to share your SO VEGAN creations on Instagram and tag us at
@SOVEGAN
!