Oyster mushrooms make a great substitute for chicken in our homage to this classic Southern American fast food.
It's important to use soya milk because it will curdle when mixed with the lemon juice. This creates our vegan 'buttermilk', which improves the texture of our 'chicken'. Other plant-based milks might not curdle!
Individually, each piece of oyster mushroom should weigh approximately 40g (1.4oz). This will give you the perfect sized vegan chicken!
Be careful when cooking with hot oil. If the oil spits aggressively when you add the mushrooms, try reducing the heat a touch. If you don't have a thermometer – first add a small pinch of the dry ingredients to the oil and if they sizzle immediately then you'll know the oil is hot enough.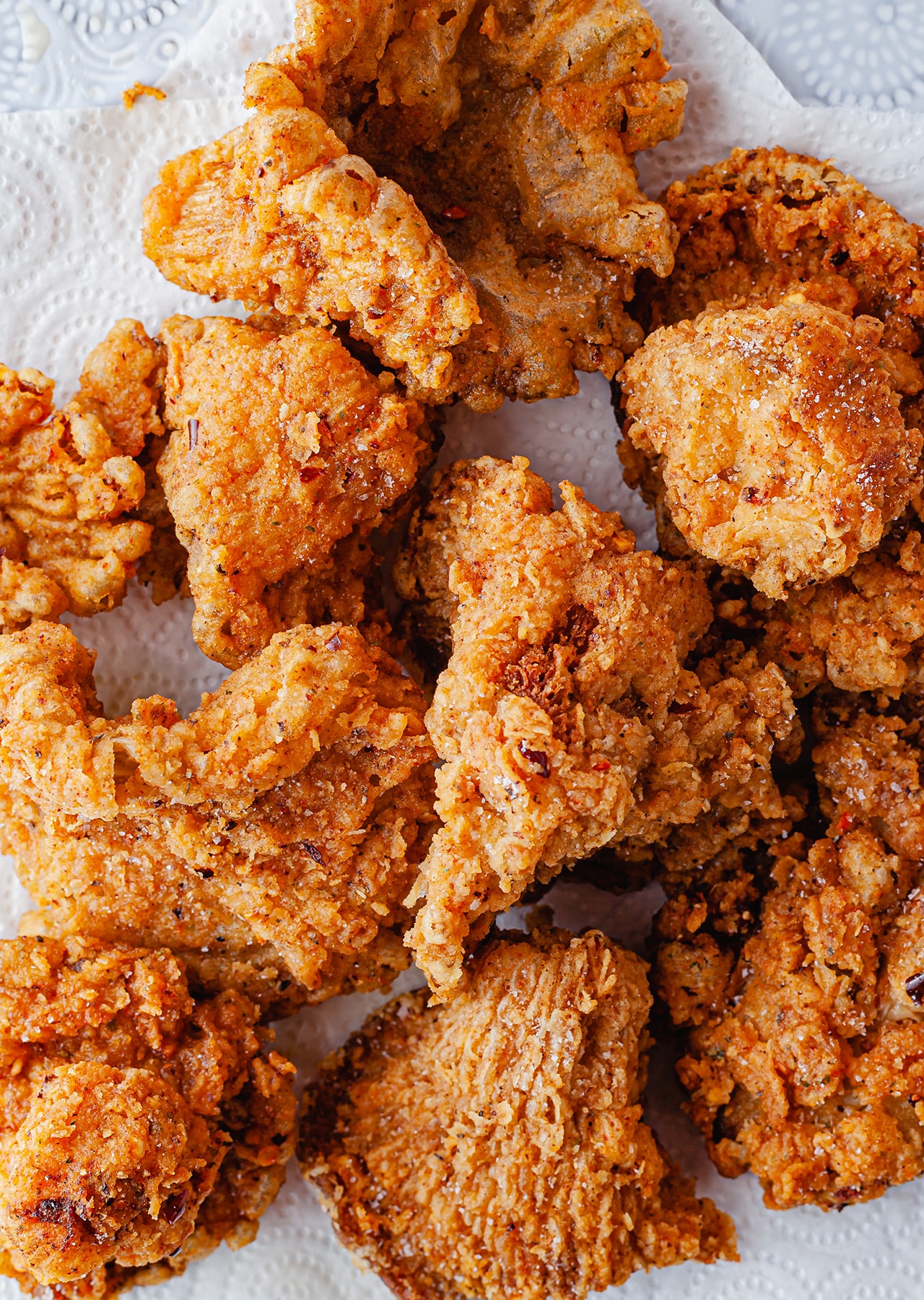 Ingredients
300g (10.6oz) oyster mushrooms
vegetable oil, for frying (we use rapeseed oil)
For the wet ingredients:
1 cup soya milk
1/2 lemon, juice only
For the dry ingredients:
1 cup plain flour
1 tsp baking powder
1.5 tbsp granulated sugar
1 tsp paprika
1 tsp garlic powder
2.5 tbsp peri-peri seasoning
salt + pepper
Method
Combine the wet ingredients in a large mixing bowl. Brush any dirt off the mushrooms, then add them to the wet mixture and stir until they're fully coated.
Combine the dry ingredients, including 1 teaspoon of salt and 1/2 teaspoon of pepper, in a separate mixing bowl.
Add the vegetable oil to a saucepan on a medium heat. The oil should be at least 5cm (2") deep in the pan. If you have a thermometer, the oil should be approximately 180°C / 356°F.
When the oil is hot enough, dip one mushroom into the dry ingredients and toss to coat. Then carefully drop the mushroom into the hot oil and fry for 2-4 minutes or until golden brown, then remove the fried 'chicken' using a slotted spoon and place it on kitchen paper to soak up any excess oil. Repeat for the remaining mushrooms.
Sprinkle extra salt on top to serve and that's it. Enjoy!
Did You Make This Recipe?
Don't forget to share your SO VEGAN creations on Instagram and tag us at
@SOVEGAN
!