We use oat milk, which adds a subtle sweetness to the sauce. Although any plant-based milk would still work well.
You can make this gluten-free by simply using gluten-free pasta. We use fusilli which perfectly wraps itself around the sauce, but you can use any variety of pasta you like.
Freshly ground nutmeg will make all the difference here. Whole spices preserve their flavour so much better than ground spices.
Creamy Spinach Pasta ✌️

Posted by So Vegan on Thursday, 27 May 2021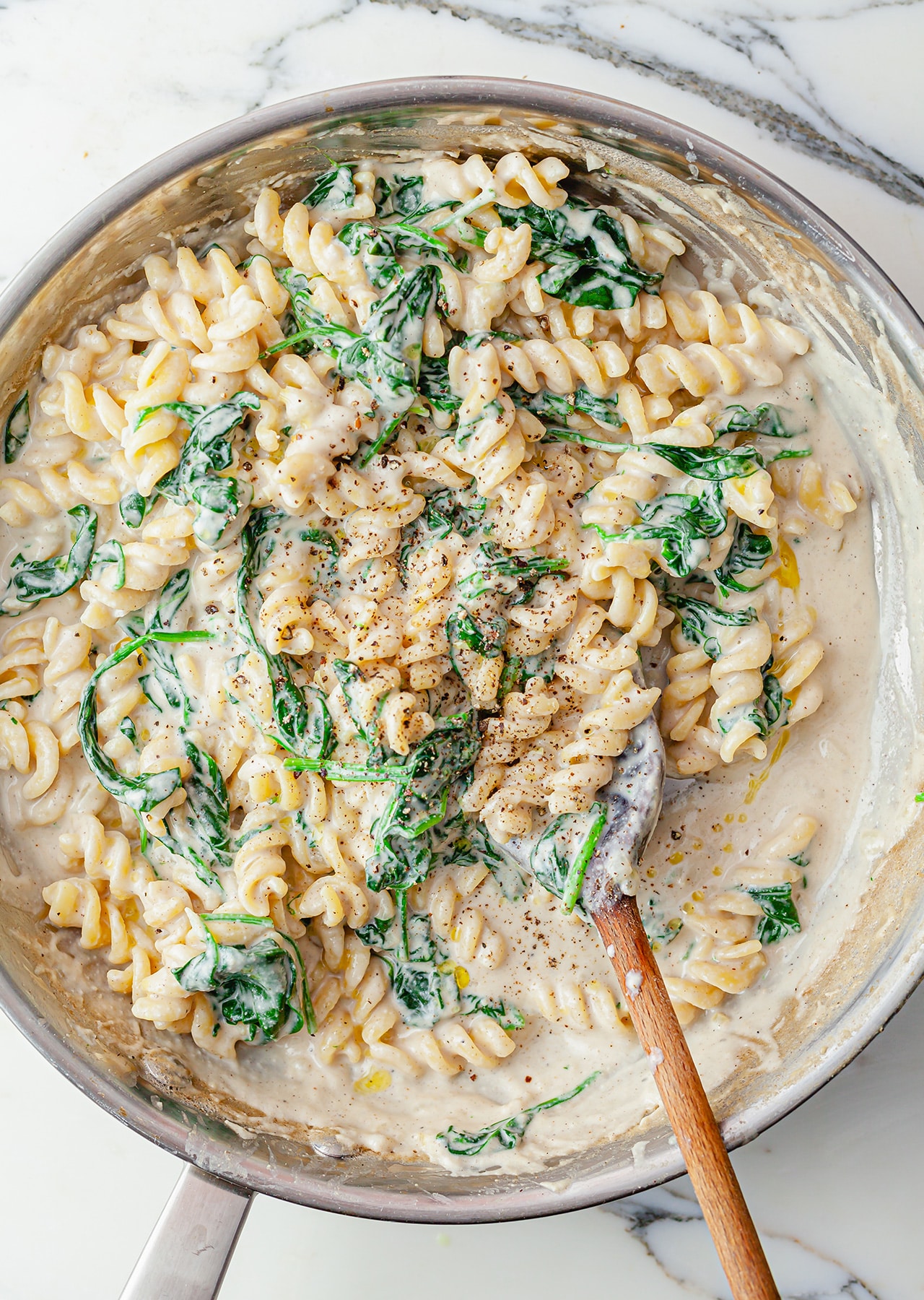 Creamy Spinach Pasta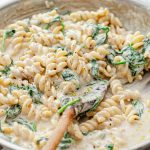 Roxy, So Vegan
A simple high-protein creamy pasta which will take you less than 30 minutes
Print This
Ingredients
70g / 2.5oz cashews
1 cup plant-based milk
1 tbsp nutritional yeast
1/2 tbsp cornflour (cornstarch in the US)
1/4 tsp freshly ground nutmeg
salt + pepper
olive oil
1/2 onion, diced
2 garlic cloves, diced
120g / 4.2oz baby spinach
160g / 5.6oz pasta (or gluten-free pasta)
Instructions
Transfer the cashews to a small bowl and cover with hot water straight from the kettle. Leave to soak for 20 minutes.
Next cook the pasta as per the packet instructions. Note: when you drain the pasta reserve roughly a cup of the pasta water for later.
Drain the cashews and add them to a blender along with the plant-based milk, nutritional yeast, cornflour, nutmeg and generous pinches of salt and pepper. Blend until smooth.
Next, drizzle a little olive oil in a frying pan on a medium heat. Once hot, fry the onion and garlic for 5 minutes or until translucent.
Add the cashew sauce and spinach to the frying pan. Cook for 3-5 minutes until the sauce is hot and has thickened slightly and the spinach is wilted. Add a couple of tablespoons of reserved pasta water if needed to loosen the sauce. Now throw in the cooked pasta, taste, and season with salt and pepper to perfection.
Divide the pasta between 2 serving bowls and finish with a drizzle of olive oil and a sprinkling of pepper.