We store this meal-prep in mason jars (ours are approx. 1 litre in size), but you can use any container you like! Just make sure it has an air-tight lid which will help to keep the ingredients fresh for longer in the fridge.
So we usually just serve this cold the next day and it's delicious. But there's no reason why you can't simply cook this for lunch or dinner and gobble it all down as a warm salad as soon as it's cooked.
If you want to keep this soy-free, use a coconut-based vegan yoghurt
The servings are large and you could quite easily make 3 mason jars. It really depends if you're making these for a light lunch or a generous dinner.
You can store the mason jars in the fridge for up to 48 hours and serve with freshly squeezed lime juice for a fresh kick.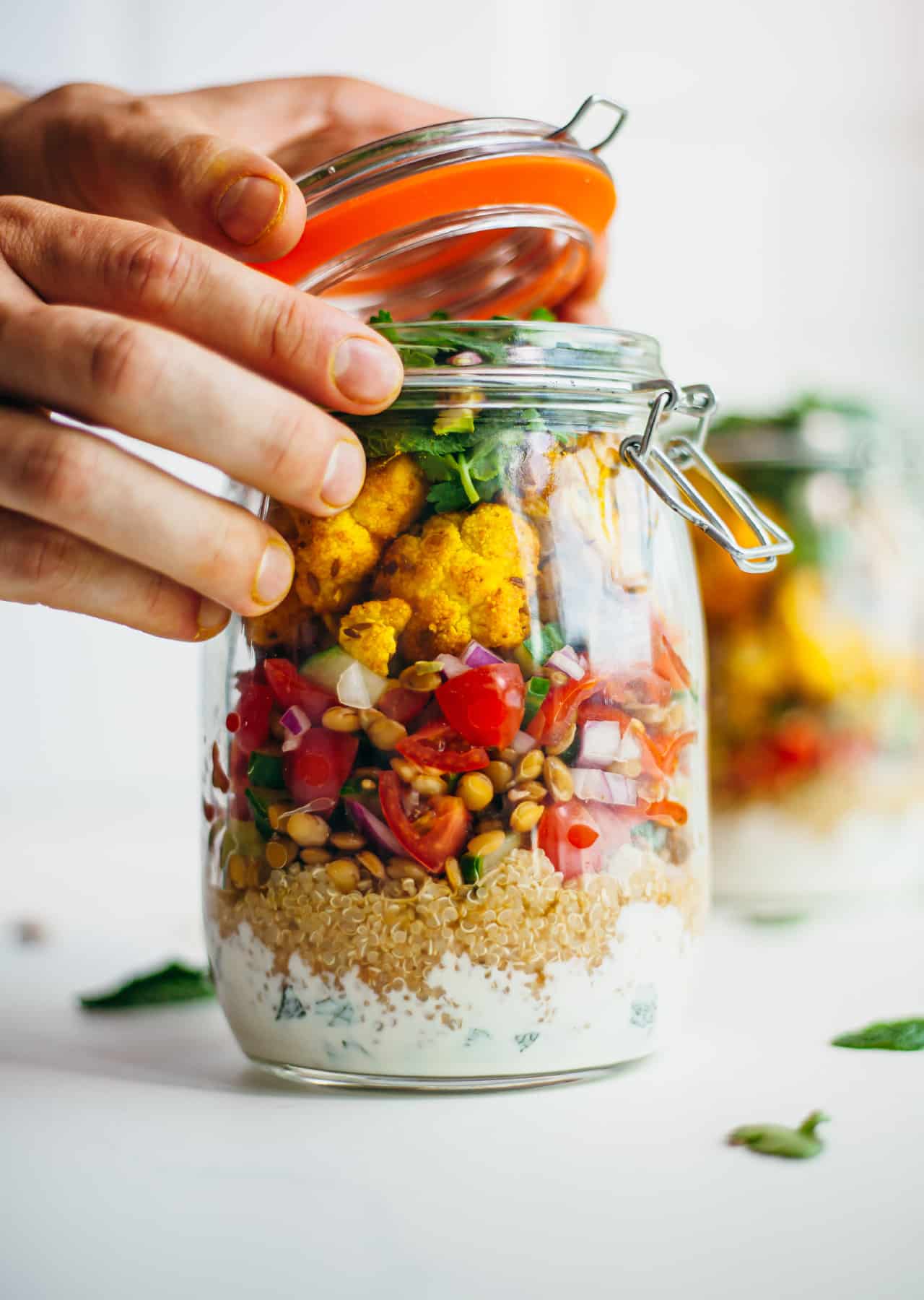 Ingredients
120g / 4.2oz quinoa, rinsed
360ml / 12.1 fl.oz vegetable stock
1 medium cauliflower, broken into bite-sized florets
olive oil
salt + pepper
2 tsp cumin seeds
1 tsp ground coriander
1 tsp turmeric
2 garlic clove, peeled + diced
2 tbsp raisins
1/2 x 400g / 14.1oz tin of brown lentils, drained + rinsed
150g / 5.3oz cherry tomatoes, halved
1/2 cucumber, diced
1/2 red onion, peeled + diced
1 lime, plus extra for serving
8 tbsp vegan yoghurt
1 handful of fresh mint, roughly chopped
1 large handful of fresh coriander, roughly chopped
1 handful of mixed nuts + seeds
Method
Preheat the oven to 200°C / 392°F fan-assisted. Add the quinoa to a saucepan and pour in the vegetable stock. Bring to a boil, then lower the heat, cover and simmer for about 15 minutes, or until the quinoa has cooked.
Transfer the cauliflower to a roasting tray, drizzle over a generous splash of olive oil, sprinkle over pinches of salt and pepper, then scatter over the cumin seeds, coriander and turmeric. Give everything a mix, then roast for 10 minutes. Then add the garlic and raisins to the roasting tray, give everything a mix and roast for a further 5 minutes.
Combine the lentils, cherry tomatoes, cucumber, red onion, pinches of salt and pepper and juice from the lime in a bowl, then leave to one side.
Before you build the mason jars, make sure the cauliflower and quinoa has cooled fully. Add 4 tbsp of vegan yoghurt to the bottom of a mason jar, followed by half of the chopped mint. Next add half of the cooked quinoa, half of the lentil salad and half of the roasted cauliflower with the raisins and garlic. Finally top with half of the fresh coriander and half of the mixed nuts and seeds. Repeat for the remaining mason jar. Store the mason jars in the fridge for up to 48 hours and serve with freshly squeezed lime juice.
Notes
Nutritional values per serving (based on 2 servings): Calories 769 / Total Fat 32.3g / Saturated Fat 4.7g / Sodium 795mg / Total Carbohydrate 97.5g / Dietary Fiber 17.9g / Total Sugars 19.4g / Protein 31.2g / Calcium 174mg / Iron 7mg
Did You Make This Recipe?
Don't forget to share your SO VEGAN creations on Instagram and tag us at
@SOVEGAN
!