We are back with another tasty meal-prep.
During lockdown, many of us have been spending a lot more time indoors.
That also means spending a lot more time in the kitchen, which can be tricky if you've got lots of mouths to feed or you're busy working from home with little time for breaks.
This is a meal-prep you can make in advance when you've got some spare time.
Then – when hunger hits – you've got yourself an instant and nutritious lunch or dinner.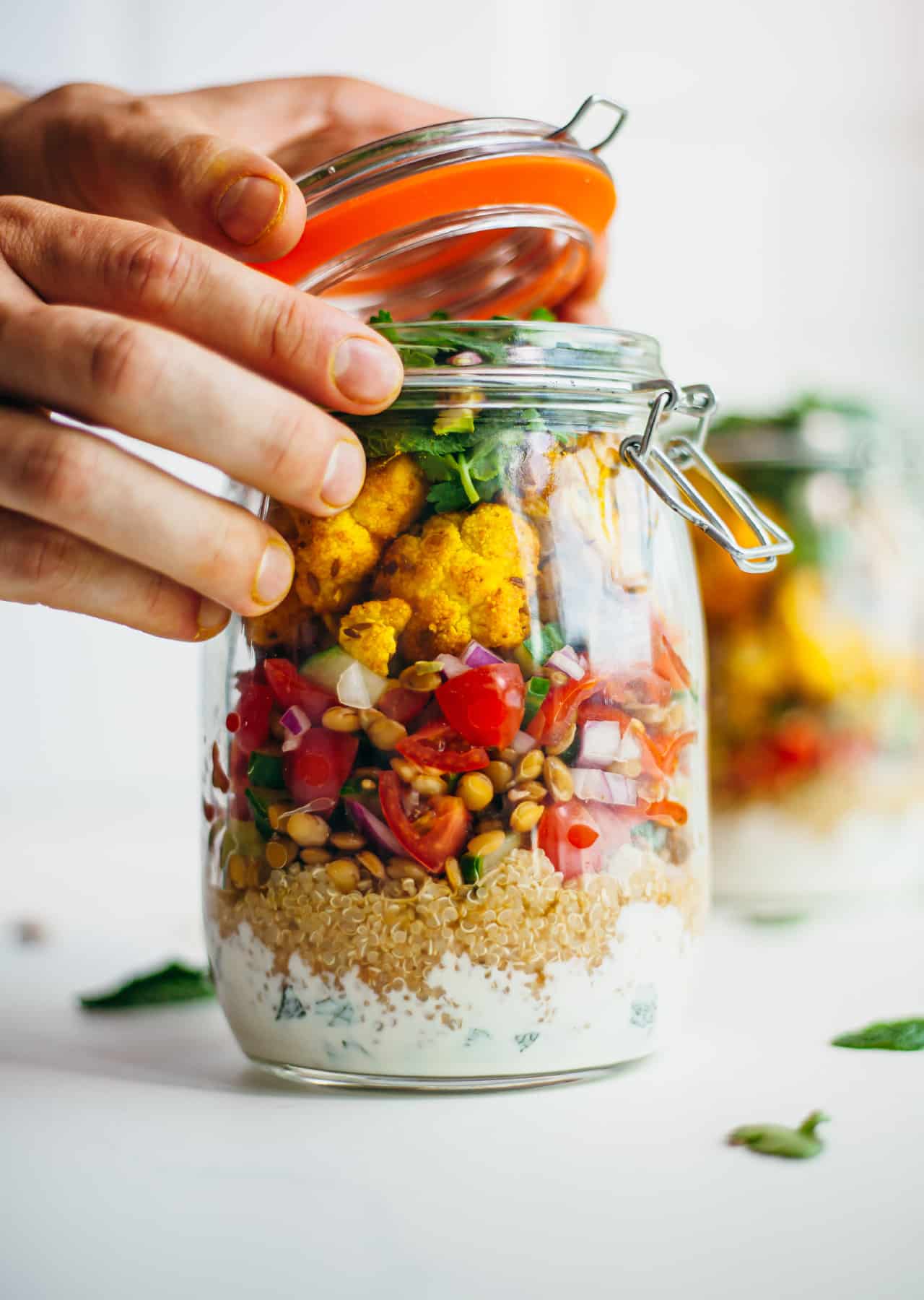 This time we've taken inspiration from our favourite South Asian flavours.
We spice our roasted cauliflower with cumin, coriander and turmeric, and it's absolutely delicious.
There's also protein from the lentils and quinoa, as well as lots of vitamins from the fresh tomatoes and cucumber.
Here's what else you need to know:
We store this meal-prep in mason jars, but you can use any container you like! Just make sure it has an air-tight lid which will help to keep the ingredients fresh for longer in the fridge.
So we usually just serve this cold the next day and it's delicious. But there's obviously no reason why you can't simply cook this for lunch or dinner and gobble it all down as a warm salad as soon as it's cooked.
The servings are large and you could quite easily make 3 mason jars. It really depends if you're making these for a light lunch or a generous dinner.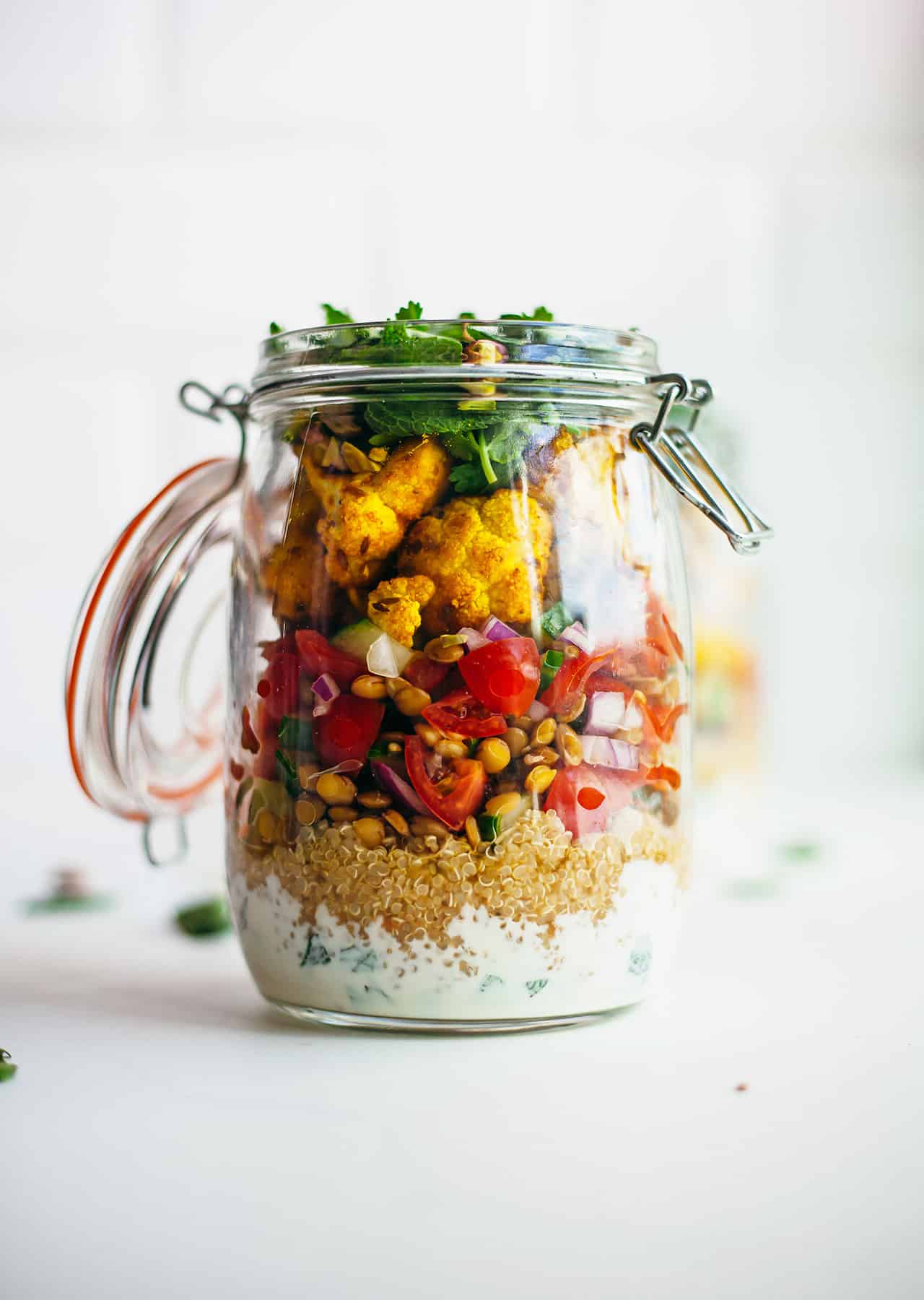 Curry Roasted Cauliflower Meal Prep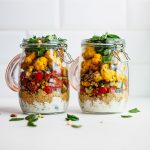 Ben, So Vegan
We are back with another tasty meal-prep. During lockdown, many of us have been spending a lot more time indoors. That also…
Print This
Ingredients
120g / 4.2oz quinoa
360ml / 12.1 fl.oz vegetable stock
cauliflower (600g / 21.2oz)
olive oil
salt
pepper 
2 tsp cumin seeds
1 tsp ground coriander
1 tsp turmeric
2 garlic cloves
2 tbsp raisins
1/2 x 400g / 14.1oz tinned brown lentils
150g / 5.3oz cherry tomatoes
1/2 cucumber
1/2 red onion
1 lime, plus extra for serving
8 tbsp vegan yoghurt
handful of fresh mint
large handful of fresh coriander
handful of mixed nuts and seeds
You will also need 2-3 mason jars approx. 1 litre in size.
Instructions
Preheat the oven to 200°C / 392°F fan-assisted.
While the oven heats up, rinse the quinoa under cold water then add it to a saucepan and pour in the vegetable stock. Bring to a boil, then lower the heat, cover and simmer for about 15 minutes, or until the quinoa has cooked.
Pick the florets off the cauliflower stalk and break them into bite-sized pieces. Transfer them to a roasting tray, drizzle over a generous splash of olive oil, sprinkle over pinches of salt and pepper, then scatter over the cumin seeds, coriander and turmeric. Give everything a mix, then roast for 10 minutes.
Meanwhile peel and dice the garlic cloves. Add the diced garlic and raisins to the roasting tray, give everything a mix and roast for 5 minutes.
Drain and rinse the lentils, slice the cherry tomatoes in half, dice the cucumber, then peel and dice the red onion. Add them to a mixing bowl along with pinches of salt and pepper and the juice from the lime. Give everything a stir, then leave to one side.
Before you build the mason jars, make sure the cauliflower and quinoa has cooled fully. Then roughly chop the mint and coriander leaves, discarding the stalks. Add 4 tbsp of vegan yoghurt to the bottom of a mason jar, followed by half of the chopped mint. Next add half of the cooked quinoa, half of the lentil salad and half of the roasted cauliflower with the raisins and garlic. Finally top with half of the fresh coriander and half of the mixed nuts and seeds. Repeat for the remaining mason jar.
Store the mason jars in the fridge for up to 48 hours and serve with freshly squeezed lime juice.
Notes
Nutritional values per serving (based on 2 servings): Calories 769 / Total Fat 32.3g / Saturated Fat 4.7g / Sodium 795mg / Total Carbohydrate 97.5g / Dietary Fiber 17.9g / Total Sugars 19.4g / Protein 31.2g / Calcium 174mg / Iron 7mg