Don't over-bake the cookies if you want a chewy texture. When you take the cookies out of the oven they'll probably look a little under, but give them time to relax out of the oven and they'll be all good.
You can make the cookie dough ahead of time and refrigerate for a few days or freeze for a month. We love doing this because it's basically instant cookies whenever we want them!
If you don't want to eat them all in one go (how, we're not sure), then store these in an air-tight container for up to 5 days. But really the quicker you eat them the better they'll be.
We use light-brown sugar but we've also tested these using demerara and they tasted delicious!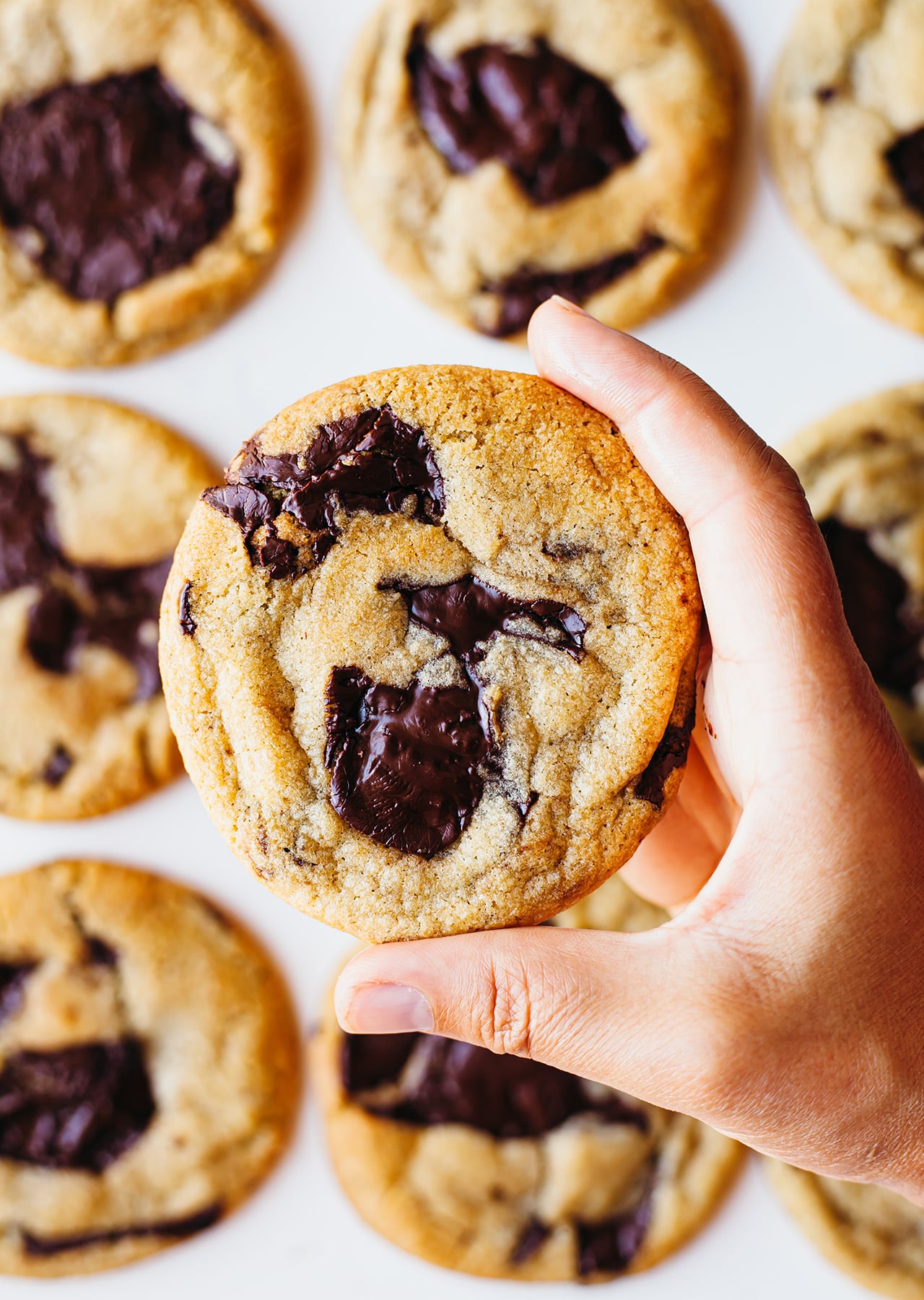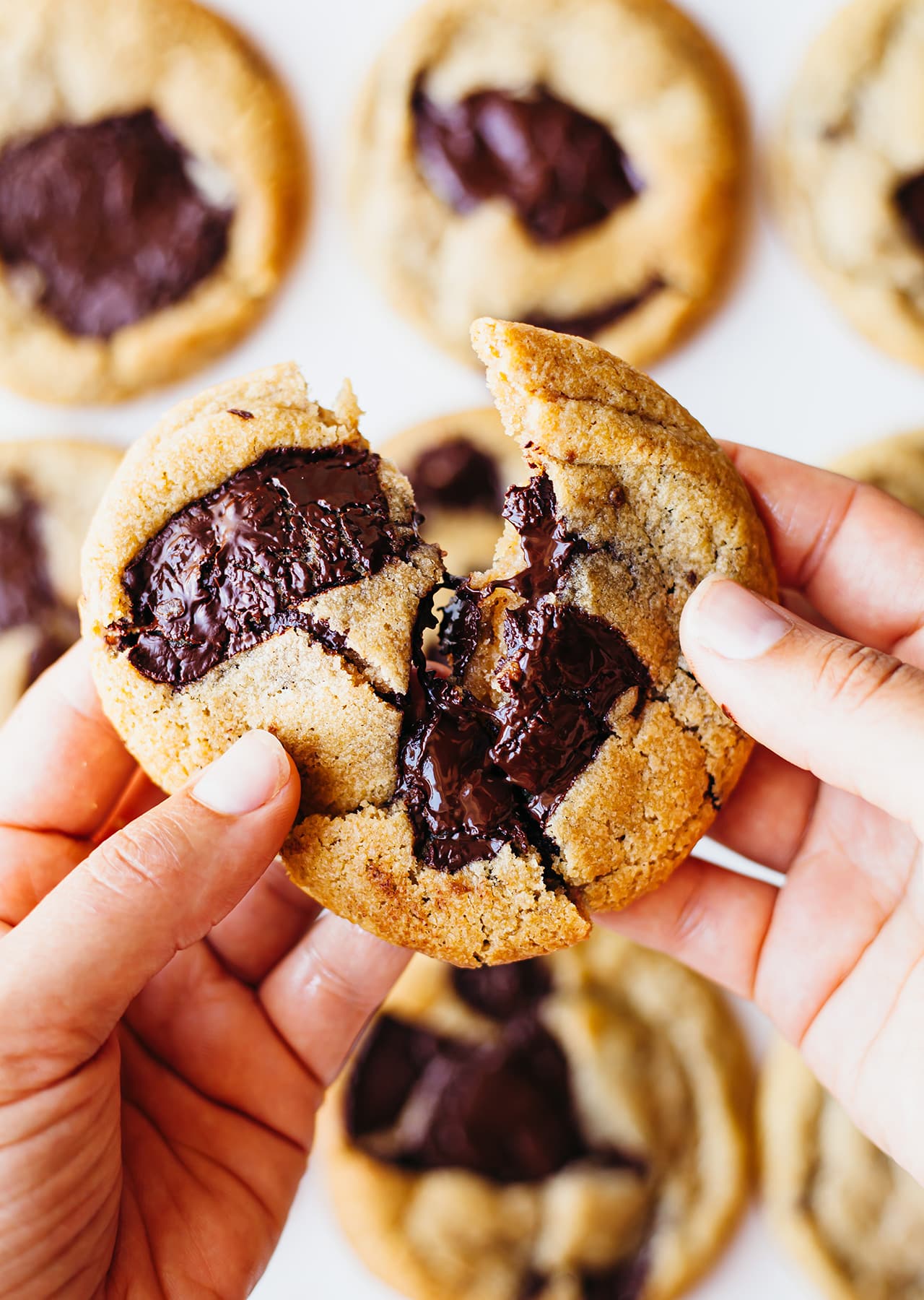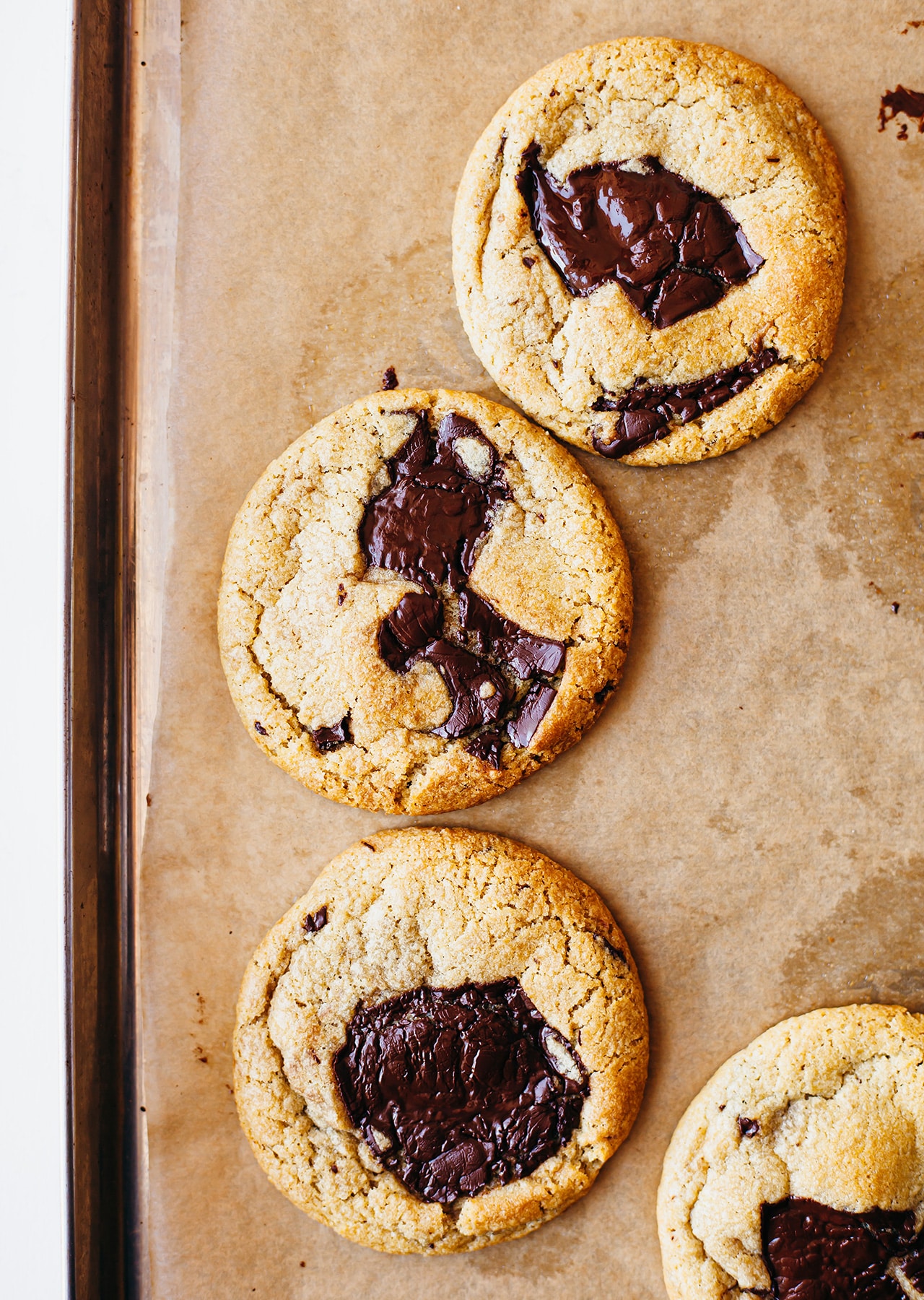 Ingredients
4 tbsp aquafaba
100g / 3.5oz granulated sugar
100g / 3.5oz light brown sugar
150g / 5.3oz vegan margarine or butter
2 tsp vanilla extract
1 tsp bicarbonate of soda
salt
300g / 10.6oz plain flour
200g / 7oz dark chocolate (70%)
Method
Add the aquafaba to a small bowl and whisk for a couple of minutes until frothy.
In a separate mixing bowl, cream together the sugars, vegan margarine, vanilla extract, bicarbonate of soda and a pinch of salt until fully combined. Then fold in the aquafaba until it's fully incorporated. Finally, fold in the flour until fully incorporated, but avoid over-mixing otherwise the cookies will be a little dense.
Next roughly chop the dark chocolate into 1-2cm pieces and fold into the cookie dough. Divide the cookie dough into 12 evenly-sized pieces and roll each into a ball. Place on a chopping board or a plate and refrigerate for 30 minutes.
Preheat the oven to 180°C / 356°F and line 2-3 large baking trays with baking paper.
Add 4-6 balls on each baking tray and bake for 10-12 minutes until slightly golden brown around the edges. Note: the cookies will feel soft when you first take them out of the oven but they will harden as they cool down.
Remove the cookies from the oven and leave to cool on the tray before placing them on a cooling rack. These are best eaten slightly warm!
Did You Make This Recipe?
Don't forget to share your SO VEGAN creations on Instagram and tag us at
@SOVEGAN
!