Here's what you need to know:
If you can't find chickpea (garam) flour, you can also use plain-flour – although we prefer the texture of chickpea flour which give the fritters a fluffier texture.
Most rose harissa paste you'll find in supermarkets is gluten-free but it's always worth checking the labels.
We love to serve these with fresh salad leaves for a wonderfully light and nutritious lunch.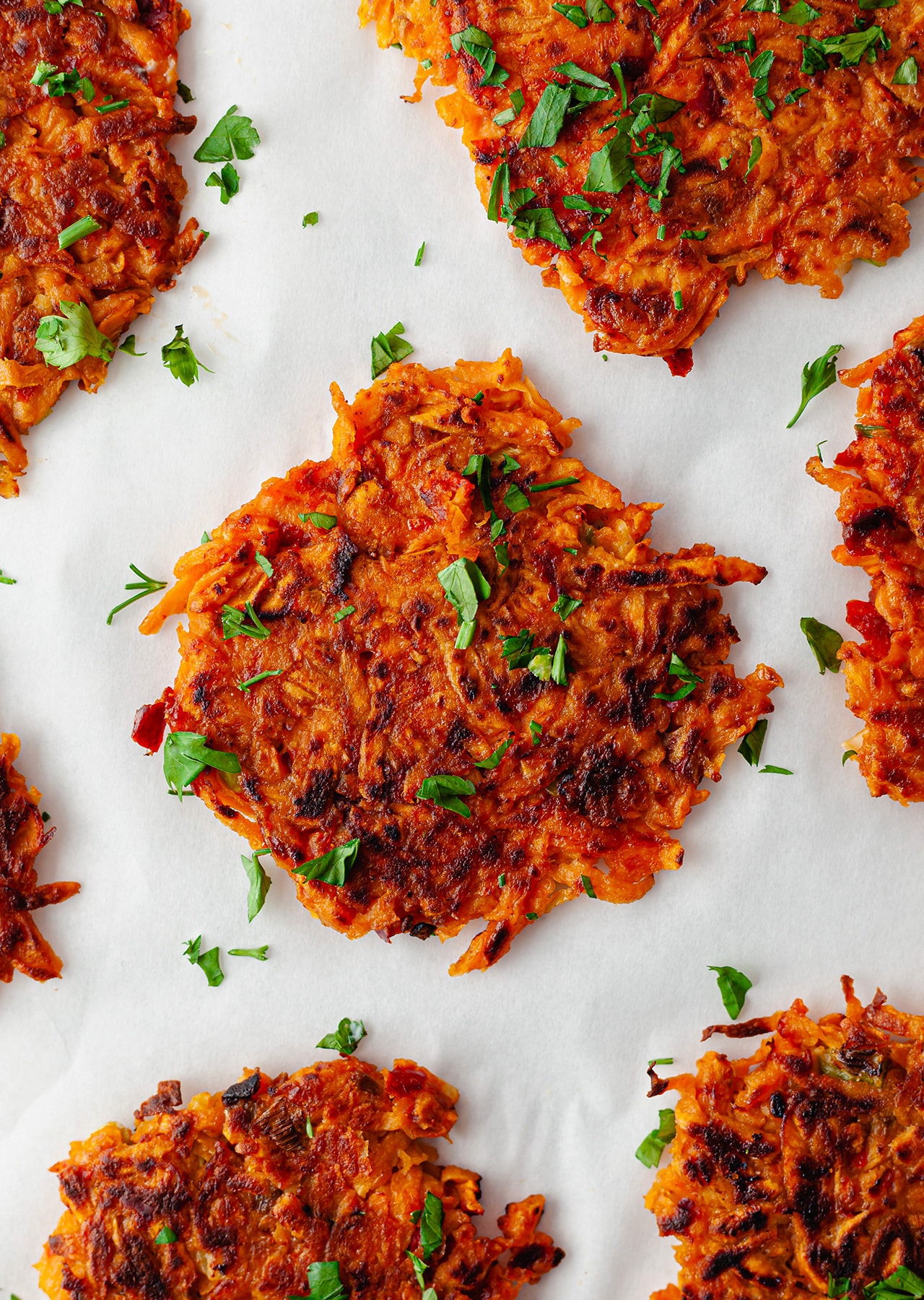 Harissa Sweet Potato Fritters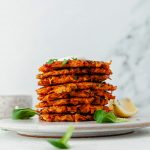 Ben, So Vegan
Harissa is a Tunisian paste which give these fritters a fiery and delicious flavour
Print This
Ingredients
350g / 12.3oz sweet potato, peeled and coarsely grated
2 garlic clove, peeled and finely chopped
2 spring onion, thinly sliced
6 tbsp chickpea flour (or plain flour)
1.5 tbsp rose harissa paste
salt
olive oil
Optional toppings:
1/2 lemon, juice only
1 small handful of fresh parsley, chopped
4 tbsp vegan plain yoghurt
2 handfuls of salad leaves
Instructions
Add the sweet potato, garlic, spring onion, chickpea flour, harissa paste and a large pinch of salt to a bowl. Combine the ingredients with your hands, then roll into 8 evenly-sized balls.
Heat a splash of olive oil in a non-stick pan. As soon as the oil is hot, add 4 of the balls and carefully flatten each ball with the back of a spoon and shape them into a circle with your fingers. Fry for 5 minutes or until crispy on one side, then flip and fry for a further 5 minutes. Repeat for the remaining fritters.
Serve with your favourite toppings: we squeeze some fresh lemon juice on top, followed by some fresh parsley and vegan plain yoghurt, then serve the fritters alongside some salad leaves.
Notes
Nutritional information per serving: Calories 484kcal / Protein 12.8g / Fat 19.7g / Sat Fat 2.9g / Carbs 64.5g / Sugar 12.8g / Fibre 5.5g (note: the nutritional information does not include optional toppings)