We often get asked what is our number one tip for people new to vegan food.
Our answer? Prep. Prep. And prep.
It can be difficult finding vegan food on the go. Even in London!
But don't panic people.
Meal prepping is your new best friend and it's also a sure-fire way to save some pennies.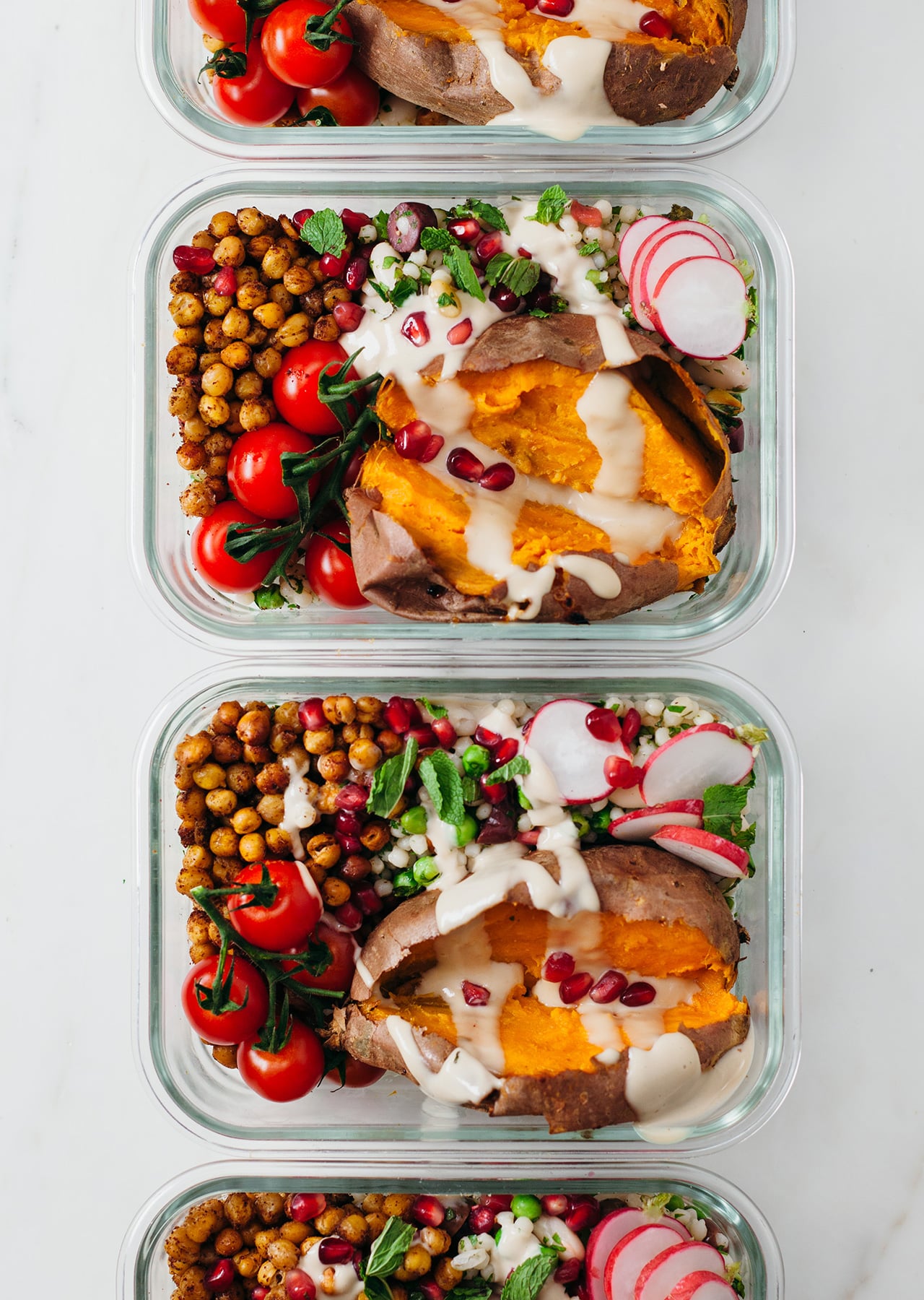 This Middle-Eastern inspired meal-prep involves a glorious baked sweet potato, crispy chickpea crisps and an absolutely bangin' couscous salad.
Over the past few years we've totally fallen in love with the flavours of Middle-Eastern food.
It's possibly the style of food we now cook the most at home.
This meal-prep is full of fresh herbs, nutritious protein-packed plants and aromatic spices.
In other words, it has everything you need for a healthy lunch!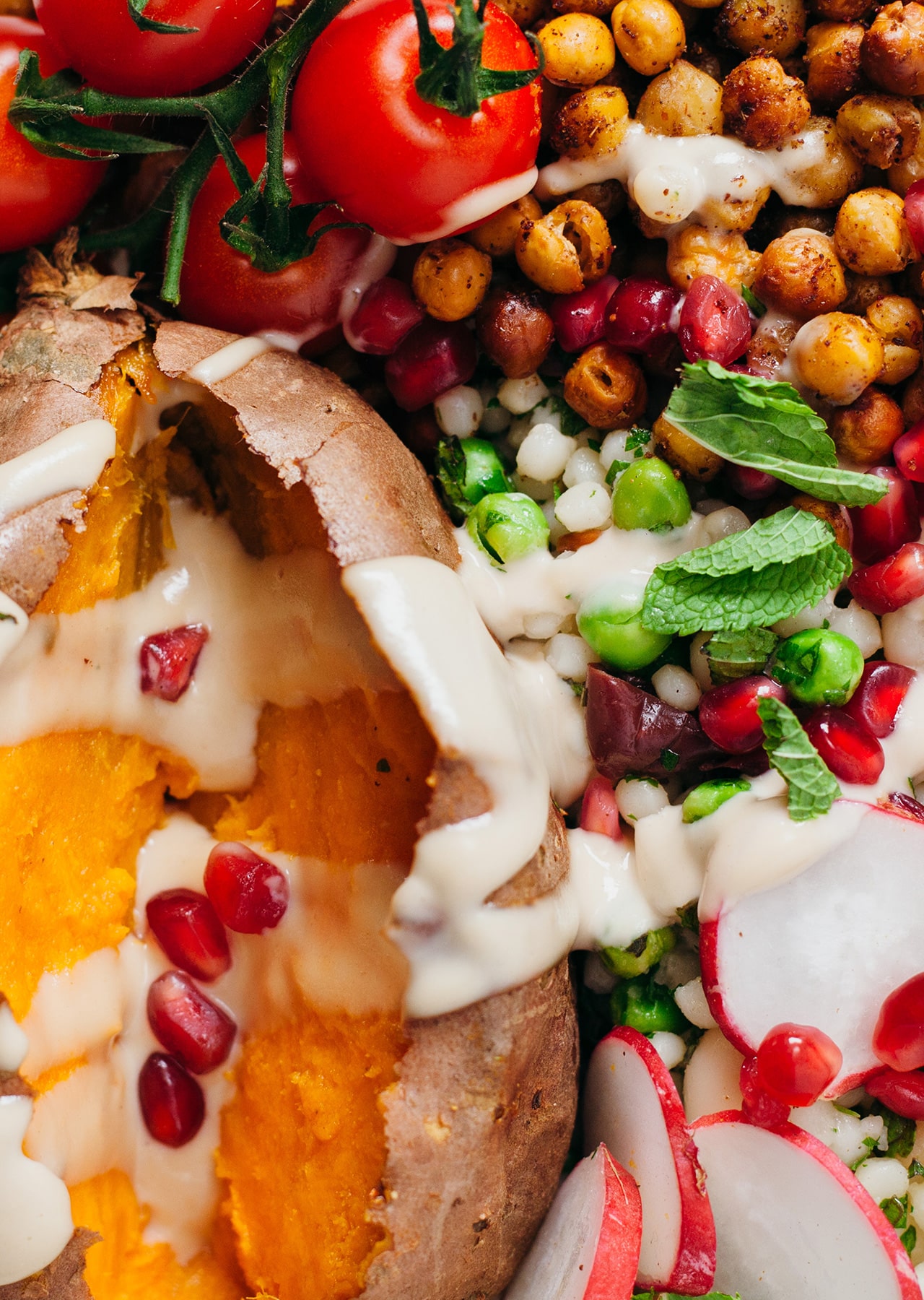 Before y'all jump in, here are the important things you need to know:
These boxes will last for up to 4 days in the fridge.
The chickpea crisps will remain crispier if you store them separately in the fridge. The trick is not to keep them sealed in an air-tight container so let any the moisture escape. Though this isn't essential.
Add the cherry tomatoes whole to keep them fresh.
Each day we'll simply remove the sweet potato and reheat it in the oven or a microwave. But this step isn't necessary if you don't mind your sweet potato being cold.
Keep the tahini dressing separately in an air-tight container, then simply pour it over each morning before you head out for work.
Enjoy!
Roxy & Ben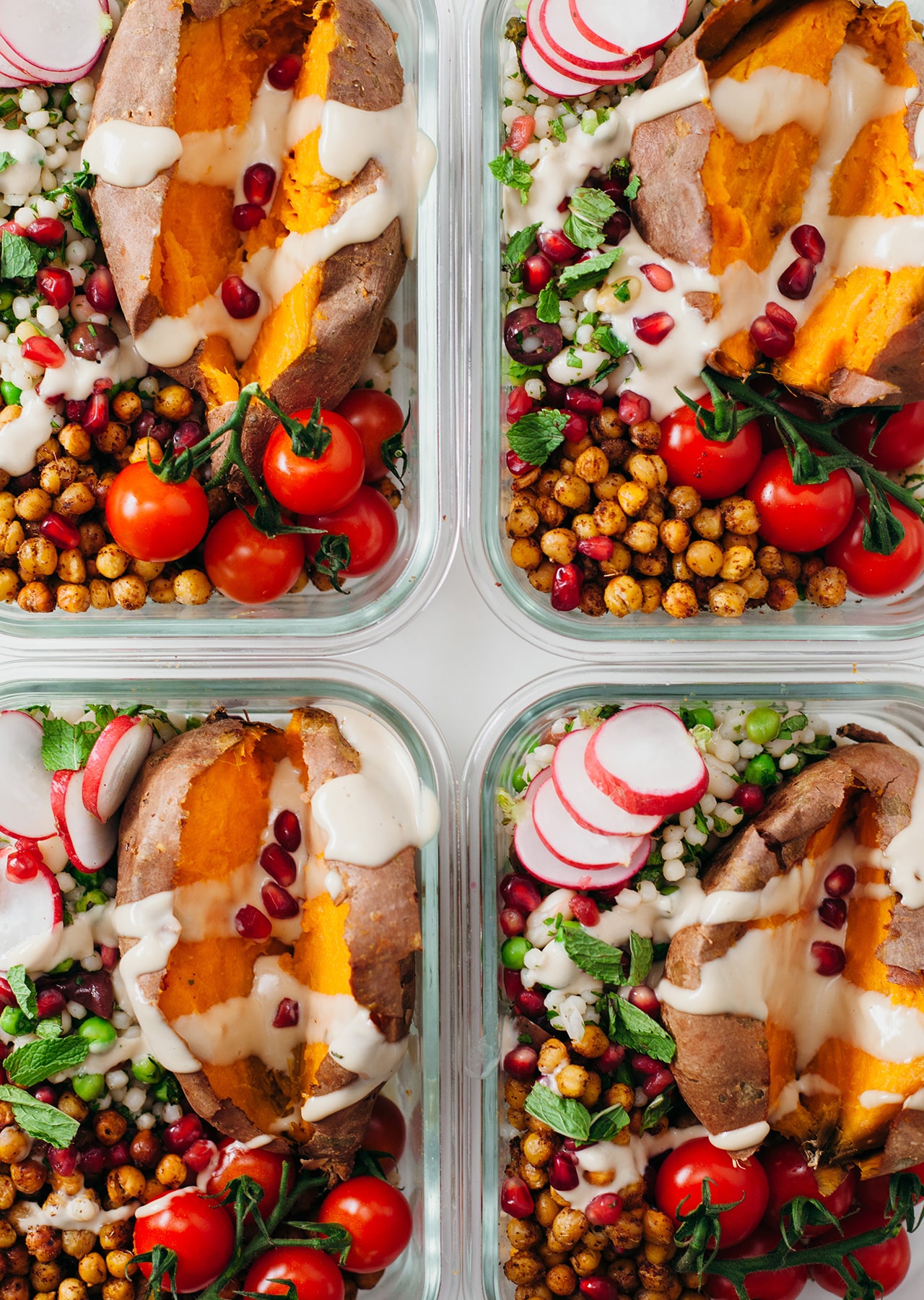 Ingredients
4 medium sweet potatoes
2 x 400g / 14.1oz tins of chickpeas, drained + rinsed
olive oil
salt + pepper
200g / 7oz giant couscous
200g / 7oz frozen peas
handful of fresh mint, finely chopped
bunch of fresh flat-leaf parsley, finely chopped
100g / 3.5oz pitted Kalamata olives (or sub for any olives), halved
1 x 400g / 14.1oz tin of cannellini beans, drained + rinsed
3 tbsp pine nuts
1 lemon, juice only
2 tsp sumac
2 tsp ground cumin
1/2 tsp ground cinnamon
To serve
8 radishes, finely sliced
4 handfuls of cherry tomatoes
handful of pomegranate seeds
For the tahini dressing:
4 tbsp tahini
1 tbsp lemon Juice
1/2 tbsp maple syrup
Method
Preheat the oven to 180°C fan / 400°F. Prick each sweet potato a few times with a fork, then place them on one half of a large baking tray and bake for 20 minutes.
Add the chickpeas to the other side of the baking tray. Drizzle with olive oil and season with generous pinches of salt and pepper, then use a metal spoon to give them a stir. Bake for 45 minutes, or until the chickpeas are crispy and the potato is soft in the middle.
Put the couscous into a saucepan along with 350ml (12fl oz) of cold water and a pinch of salt. Bring to the boil, then simmer with the lid on for 10 minutes or until the couscous is soft and fluffy. Set aside and leave to fully cool.
Put the frozen peas into a saucepan on a medium heat and cover them with hot water straight from the kettle. Bring to the boil and cook for 2-3 minutes, then drain and put them into a large mixing bowl along with the mint, parsley, olives and cannellini beans.
Put the pine nuts into a pan over a medium heat and toast for 3–6 minutes or until golden brown, then add them to the mixing bowl along with the lemon juice, 2 tablespoons of olive oil and generous pinches of salt and pepper. As soon as the couscous has cooled, add it to the mixing bowl and give everything a stir until fully combined. Leave to one side.
Once the chickpeas are done, transfer each sweet potato to an airtight lunchbox and divide the salad between the boxes. Sprinkle the sumac, cumin and cinnamon over the chickpeas, and use a metal spoon to give them a good stir. Either add the chickpeas directly to the lunchbox or store them separately in a bowl in the fridge (uncovered) so they stay crispy, then add them to the lunchbox each morning. Add a handful of radishes to each lunchbox along with a few cherry tomatoes. Finish with a sprinkling of pomegranate seeds. Store the boxes with their lids on in the fridge for up to 4 days. We like to reheat the sweet potato in a microwave or oven before serving.
Finally, combine the tahini sauce ingredients together in a small bowl along with 3 tablespoons of water (add more tahini or water to get the desired consistency). Store the dressing in a separate airtight container and pour over the meal prep each morning. Done!
Notes
You will also need 4 medium-large air-tight lunch boxes.
Did You Make This Recipe?
Don't forget to share your SO VEGAN creations on Instagram and tag us at
@SOVEGAN
!