We are seriously obsessed with making homemade noodles right now.
This is one of our favourite meals to cook during lockdown.
We're also stoked to be teaming up yet again with our favourite connoisseurs of Chinese and Asian sauces, the fine people at Lee Kum Kee.
Noodles are actually really, really simple to make at home.
They only require a few ingredients and they'll take you to the streets of China with Lee Kum Kee giving them our desired Cantonese twist.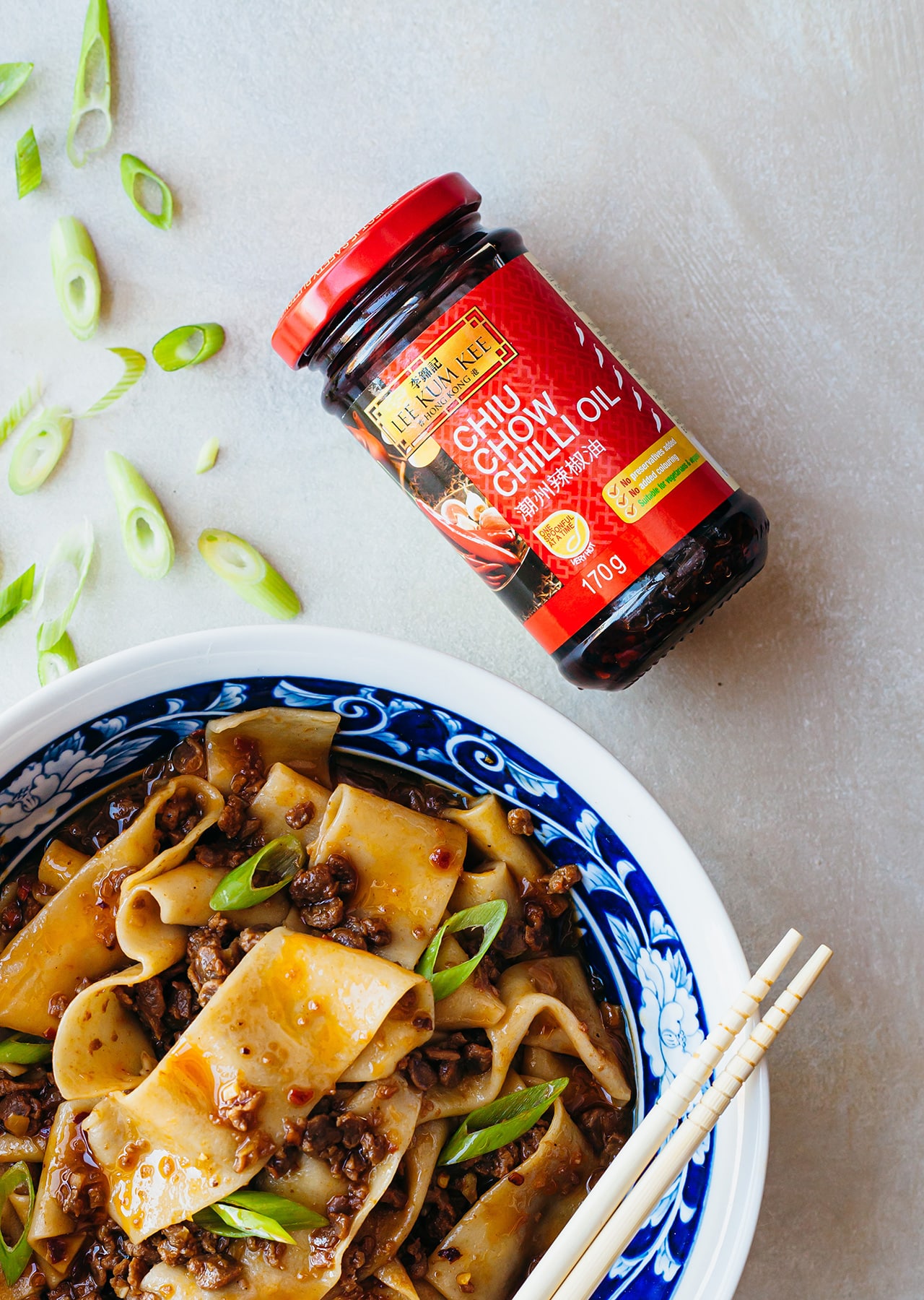 These sauces deliver true Cantonese flavour from the comfort of our homes.
We have their sauces on a regular repeat at home and for these noodles we use their Dark Soy Sauce, Chiu Chow Chilli Oil, and Pure Sesame Oil.
Header over to their website to find more Lee Kum Kee inspired recipes.
They're also currently giving away some pretty amazing prizes this summer, including all of their sauces range! To enter their competition simply visit their Facebook page.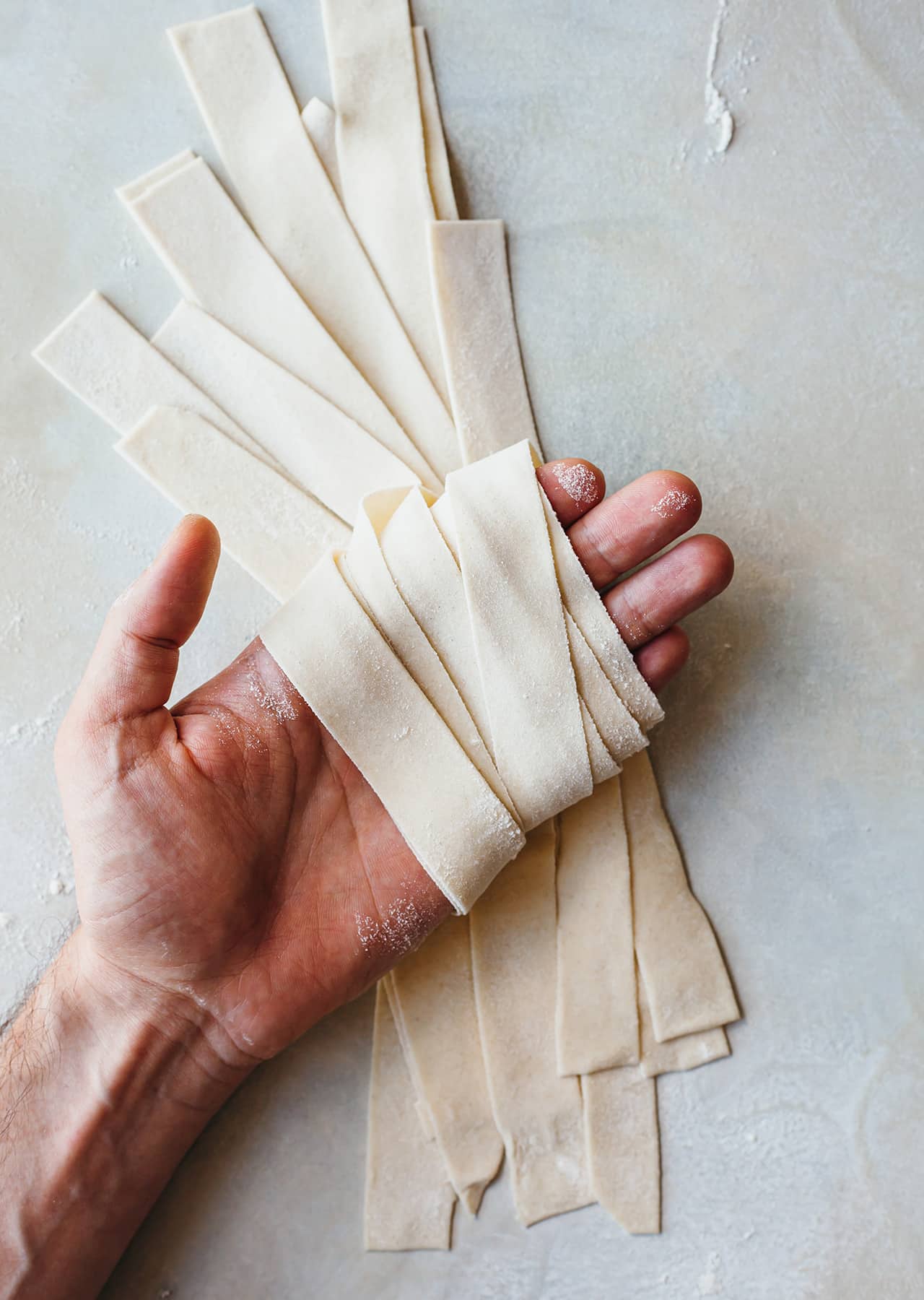 Seriously, homemade noodles are impossible to beat and we pair them with a delicious 'meaty' sauce, which is spicy, sweet and has sooooo much flavour.
We use a soy-based vegan mince, but alternatively, you could use diced mushrooms – simply cook them down for longer before adding the remaining ingredients.
If you're a fan of east-Asian flavours, you'll love this recipe! The Lee Kum Kee sauces deliver a wonderful taste of real Chinese cuisine – and you can bring these authentic flavours into your home.
This post is sponsored by Lee Kum Kee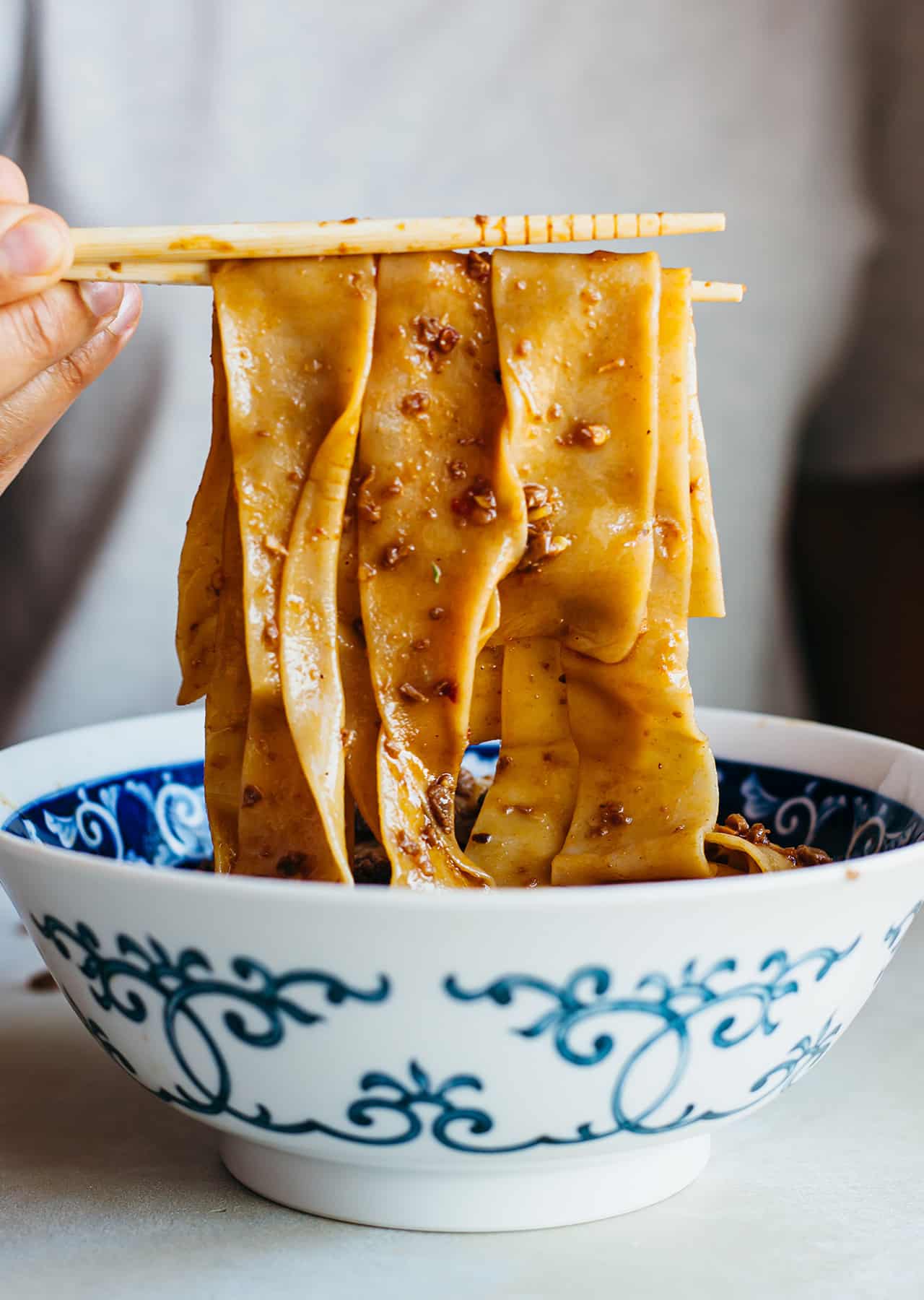 Ingredients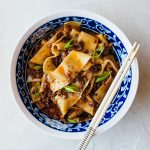 For the noodles:
200g / 7oz plain flour
100ml / 3.5 fl.oz water
1/2 tsp salt
For the 'meaty' sauce:
vegetable oil
1 onion, diced
2 garlic, diced
1/2 thumb of ginger, diced
200g / 7oz vegan mince
2 tbsp Lee Kum Kee Dark Soy Sauce
1 tsp Lee Kum Kee Seasoned Rice Vinegar
1 tsp Lee Kum Kee Chiu Chow Chilli Oil
300ml / 10 fl.oz vegetable stock
1/4 tsp Chinese 5 Spice
1 tsp Lee Kum Kee Pure Sesame Oil
2 tsp maple syrup
pinch of pepper
For topping:
Method
Add the flour and salt to a mixing bowl. Stir to combine. Make a well in the centre and add the water. Stir to combine, then transfer to a worktop and knead for 8 minutes. Transfer back to the bowl, cover with a damp tea towel and leave at room temperature for 30 minutes.
Slice the dough in half and roll one piece to approx. 30cm x 20cm. Slice into thick noodles approx. 2cm wide, then sprinkle flour on top to prevent the noodles sticking together. Repeat for the remaining piece of dough.
Bring a saucepan of water to the boil, add the noodles and cook for 2-3 minutes until the noodles are cooked through. Then drain and rinse the noodles under cold water. Leave to one side.
Add the vegetable oil to a wok over a medium-high heat. As soon as the oil is hot, add the onion and fry for 3 minutes. Reduce the heat to medium and add the garlic, ginger and vegan mince. Fry for 5 minutes. Next add all the remaining ingredients and simmer for 3 minutes. Finally add the noodles into the sauce and stir through until warm. Divide the noodles between two bowls and top with spring onion.
Did You Make This Recipe?
Don't forget to share your SO VEGAN creations on Instagram and tag us at
@SOVEGAN
!