All hail the tempeh!
We're pretty late to the game, tbh.
It's not very popular here in the UK, but don't fret tempeh fans…we're here to change that.
Not only is it packed with protein, but tempeh has a similar texture to meat, making it a great substitute for chicken.
And for our jerk tempeh bowl we don't hold back!
We use our very own homemade jerk marinade, along with a simple and fresh DIY coleslaw.
Oh, and we even throw in some baked plantain.
We also bread the tempeh using spicy panko breadcrumbs to give it a crispy coating.
Yum!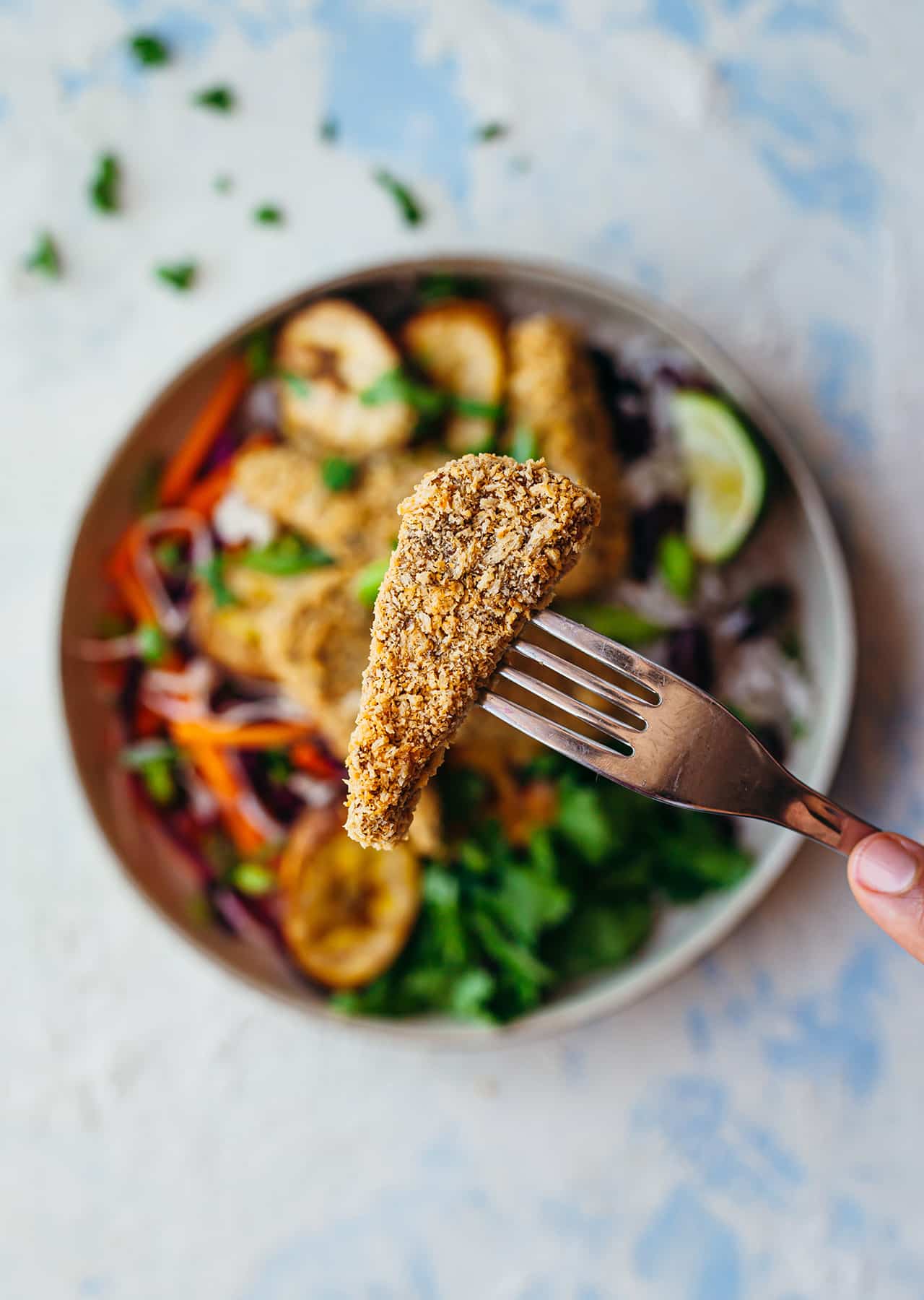 This genuinely brings back memories of our annual trips to Notting Hill Carnival.
Believe it or not, before we were vegan, Ben would actually cook his own jerk chicken and take it with him to the carnival!
The blasphemy.
But to be honest, everyone knows you'll end up spendings hours queueing for the best jerk at Notting Hill Carnival so having a homemade snack means more time dancing.
And since being vegan, we're still totally in love with the incredible jerk flavour.
Not only does tempeh have a similar texture to meat, but it also has an uncanny ability at soaking up our delicious jerk marinade.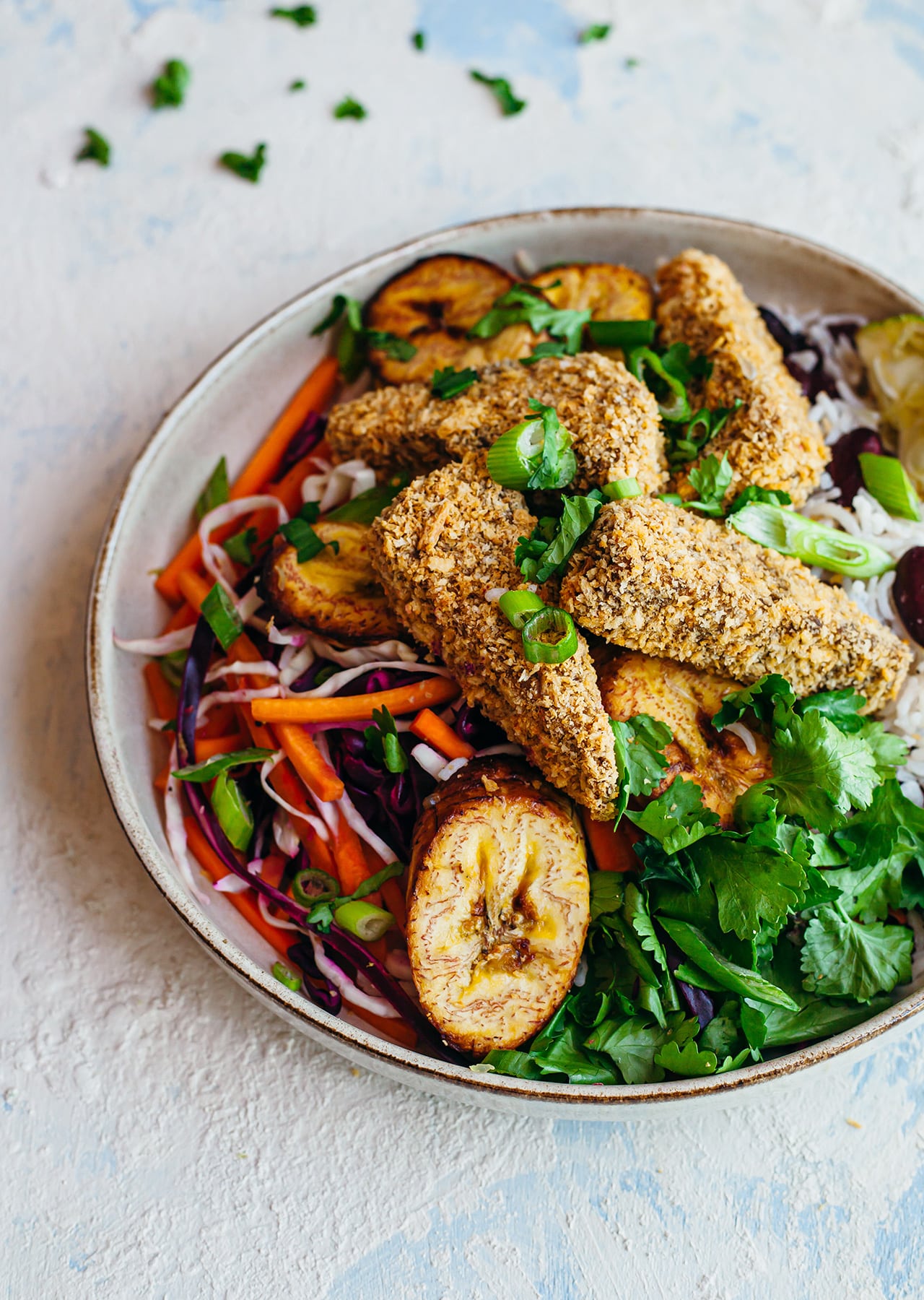 Here are a few things you need to know:
Use a shallow dish when you marinade the tempeh. Ideally you want the tempeh on one layer and totally covered in the marinade so as much flavour as possible soaks into it.
We were in two minds whether or not to serve this with a sauce, but to be honest the tempeh should still be quite moist and the coleslaw gives the dish a really fresh vibe. But if you're after something, BBQ sauce would work really well.
Sometimes we'll bake the breadcrumbs in advance to give them a more golden colour. This is totally optional. Simply add the breadcrumbs to a tray, spray them with oil and bake them for 4-6 minutes at 200°C / 392°F, stirring every 2 minutes to make sure they bake evenly.
The most obvious way of simplifying this recipe is using a pre-made jerk marinade. There are some great brands out there and we use them from time-to-time, but nothing quite beats making it homemade!
If you want to avoid using oil when you cook the plantain, simply line the baking tray with baking paper to prevent it sticking.
You can make this gluten-free by using gluten-free breadcrumbs.
Jerk Tempeh Bowl 🇯🇲 We're planting a tree in the Amazon for every pre-order of our new cookbook ONE POT VEGAN! Order yours today 👉 sovegan.co/onepv

Posted by So Vegan on Sunday, 28 June 2020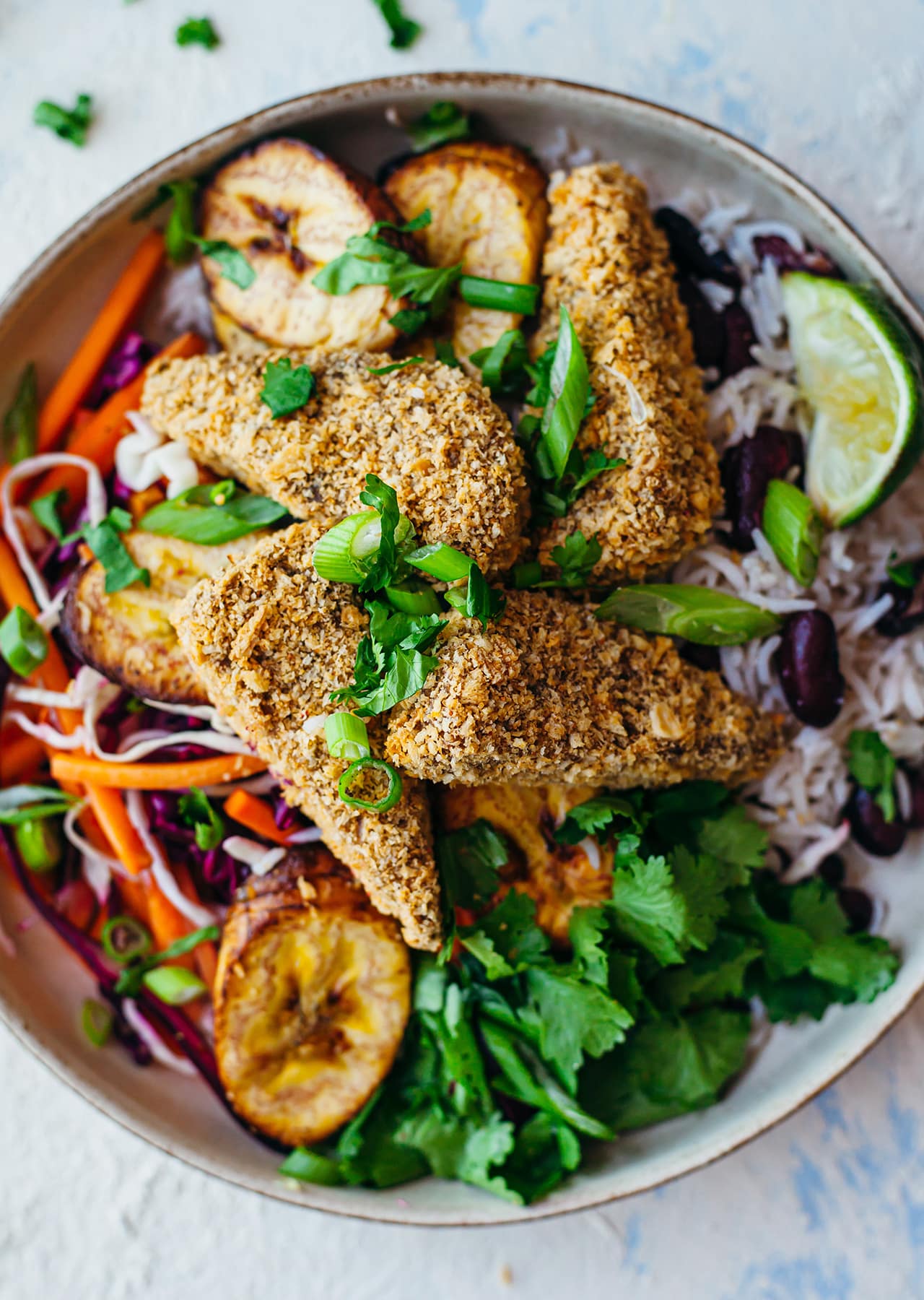 Jerk Tempeh Bowl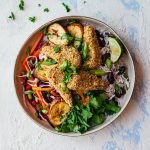 Ben, So Vegan
All hail the tempeh! We're pretty late to the game, tbh. It's not very popular here in the UK, but don't fret…
Print This
Ingredients
400g / 14.1oz tempeh
80g / 2.8oz panko breadcrumbs
2 tsp all-purpose seasoning
plain flour, for coating
plant-based milk, for coating
2 ripe plantain
vegetable oil
For the jerk marinade:
thumb of fresh ginger
4 garlic cloves
1 scotch bonnet pepper
3 spring onion
1 tbsp fresh thyme leaves
1.5 tbsp maple syrup
2 tbsp light soy sauce
pinches of salt and pepper
1/2 tsp ground cinnamon
2 tsp ground allspice
1 lime, juice only
2 tbsp water
For the coleslaw:
120g / 4.2oz white cabbage
120g / 4.2oz red cabbage
2 medium carrot
1 lime
For the coconut rice and peas:
200g / 7oz basmati rice
1 x 400g / 14.1oz tin of kidney beans
1 x 400ml / 14 fl.oz tin of light coconut milk
To serve:
a bunch of fresh coriander (30g / 1oz)
1 lime
2 spring onion
Instructions
Slice the tempeh into triangles approximately 15mm / 0.5″ wide. Transfer to a dish.
Peel the ginger and garlic cloves. Slice the scotch bonnet in half and remove the stem and seeds. Slice the roots off the spring onion and roughly chop the bulbs and tops. Transfer everything, including all the remaining jerk marinade ingredients, to a small blender and blend until smooth. Then pour the marinade over the tempeh and use your hands to mix the tempeh until every piece is covered in the marinade. Cover and leave to marinate in the fridge for at least 2 hours.
When the tempeh is ready, transfer the panko breadcrumbs to a plate and mix in the all-purpose seasoning. Next add the flour to a separate plate and transfer the plant-based milk to a shallow bowl.
Preheat the oven to 180°C / 356°F fan-assisted.
Using one hand, pick up a piece of tempeh and coat it in the flour. Then, using the same hand, dip it in the milk until it's fully coated, before dropping it on top of the breadcrumbs. Switching hands, use your fingers to sprinkle breadcrumbs over the piece of tempeh, then roll it in the breadcrumbs until it's fully coated. Repeat until all the tempeh is covered in breadcrumbs.
Transfer the breaded tempeh to a large baking tray. Next, peel and slice the plantain 1cm thick and transfer to a bowl. Lightly drizzle with vegetable oil, then add the plantain to the baking tray. Bake the tempeh and plantain for 25 minutes.
Meanwhile, rinse the basmati under cold water in a sieve until the water runs clear. Drain and rinse the kidney beans, then transfer both to a saucepan and pour in the light coconut milk along with 2 tbsp of water. Add a pinch of salt and give everything a stir. Bring it to a gentle boil, then lower and simmer with the lid on for 10-15 minutes or until the rice is cooked, then take it off the heat and leave the saucepan to one side.
Next thinly slice the white and red cabbage, and slice the carrots into thin batons. Transfer the veggies to a mixing bowl and add the juice and zest from the lime, along with pinches of salt and pepper. Give it a mix, then leave to one side.
Finally, pick the coriander leaves off their leaves and roughly chop a quarter of them. Then slice the lime into quarters and thinly slice the spring onion.
When everything is ready, add the rice to the bowls, followed by the coleslaw, coriander leaves, breaded jerk tempeh and plantain. Top with the chopped coriander leaves, spring onion and squeeze over fresh lime to finish! Epic.