You'll need to 'set' the base in the freezer for at least one hour. This will prevent them bars falling apart when you slice them.
Make sure you heat the peanut butter mixture on a low heat. If it gets too hot, the extra heat will soften the cornflake mixture and they might get mushy.
These bars will last in an air-tight container in the fridge for up to 4 days so you don't have to gobble them all down in one go!
Not all cornflakes are vegan! Some brands use added Vitamin D which is extracted from animals. But there are plenty of brands which are vegan friendly.
To make this recipe soy-free, make sure you check the ingredients label on the chocolate to ensure it doesn't contain any soy.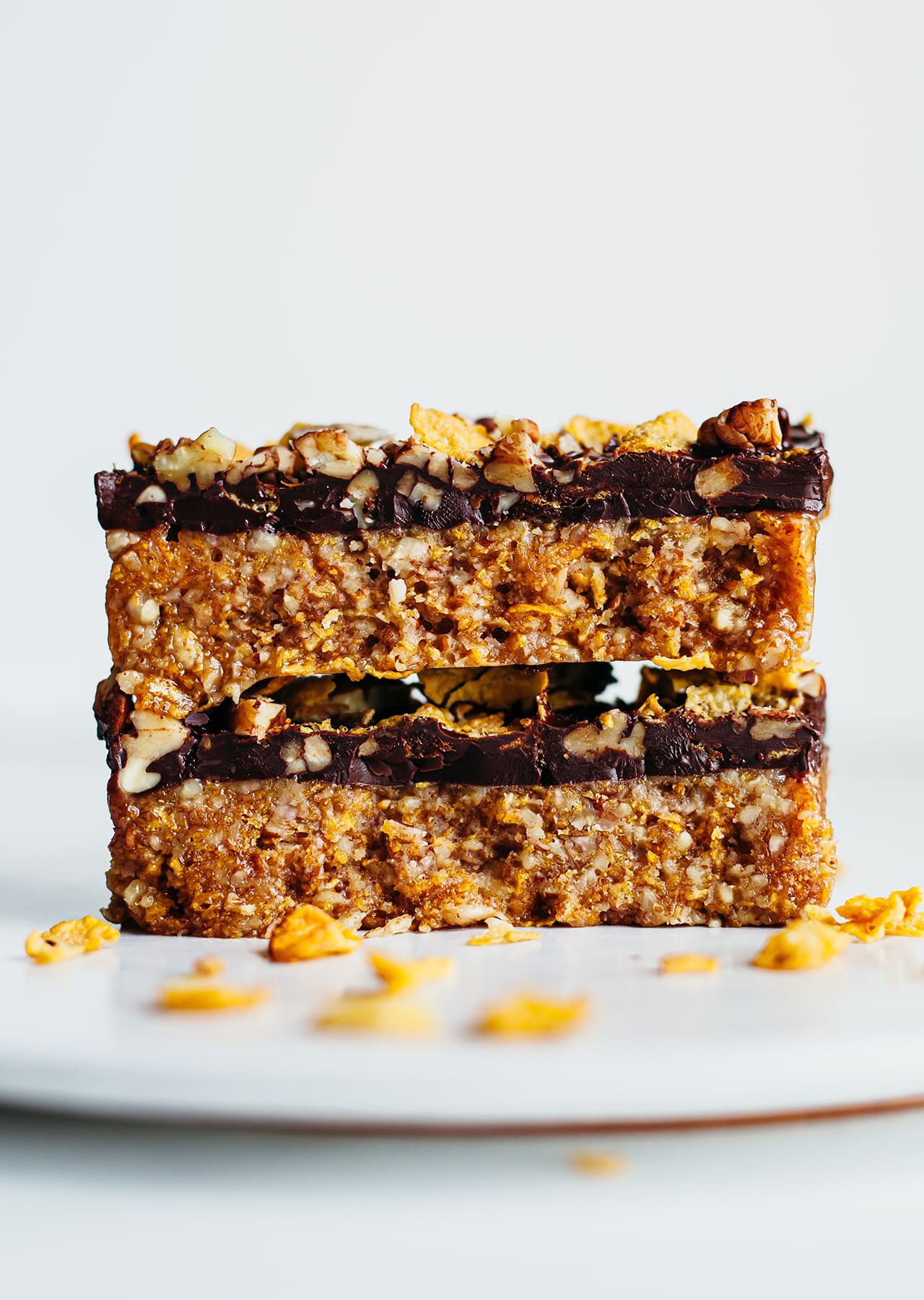 Ingredients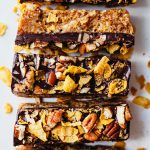 For the cornflake layer
110g / 3.9oz pecans, plus extra for decoration

80g / 2.8oz vegan-friendly cornflakes, plus extra for decoration, (or use gluten free)

2 tbsp smooth peanut butter 

4 tbsp maple syrup 

6 tbsp coconut oil 
For the chocolate layer
100g / 3.5oz 70% dark chocolate 

2 tbsp coconut oil
Method
Line the base and sides of a loaf tin with baking paper.

First, to prepare the cornflake layer, place the pecans in a food processor and process until mostly broken down. Next add the cornflakes and process until the pecans and cornflakes are a crumb-like consistency then transfer the mixture to a mixing bowl.

Add the peanut butter, maple syrup, and coconut oil to a small pan on a low heat. Heat for a few minutes until melted, stirring as you go. Pour the liquid over the cornflakes and pecans and stir until fully combined. Then spoon the mixture into the prepared loaf tin and smooth out the top with a spatula. Freeze for 1 hour.

After 1 hour, place an inch of water in a small saucepan over a low heat. Place a bowl in the mouth of the saucepan making sure the bottom of the bowl isn't touching the water. Add the chocolate and coconut oil to the bowl and stir until melted. Remove the loaf tin from the freezer and pour the melted chocolate over the cornflake layer and tap the tin so the chocolate is level. 

Next, roughly chop a handful of pecans and sprinkle them over the top along with a handful of cornflakes. Leave it to cool at room temperature, then place the loaf tin in the freezer for 30 minutes or until the chocolate has set.

Remove the loaf tin from the freezer and use the baking paper to pull out the bar and place it on a chopping board. Slice into 6-8 bars.

If you're not eating the bars immediately, store them in the fridge for up to 4 days.
Did You Make This Recipe?
Don't forget to share your SO VEGAN creations on Instagram and tag us at
@SOVEGAN
!