If you want to avoid the red wine, simply add 1-2 tsp of balsamic vinegar for a similar acidic flavour.
We really enjoy serving our casserole with mashed potato, but you can also go with slices of crusty bread to keep things super simple.
It's really important to simmer the sauce for long enough to cook out the bitterness in the tinned tomatoes and red wine. We also prefer our sauce slightly runny, so if in doubt add a splash of water if you think the sauce is becoming too thick.
Avoid soya milk in the mash to make this recipe soy-free.
Vegan Sausage Casserole

Tonight's dinner = sorted. Here's our brand new TASTY recipe for Vegan Sausage Casserole 😋 We also have a new cookbook! Order ONE POT VEGAN today 👉 sovegan.co/opva

Posted by So Vegan on Friday, 11 September 2020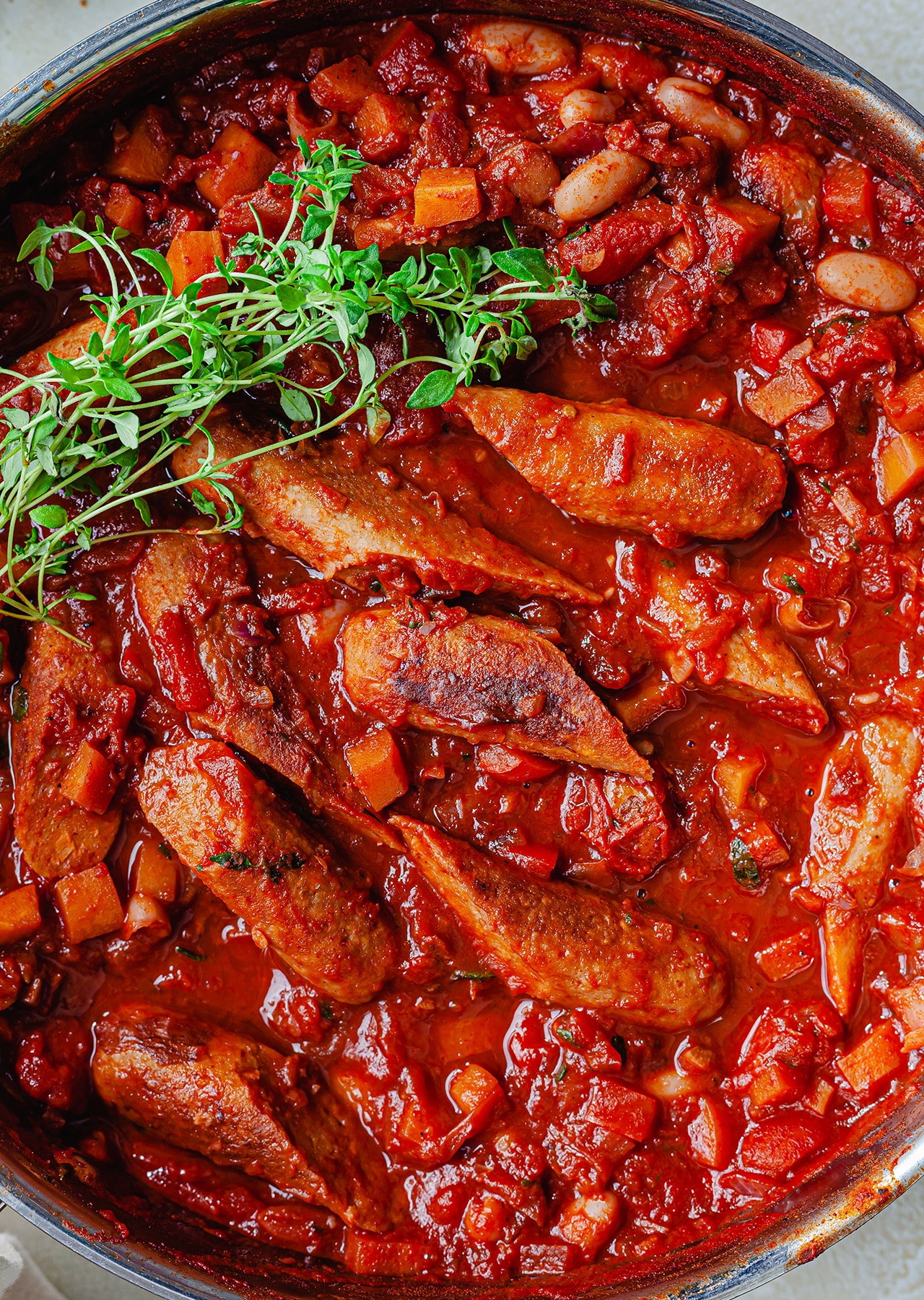 Ingredients
1 red onion
4 garlic cloves
2 carrots
olive oil
salt and pepper
1 red pepper
1 tbsp smoked paprika
1/4 tsp cayenne pepper
200ml / 6.8 fl.oz vegan-friendly red wine
2 x 400g / 14.1oz tins of chopped tomatoes
400g / 14.1oz tin of cannellini beans
1 tbsp orange marmalade
1.3kg / 46oz potatoes
2 tbsp vegan margarine or butter
2 tbsp plant-based milk
8 vegan sausages (defrost if frozen)
400g / 14.1oz green beans
3 thick sprigs of thyme (approx. 1 tbsp)
handful of fresh parsley
Method
Peel and dice the red onion and garlic. Dice the carrots. Add a splash of olive oil to a casserole pan over a medium heat. As soon as the oil is hot, add the red onion, garlic and carrot to the pan along with 1/2 tsp of salt and a pinch of pepper. Fry for 10-12 minutes until the onion begins to caramelise.
Meanwhile dice the red pepper, discarding the stalk and seeds. Add the red pepper to the pan with the smoked paprika and cayenne pepper. Fry for 3 minutes.
Turn the heat up to high and add the red wine. Simmer for 3 minutes.
Meanwhile drain and rinse the cannellini beans, then add them to the pan with the tinned tomatoes and orange marmalade. Give everything a good stir to make sure the marmalade is distributed evenly into the sauce and simmer on a low heat for 25-30 minutes until the sauce thickens slightly and the bitterness in the tinned tomatoes and red wine is cooked out.
Peel and chop the potatoes. Add them to a saucepan of boiling water and cook for 15-20 minutes or completely soft, then drain and transfer back to the saucepan. Add the vegan margarine, plant-based milk and a pinch of salt, then mash until smooth.
Add a splash of olive oil to a separate saucepan over a medium heat. As soon as the oil is hot, fry the sausages for 10-15 minutes or until brown on both sides. Then slice the sausages in half.
Trim the ends off the green beans and cook in salted boiling water for 6-7 minutes or until tender.
Finally, pick the thyme leaves and parsley leaves off their stalks. Add the thyme leaves and sausages to the casserole, stir, then cook for 1-2 minutes. When you're ready to plate up, divide the mashed potatoes, casserole and green beans on each plate, then sprinkle over the fresh parsley. Divine!
Did You Make This Recipe?
Don't forget to share your SO VEGAN creations on Instagram and tag us at
@SOVEGAN
!