Don't forget the key to a lovely banana bread is ripe bananas. If the bananas are VERY ripe, try reducing the amount of sugar to avoid an overly-sweet banana bread.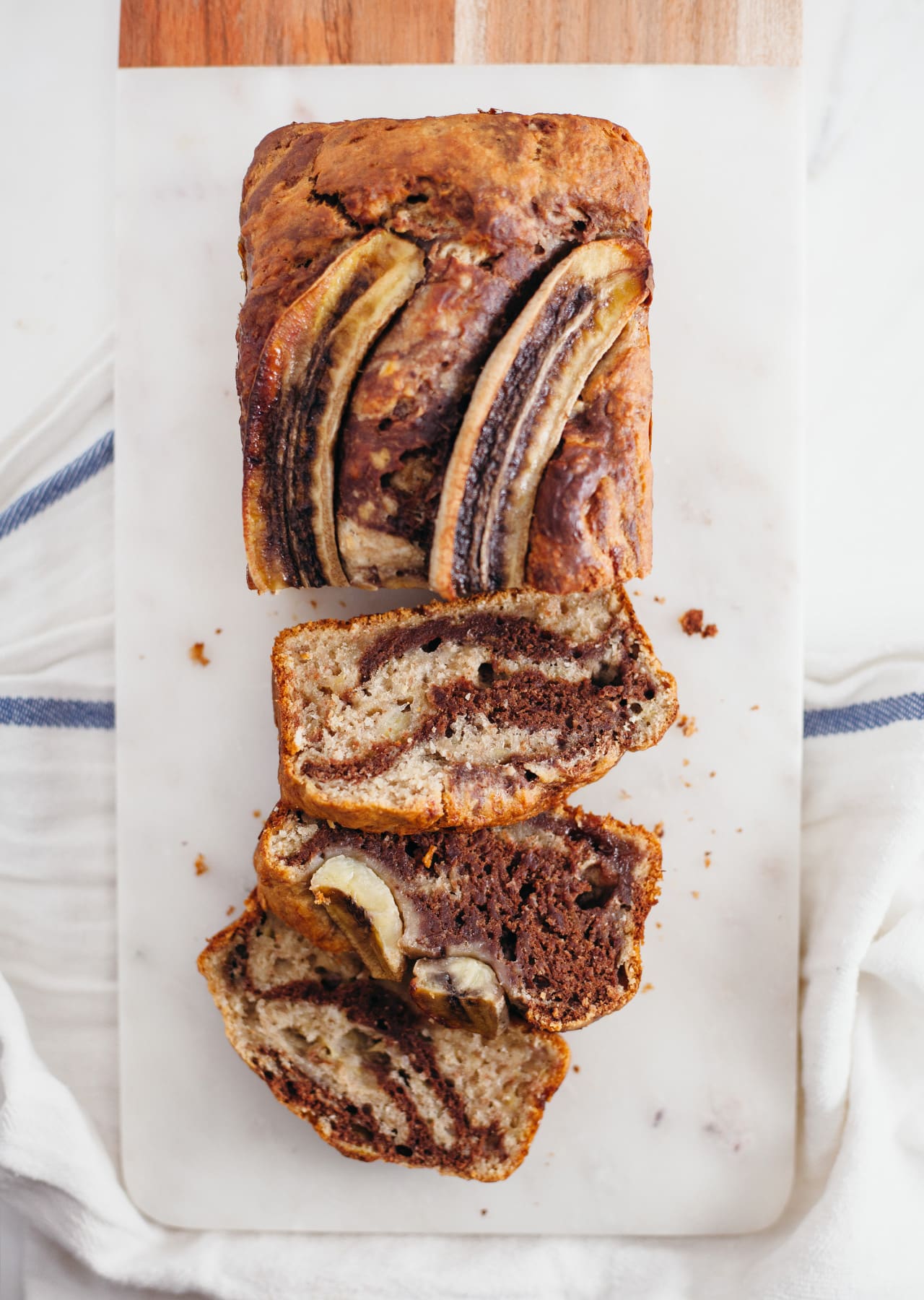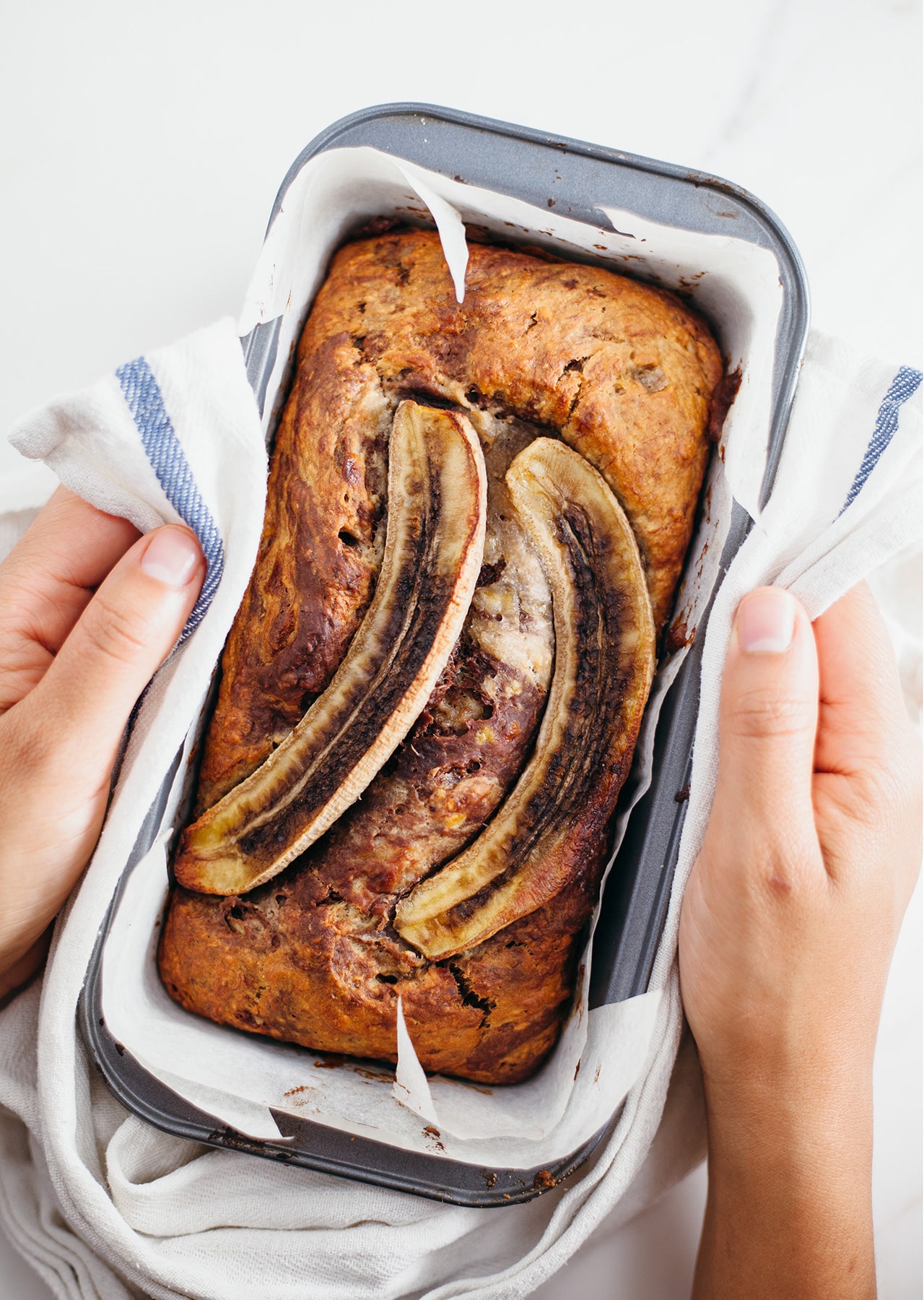 A few things to know:
We like to live on the edge (wink wink) so we enjoy our banana bread on the sweet side. But if you prefer a less sweet loaf, then simply add half the amount of sugar or you could even omit it entirely.
The desiccated coconut is totally optional. We love the combination of banana, chocolate and coconut, but you can simply leave out the desiccated coconut if you prefer.
Enjoy!
Roxy & Ben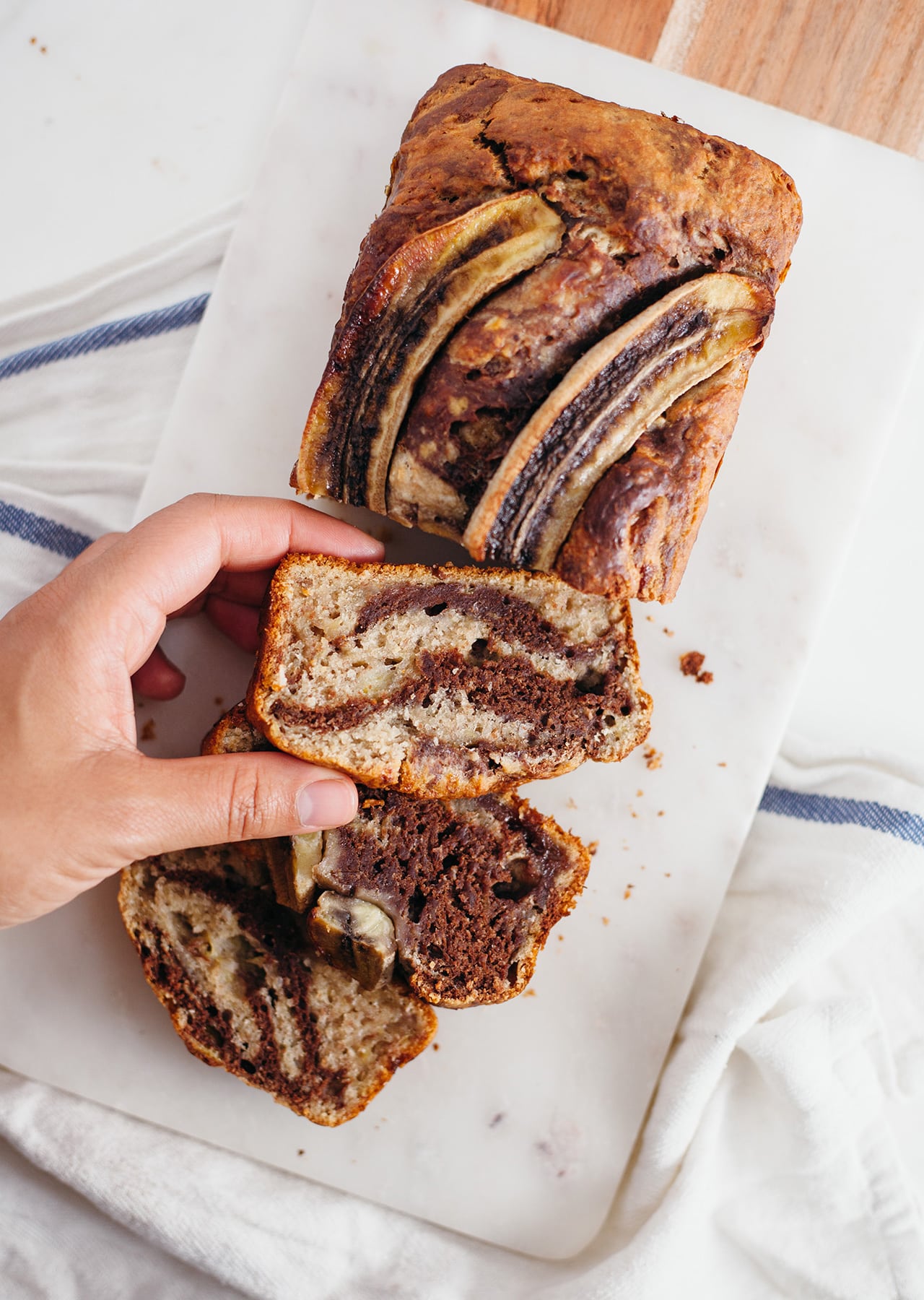 Ingredients
400g / 14.1oz ripe bananas, peeled

1 extra banana for decoration

200g / 7oz plain flour

2 tsp baking powder

50g / 2.1oz light brown sugar

4 tbsp desiccated coconut 

4 tbsp coconut oil, melted

2 tbsp oat milk

3 tbsp cocoa powder
Method
Preheat the oven to 180°C / 356°F fan-assisted and line a 450g (approx. 20cm x 10cm) loaf tin with baking paper.

Add the peeled bananas to a large mixing bowl. Mash with a fork until mostly smooth and runny. Add the plain flour, baking powder, sugar, desiccated coconut, coconut oil and oat milk, and stir until well combined to create the plain mix.

Transfer a third of the mixture to a smaller mixing bowl. Add the cocoa powder to the smaller mixing bowl and stir until well combined to create the chocolate mix.

Spoon a third of the plain mixture into the pre-lined loaf tin and level the top with the back of a spoon. Spoon half of the chocolate mix on top and level the top with the back of a spoon. Repeat for another layer, then top with the remaining third of the plain mix, again using the back of a spoon to level the top.

Run a knife through the mixture a few times to create the 'marble' effect.

Peel and slice the remaining banana in half, and place it gently on top of the mixture.

Bake in the oven for 45 minutes or until a toothpick comes out clean.

Remove from the oven and leave to cool for 10 minutes, then remove the banana bread from the loaf tin and leave it to cool for at least 30 minutes before serving. We sometimes enjoy the banana bread nice and warm, but it's also great the next day! This will last a couple of days at room temperature, or up to a week in the fridge.
Did You Make This Recipe?
Don't forget to share your SO VEGAN creations on Instagram and tag us at
@SOVEGAN
!