This rich and satisfying pie uses a mix of chestnut, oyster and shiitake mushrooms, which we cook with red wine, soy sauce and rosemary to create our gorgeous filling, before wrapping in puff pastry.
Notes:
We love to serve this pie with creamy mashed potatoes and garden peas. The filling in the pie already has a rich gravy-like sauce, so we usually go without extra gravy but this is totally up to you.
You can use almost any mushrooms you like. We usually go with a mix of chestnut, oyster and shiitake, but we also use up whatever we already have including button and closed-cup.
If you want to avoid red wine, you can substitute this for 1-2 tablespoons of balsamic vinegar. Start with a tablespoon, then taste the filing and add more if you prefer.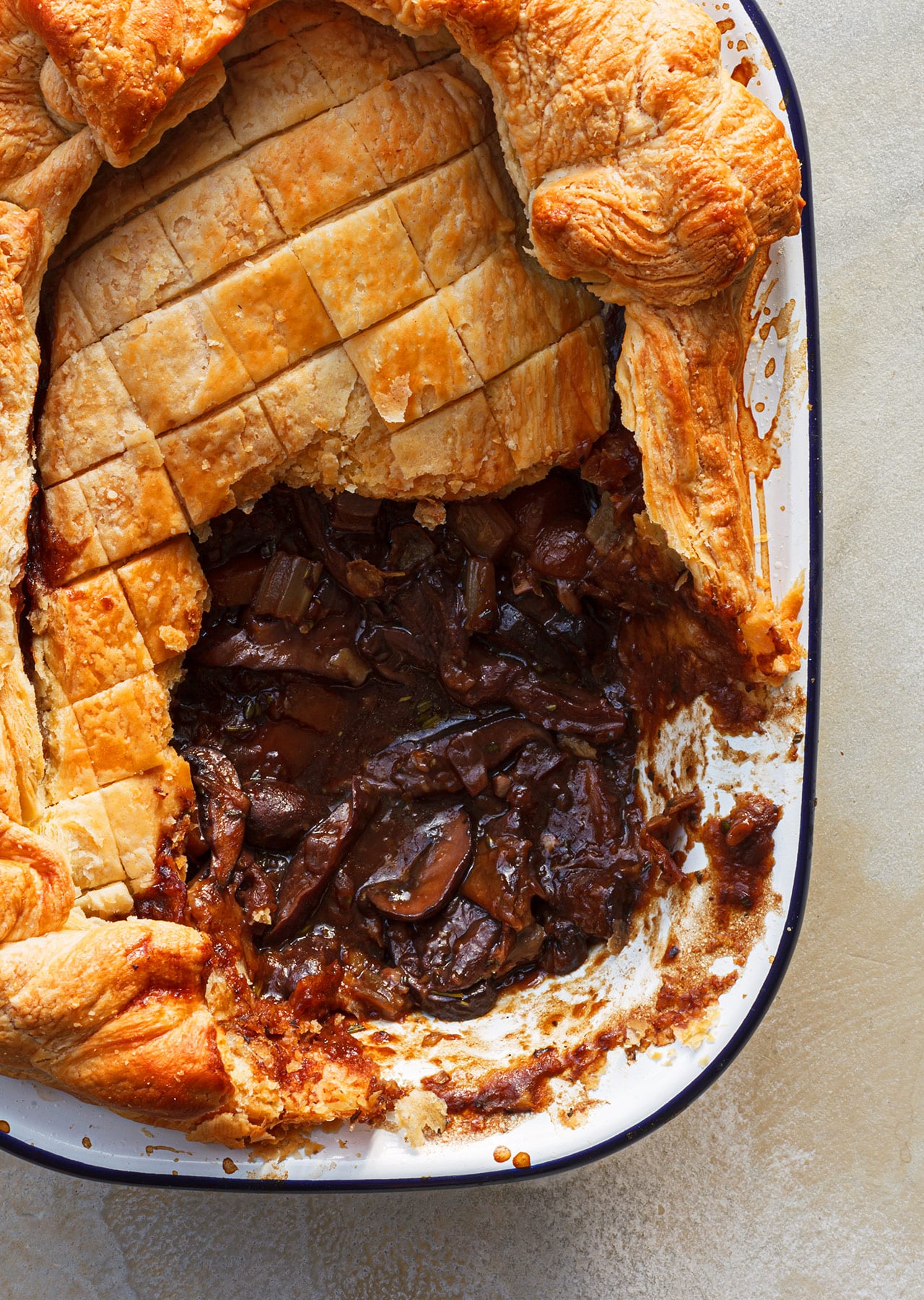 Ingredients
olive oil
1 red onion, peeled + chopped
4 garlic cloves, peeled + finely chopped
2 carrots, chopped
2 sticks of celery, chopped
500g (17.6oz) mixed mushrooms, roughly sliced (see notes)
250ml (1 cup) vegan-friendly red wine
3 sprigs of fresh rosemary, chopped
2 tbsp soy sauce
250ml (1 cup) vegetable stock
3 tbsp plain flour, plus extra for dusting
salt + pepper
100g (3.5oz) vegan cheddar cheese, grated
500g (17.6oz) block of vegan-friendly puff pastry
plant-based milk, for brushing
Method
Drizzle some olive oil in a large pan or casserole pot on a medium heat. Next add the red onion, garlic, carrots and celery. Cook for 5 minutes or until the onion has softened.
Add the mushrooms and cook for another 6-8 minutes, or until the mushrooms have shrunk in size and lost most of their moisture.
Now turn the heat up and pour in the red wine. Cook the wine long enough until almost all the liquid has evaporated, which should take about 3-5 minutes.
Turn the heat back down to medium and add the rosemary, soy sauce, vegetable stock and 2 tablespoons of the flour. Give everything a good stir to make sure the flour is fully combined, then cook for a few more minutes or until the filling reaches a thick gravy-like consistency. You want to avoid a thin filling because it will pour out of the pie when you slice it.
Give the filling a taste and season to perfection with salt and pepper, then remove the pan from the heat and stir in the grated cheese. Now leave the filling to cool for 20-30 minutes (this helps to prevent a soggy bottom)
Preheat the oven to 200°C fan / 425°F.
Slice 1/3 off the block of puff pastry. Dust a clean work surface with flour, then roll out the larger piece of pastry until it's about 3mm (0.1") thick and covers the base and sides of your pie dish. Then transfer the pastry base to the dish and sprinkle the remaining tablespoon of flour across the base (this also helps to prevent a soggy bottom).
Add the filling to the pie dish and brush the edges of the pastry with milk. Then roll out the remaining piece of pastry so it covers the top of the pie dish and lightly score the surface of the pastry. Add the pastry top to the pie dish and fold over the edges, then brush the surface and edges with more milk.
Bake for 35-45 minutes or until the pastry is golden brown all over, then serve with all your favourites (we love to serve this with creamy mashed potatoes and garden peas).
Did You Make This Recipe?
Don't forget to share your SO VEGAN creations on Instagram and tag us at
@SOVEGAN
!