Here's what you need to know:
You don't need to 'knead' the dough. Simply bring it together into a ball, then roll it out into whichever shape you prefer.
Za'atar is now available in most supermarkets, but alternative you can try combining sesame seeds, sumac, cumin and oregano.
The hotter the oven, the crispier the crust! You can also use a pre-heated pizza stone to create a more evenly-cooked base.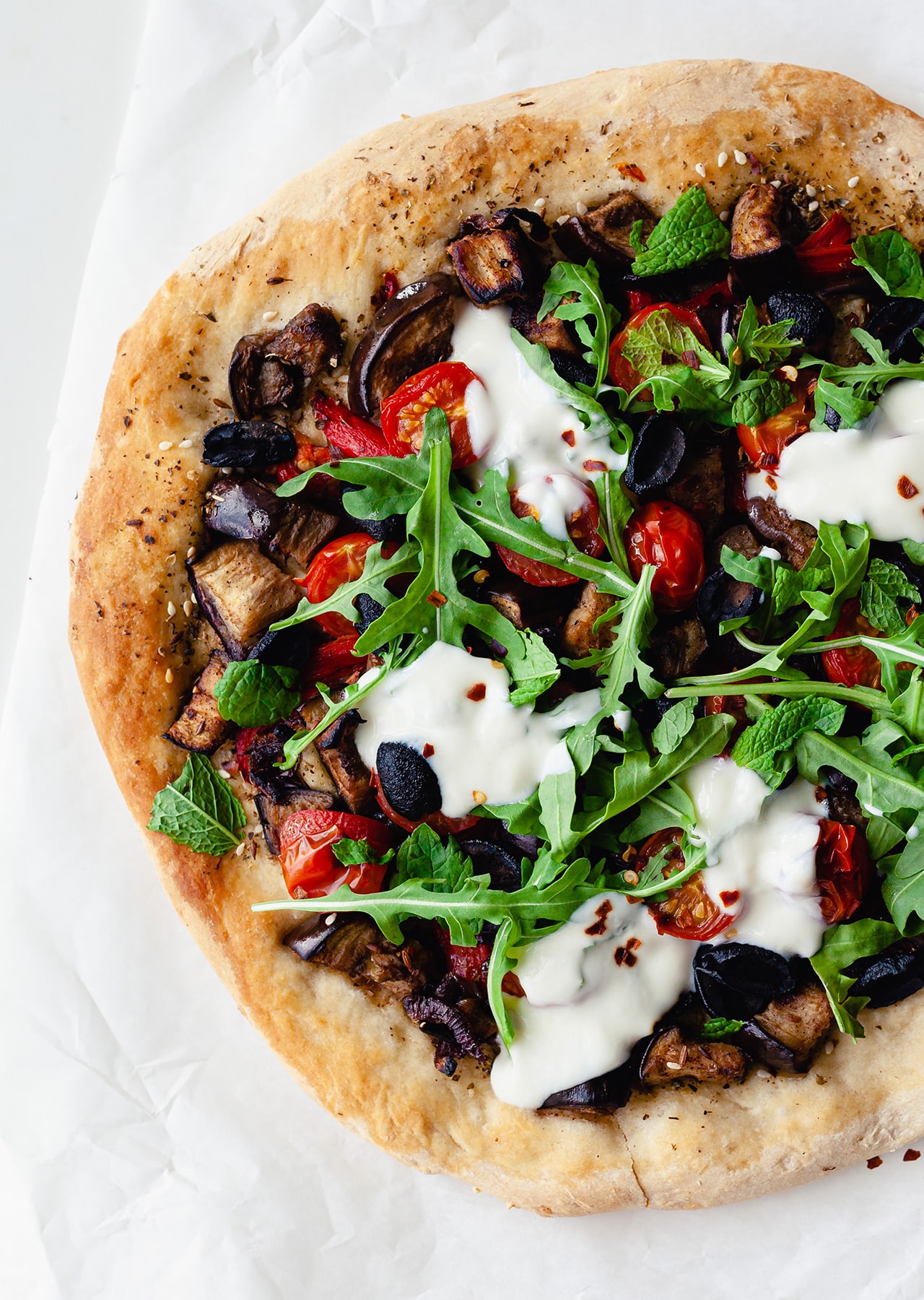 Ingredients
olive oil
2 red onion, peeled + sliced
1 aubergine, chopped
1 tsp cumin seeds
1/4 tsp ground cinnamon
salt + pepper
260g / 9.2oz plain flour
1 tbsp baking powder
1 tbsp of za'atar
1 jarred red peppers, drained + sliced
80g / 2.8oz cherry tomatoes, sliced in half
30g / 1oz pitted black olives, sliced in half
1/2 lemon
small handful of rocket
a few fresh mint leaves
3 tbsp vegan plain yogurt
small pinch of chilli flakes
Method
Preheat the oven to 240°C / 464°F fan and line a large baking tray with baking paper.
Place a frying pan on a medium heat and add a generous drizzle of olive oil. Add the red onions to the frying pan and fry for 3-5 minutes or until translucent. Then add the aubergine straight to the pan and fry for around 10-12 minutes, stirring occasionally. Add an extra drizzle of olive oil if the aubergine gets too dry. Next add the cumin seeds to the pan along with the ground cinnamon and pinches of salt and pepper and fry for 1 minute.
For the dough, combine the plain flour, baking powder and 1/2 tsp of salt in a mixing bowl. Pour in 160ml (5.4 fl.oz) of tepid water and bring the dough together first with a metal spoon, then tip it out onto a kitchen worktop. Knead a few times to bring the dough together then use the palms of your hands to shape the dough into a tight ball. You may need to add a few more pinches of flour here if the dough is too wet.
Lightly flour the kitchen worktop and a rolling pin, and roll the dough out into whatever shape you prefer - just make sure it's about half a centimetre thick. When you're ready, transfer the dough to a large lined baking tray, drizzle the top with olive oil and use your fingers to spread the oil across the dough.
Sprinkle the za'atar all over the base, then spread the sliced jarred red peppers all over, followed by the fried aubergine mixture. Next sprinkle the cherry tomatoes and olives on top. Bake the pizza for 15-20 minutes or until the edges begin to brown and are crispy.
Finish

by squeezing over the juice from the lemon half

and top with the rocket, mint leaves and spoonfuls of the vegan plain yoghurt.
Notes
Nutritional information per serving: Calories 766kcal / Protein 19.7g / Fat 22.5g / Sat Fat 3.9g / Carbs 127.2g / Sugar 16.2g / Fibre 15.6g
Did You Make This Recipe?
Don't forget to share your SO VEGAN creations on Instagram and tag us at
@SOVEGAN
!