A really simple and wholesome pasta, which is packed with protein and flavour.
You can make this gluten-free by simply substituting soy sauce for tamari and wholewheat spaghetti for a gluten-free version.
We use dried red lentils which are relatively quick to cook – you can try other varieties but they might take longer to cook until soft.
The sauce is great for freezing and using as meal-prep. You can also serve it with jacket potato or a grain such as buckwheat.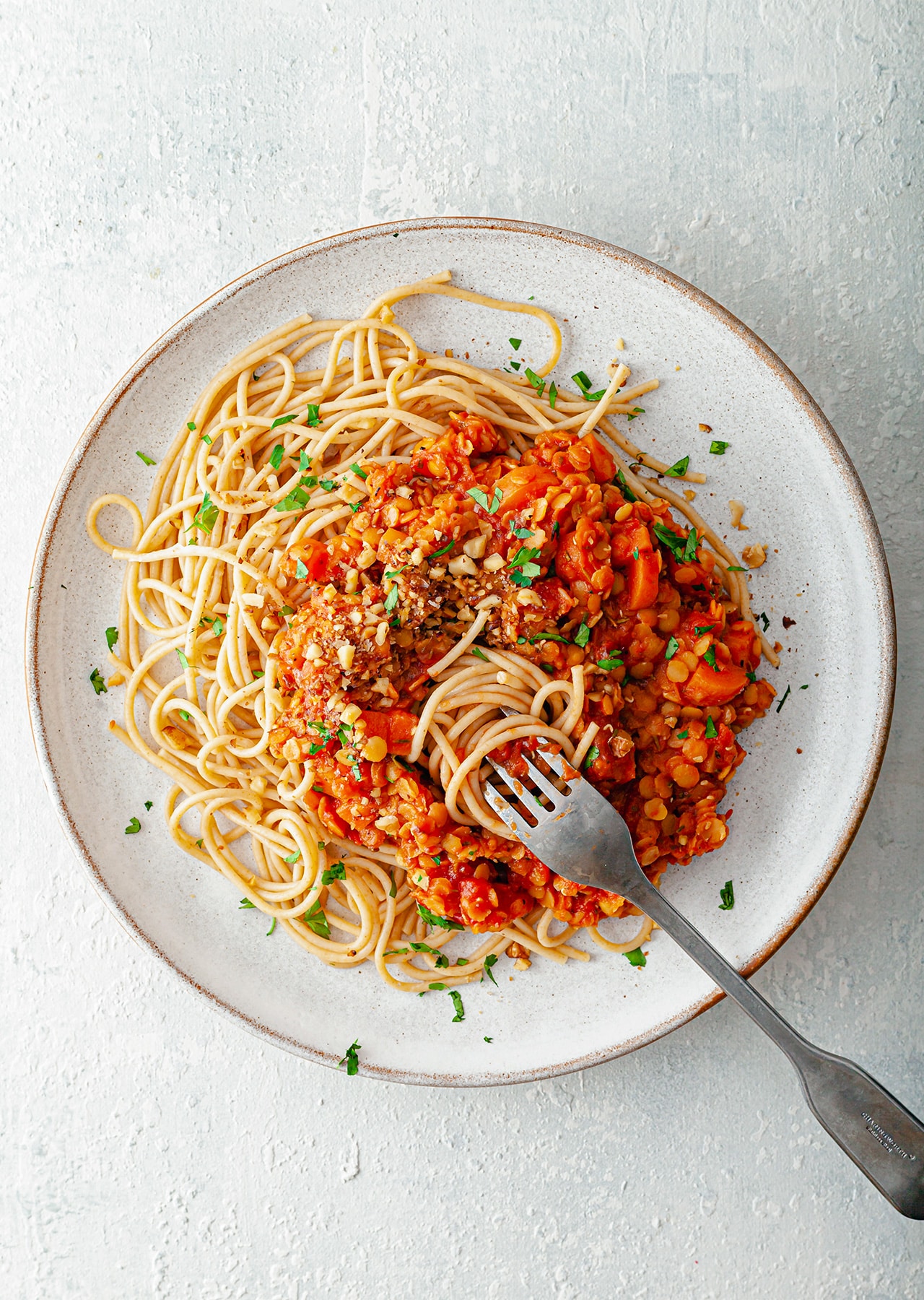 Ingredients
olive oil
2 carrot, diced
3 garlic cloves, peeled + diced
250g / 8.8oz dried red lentils, rinsed
2 x 400g / 14.1oz tins of chopped tomatoes
1 tbsp soy sauce
2 tsp dried oregano
2 tsp dried rosemary
2 tbsp capers, drained
2 tbsp balsamic vinegar
salt + pepper
1/2 stock cube
320g / 11.3oz wholewheat spaghetti
40g / 1.4oz walnuts, roughly chopped
small handful of fresh parsley leaves, chopped
Method
Place a deep pan on a medium heat and drizzle in a tablespoon of olive oil. Once hot add the carrot and garlic to the pan and fry for 5 minutes.
Add the lentils to the pan along with the tins of chopped tomatoes, soy sauce, oregano, rosemary, capers, balsamic vinegar and pinches of salt and pepper. Then crumble in the 1/2 stock cube and pour in 400ml (13.5 fl.oz) of hot water. Bring the sauce to the boil, then lower the heat and simmer for 15-20 minutes or until the lentils are cooked. Add a splash more water if the sauce gets too dry.
Meanwhile cook the pasta as per the packet instructions. Then add the walnuts to a hot pan on a medium - high heat and toast them for a few minutes. Season with a pinch of salt and pepper, then remove the pan from the heat.
Serve the lentil ragu on top of the pasta, then top with the toasted walnuts and chopped parsley.
Notes
Nutritional information per serving: Calories 630kcal / Protein 30.7g / Fat 14g / Sat Fat 1.9g / Carbs 101.7g / Sugar 17.1g / Fibre 25g
Did You Make This Recipe?
Don't forget to share your SO VEGAN creations on Instagram and tag us at
@SOVEGAN
!