Delicious fluffy rice, combined with our 'chorizo' mushroom, veggies and topped with vegan yoghurt. This is incredible!
You can easily make this gluten-free by substituting soy sauce for tamari.
Cajun seasoning is a spice mix available in most supermarkets, but you can also use your favourite blends: peri-peri and fajita seasoning would also work.
We prefer not to cook our frozen peas. We simply defrost them in hot water, then drain and add them to the pot.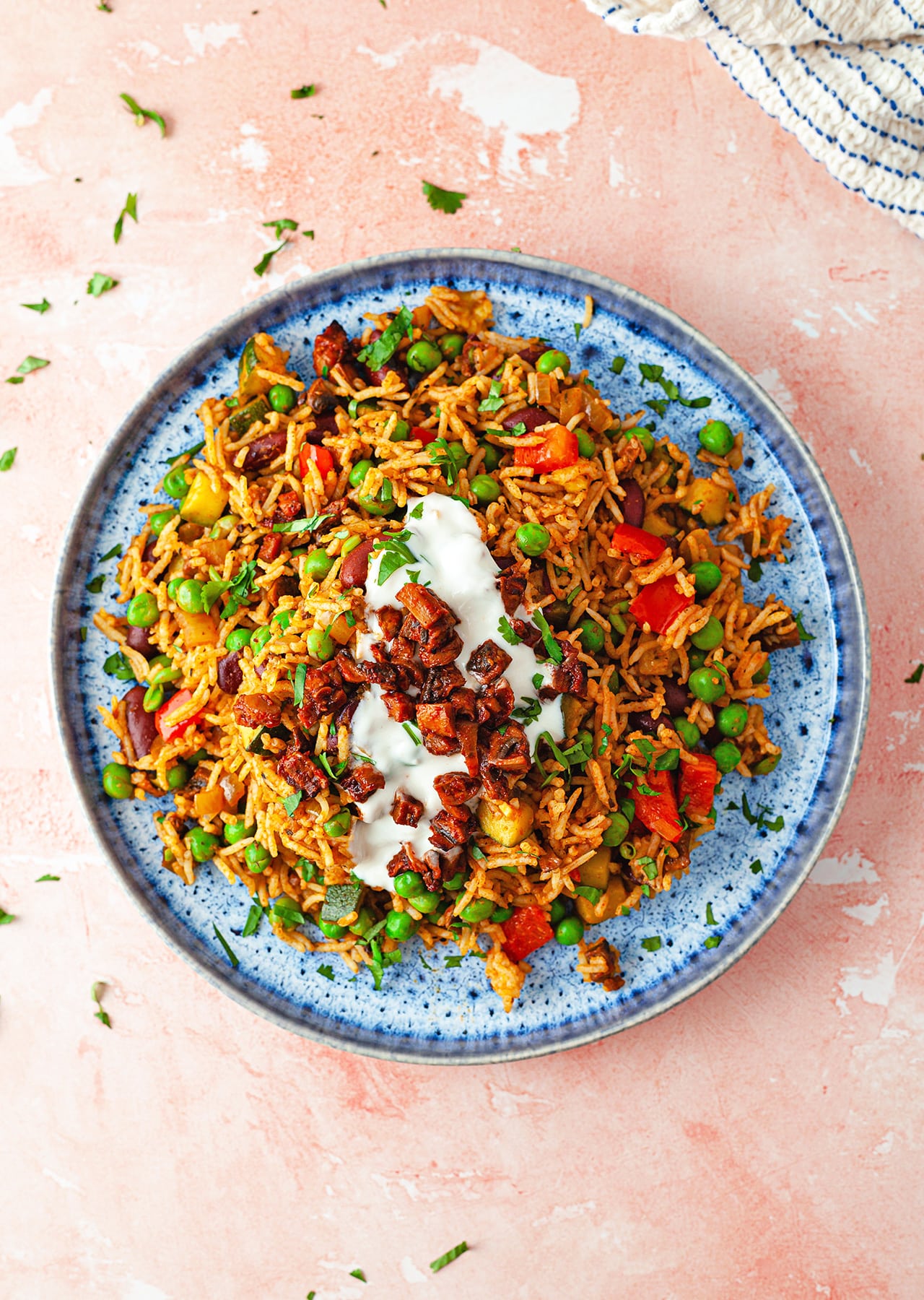 Ingredients
2 tbsp soy sauce (or tamari for a gluten free version)
1/2 tbsp smoked paprika
2 tbsp tomato puree
olive oil
salt + pepper
300g / 10.6oz closed cup mushrooms, chopped
200g / 7oz basmati rice
1 onion, peeled + diced
3 garlic cloves, peeled + diced
1 courgette, diced
1 red pepper, diced
1 tin kidney beans, drained + rinsed
1 1/2 tbsp cajun seasoning
1/2 vegetable stock cube
300g / 10.6oz frozen petits pois peas, defrosted
small handful fresh coriander, chopped
4 tbsp vegan plain yoghurt
Method
Preheat the oven to 200°C / 390°F fan and line a large baking tray with baking paper.
Add the soy sauce, smoked paprika and 1 tablespoon of tomato puree to a large mixing bowl along with 1 tablespoon of olive oil and a generous pinch of pepper. Stir to combine. Add the mushroom to the mixing bowl and stir until fully coated, then add them straight to the baking tray in a single layer. Bake for 20 minutes.
Next rinse the rice and add it to a saucepan along with 1.5 cups of water and a pinch of salt. Cover the saucepan with a lid and cook on a low-medium heat for 10-15 minutes until the water has evaporated and the rice is fluffy. Then take the lid off to let any extra moisture escape.
Meanwhile add 2 tablespoons of olive oil to a pot on a medium heat. Once hot add the onion and fry for 5 minutes. Then add the garlic and courgette and fry for 8 minutes. Next add the red pepper, kidney beans and cajun seasoning to the pot along with 1 tablespoon of tomato puree and a generous pinch of salt. Then combine the 1/2 stock cube in a small bowl along with 100ml (3.4 fl.oz) of hot water and pour it into the pot. Give everything a good stir and fry for 5 minutes or so, or until most of the water has evaporated.
Add the peas (note: after defrosting the peas, if they still have a mild bitter taste then we recommend either boiling or microwaving them before adding them to the pot) and cooked rice to the saucepan along with most of the chorizo mushroom bits (save a handful for topping later on). Remove the saucepan from the heat and stir to combine. Season to taste with extra salt and pepper if necessary.
Serve in bowls and top with the remaining mushroom chorizo bits, chopped coriander and a spoonful of vegan plain yoghurt. Best eaten immediately.
Notes
Nutritional information per serving: Calories 478kcal / Protein 18.8g / Fat 13.9g / Sat Fat 2.2g / Carbs 67.4g / Sugar 11.7g / Fibre 7.9g
Did You Make This Recipe?
Don't forget to share your SO VEGAN creations on Instagram and tag us at
@SOVEGAN
!