At long last, we can finally share with your our debut vegan meal prep recipe.
Was it worth the wait? We think so.
A vegan meal prep recipe has been on the cards for a while now.
This is the perfect meal for busy people. Simply sacrifice 45 minutes or so on a Sunday night and you'll be left with four deliciously filling lunches for the week.
These portion sizes are fairly large because we wanted to create enough nutritious food to keep you going beyond throughout the day (we usually snack on leftovers for a mid-afternoon treat).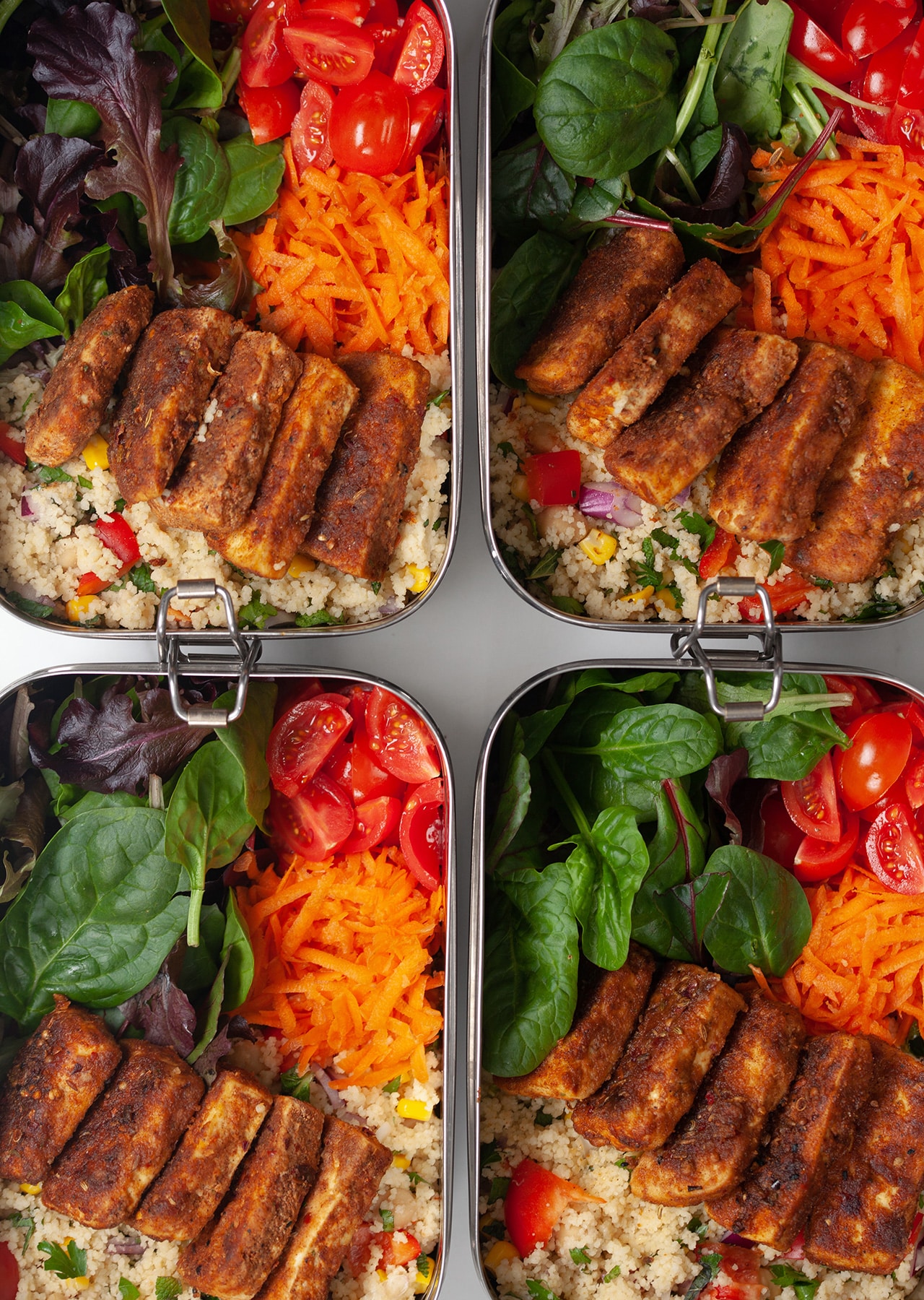 We decided to go for a Moroccan-themed meal prep because we've totally fallen in love with ras el hanout.
It's a traditional spice mix, commonly used throughout North Africa to season meat, but it also goes perfectly with tofu.
You'll find it in most large supermarkets, but you can always use an alternative Moroccan spice mix if you're having trouble finding it.
And if you love this, then you'll totally love our debut 5-ingredient cookbook So Vegan in 5, which is out right now. 
Enjoy!
Roxy & Ben
Easy Moroccan Meal Prep
Full recipe: sovegan.co/mealprep

Posted by So Vegan on Monday, 4 February 2019
Easy Moroccan Meal Prep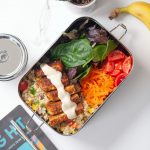 Roxy, So Vegan
At long last, we can finally share with your our debut vegan meal prep recipe. Was it worth the wait? We think…
Print This
Ingredients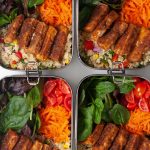 For the couscous:
320g (11.3oz) couscous
750ml (3 cups) veg stock
1 red onion
1 red pepper
1 x 400g (14.1oz) tin chickpeas
1 x 200g (7oz) tin sweetcorn
large handful fresh parsley
large handful fresh mint
2 lemons
For the tofu:
500g (17.6oz) extra firm tofu
4 tbsp ras el hanout (North African spice mix)
3 tbsp cornflour
For the dressing:
6 tbsp tahini
3 tbsp lemon juice
1 tbsp maple syrup
5 tbsp water
To serve:
2 medium carrots
300g (10.5oz) cherry tomatoes
100g (3.5oz) mixed salad leaves
The cupboard essentials:
salt
pepper
extra virgin olive oil
olive oil
Instructions
Transfer the couscous to a large bowl, then prepare the vegetable stock so it's hot and pour it over the couscous. Cover the bowl with a plate and leave for 10 minutes until the couscous becomes light and fluffy.
Dice the red pepper and onion. Rinse and drain the chickpeas and sweetcorn. Then remove the stalks from the parsley and mint and roughly chop the leaves. Add the pepper, onion, chickpeas, sweetcorn, parsley, mint and juice from both the lemons to the couscous, along with a drizzle of extra virgin olive oil (optional). Stir to combine, then season with salt and pepper to taste (depending on your vegetable stock, the couscous might already be quite salty).
In a separate small bowl combine the cornflour and ras el hanout, along with pinches of salt and pepper. Cut the tofu into 1cm(1/3 inch) thick slices (drain any excess water first, if necessary) and toss the tofu slices in the ras el haout and cornflour mixture until fully coated.
Add a drizzle of oil to a frying pan on a medium heat. Once hot, add the the tofu slices to the pan and fry for 3-5 minute on each side until crispy.
Meanwhile grate the carrots and quarter the cherry tomatoes.
Next, prepare the dressing by mixing all the ingredients together in a small bowl.
Divide the couscous mixture between four lunch container boxes, then add a quarter of the grated carrot, cherry tomatoes and mixed leaves in each box. Top with a quarter of the tofu and either drizzle the dressing over the tofu now or place it in a small airtight container to use when the meal is ready to eat.
Place the lids on the boxes and store the meal prep in the fridge for up to 5 days.
Notes
Nutritional information per serving: Calories: 641 Total Fat: 18.7g Sat Fat: 3.2g Carbohydrate: 91.6g Sugars: 10.8g Fiber: 12.9g Protein: 28.5g