Inspired by the classic Greek spanakopita and Turkish börek, this impressive filo swirl is stuffed with our favourite festive flavours, including cranberry sauce, chestnuts and sage. It's a great centrepiece for Christmas dinner or a Sunday lunch during the colder months.
We use shop-bought filo sheets which are vegan-friendly. They're also fairly long, which means we can create long sections of the swirl. Depending on the filo sheets you buy, you might need to use more or less sheets.
To press the tofu, we simply squeeze it between our hands over a bowl or the sink.
You can make the mixture ahead of time and leave it covered in the fridge. Then, when you're an hour or so from eating, you can start creating the swirl and baking it ready to serve.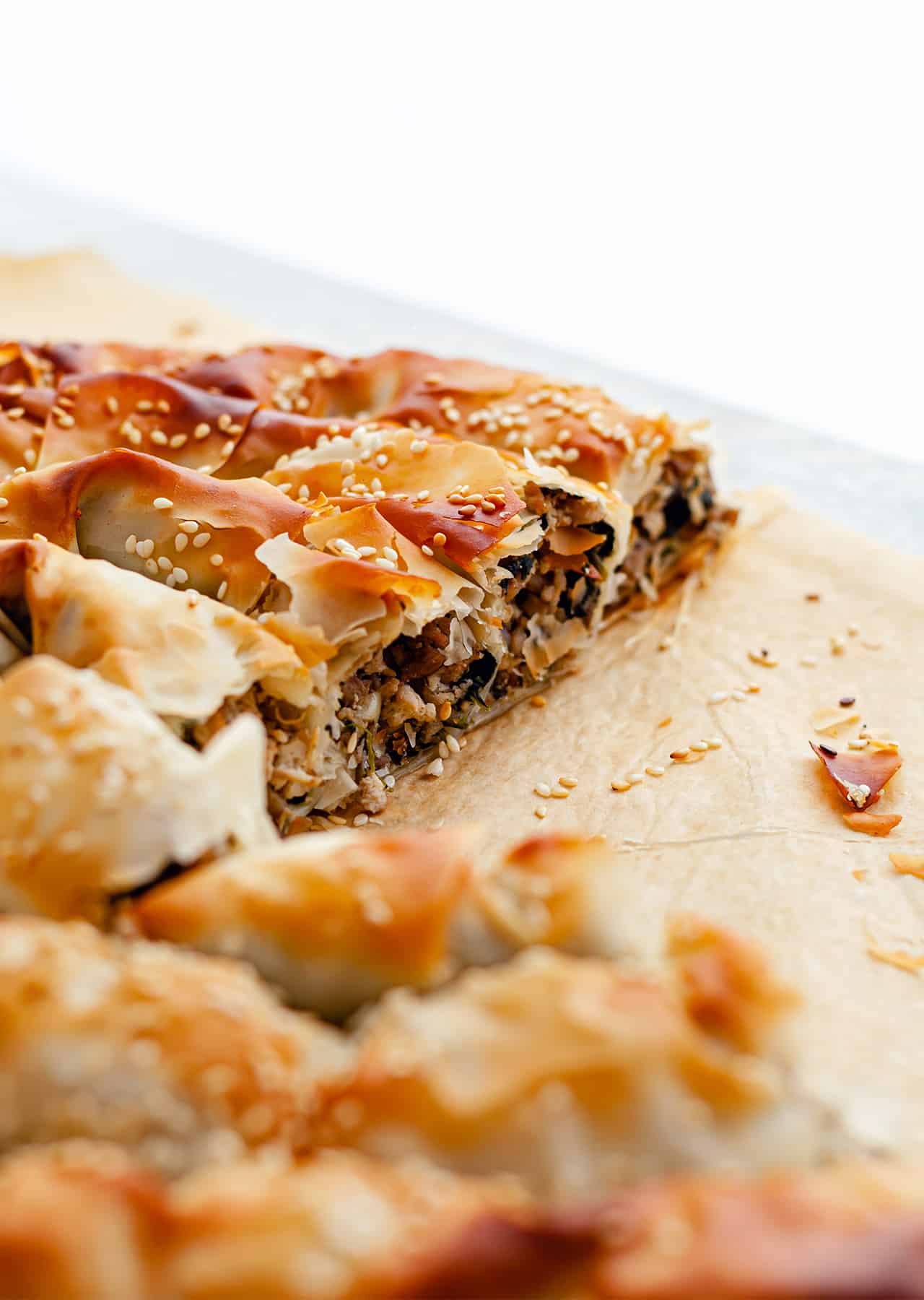 Ingredients
olive oil
1 onion, peeled + chopped
6 garlic cloves, peeled + chopped
500g (17.6oz) mushrooms, chopped
400g (14.1oz) firm tofu, pressed + drained (see notes)
200g (7.1oz) baby spinach
100g (3.5oz) cooked chestnuts, chopped (we use vacuum-packed chestnuts)
80g (2.8oz) breadcrumbs
3 tbsp cranberry sauce
16 sage leaves, chopped
4 sprigs of fresh thyme, leaves picked
salt + pepper
9 filo sheets, see notes
1 small handful of sesame seeds
Method
Add a splash of olive oil to a pan on a medium heat. Fry the onion and garlic for 10 minutes or until they begin to brown.
Add the mushrooms and break up the tofu into the pan. Fry for 10-15 minutes or until most of the moisture has gone.
Add the spinach and cook until wilted.
Transfer the mixture to a large mixing bowl. Add the chestnuts, breadcrumbs, cranberry sauce, sage, thyme and generous pinches of salt and pepper. Stir to combine, then leave to one side to cool for 5-10 minutes.
Preheat the oven to 200°C fan / 425°F.
Roll out a sheet of filo pastry on a clean worktop. Lightly brush the sheet all over with olive oil. Then place another filo sheet on top.
Add a quarter of the mixture along the length of the filo sheet. Then carefully roll into a long log and slowly curl tightly into a swirl. Don't worry if the filo splits. Slice a strip from one of the sheets, brush it with olive oil and use it to patch over the split.
Repeat three more times and curl each log around the swirl. You can also use the extra sheet to slice more strips and cover the gaps where the logs connect to each other.
Brush the top of the swirl with olive oil and sprinkle sesame seeds all over the top.
Bake for 30-40 minutes or until crispy and golden all over. And that's it!
Did You Make This Recipe?
Don't forget to share your SO VEGAN creations on Instagram and tag us at
@SOVEGAN
!