This cheesecake is so simple. No baking, no complicated steps and easy-to-find ingredients.
It's important to use tins of full-fat coconut milk because the cream is more likely to set in the tin. To be extra sure, we usually shake the tin before we buy it – if it feels like the cream has already mostly set, then it's likely to fully separate in the fridge.
Opt for gluten-free biscuits to make this recipe gluten-free.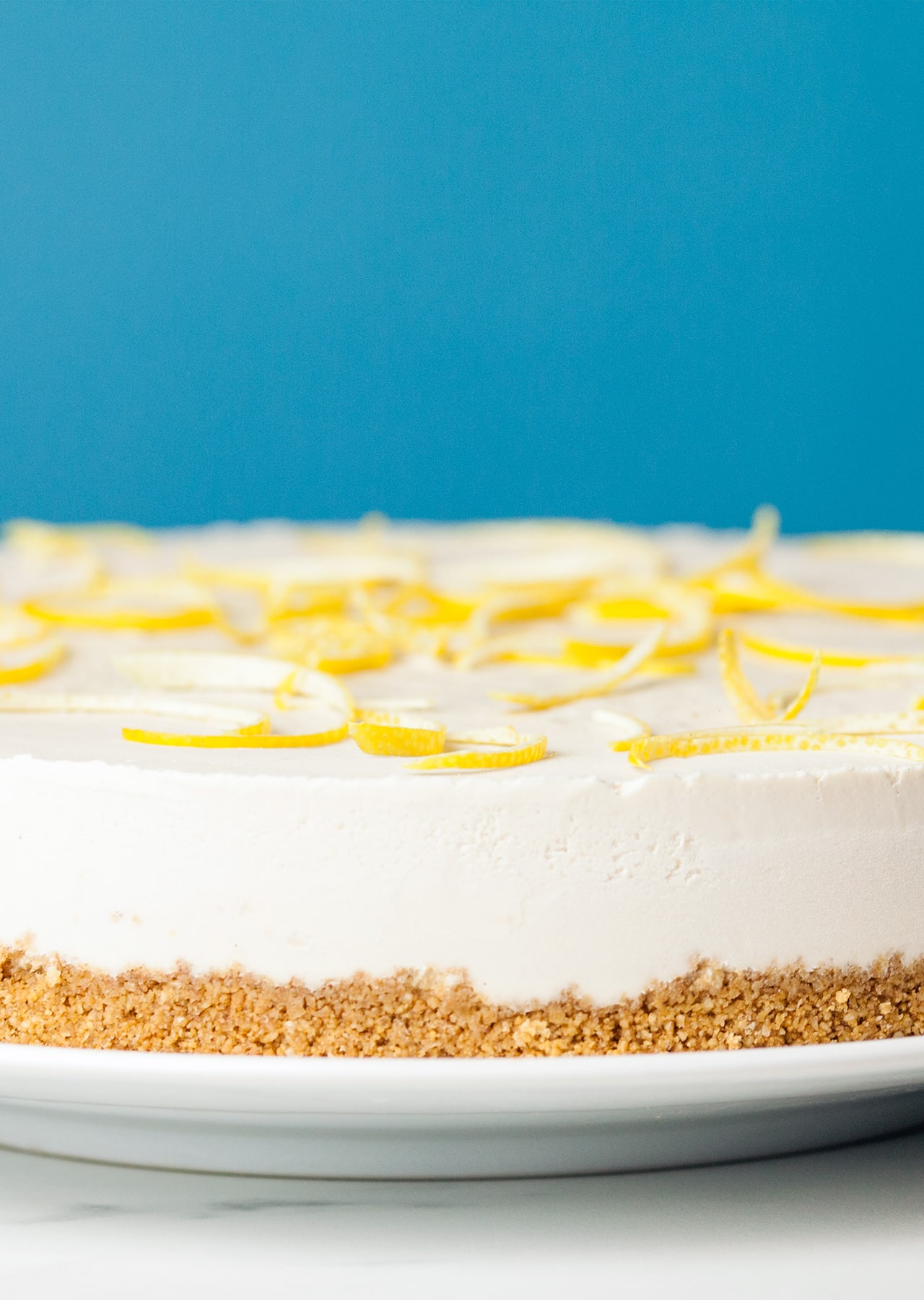 Ingredients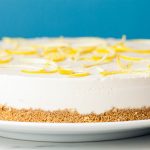 450 g (15.8 oz) cashews
2 x 400ml (13.5 fl.oz) tins of full-fat coconut milk, see notes
300 g (10.6 oz) vegan biscuits
3 tbsp coconut oil, melted
75 ml (2.5 fl.oz) maple syrup
5 lemons
1 tsp vanilla extract
pinch of salt
Method
Soak the cashews in hot water for 1 hour.

Place the 2 tins of coconut milk in the fridge to set the cream. This can take between an hour and three hours depending on much fat is in the coconut milk.

Process the vegan biscuits and coconut oil in a food processor until fine. Then transfer to a cake tin and press down with a glass for an even and firm base. Leave the cake tin to one side.

Remove the coconut tins from the fridge and scoop out the coconut cream that has settled on the top. Transfer the coconut cream to a blender and discard the coconut water or use it in another recipe.

Add the cashews, maple syrup, juice of 4 lemons, zest of 4 lemons, vanilla extract and salt to the blender, and blend until smooth. You may need to do this in two batches if your blender is too small to contain all the ingredients.

Pour the cheesecake mix on top of the biscuit base and tap the tin to level out the mixture.

Place the cheesecake in the freezer for two hours so it becomes nice and firm.

Meanwhile prepare the lemon decoration by peeling the remaining lemon, then slicing the peel into 1 mm thick slices.

Remove the cheesecake from the freezer 20 minutes before serving,

Gently remove the cheesecake from the tin and place on a serving plate. Then sprinkle the slices of lemon peel on top.
Did You Make This Recipe?
Don't forget to share your SO VEGAN creations on Instagram and tag us at
@SOVEGAN
!