If you love mac 'n' cheese and you love hot dogs, then you're in the right place. This recipe for vegan mac 'n' cheese hot dogs is a real showstopper.
Tangy, cheezy, indulgent and tons of fun, this recipe involves a fair few steps but don't be put off. It's really straightforward and it's the perfect treat for the summer season.
We don't use seitan very often, but we love using it with other ingredients such as cannellini beans, which gives it a softer texture. The trick is packing it with lots of powerful flavours.
We throw in tamari, smoked paprika and lots of spices. Don't forget to experiment and add your own twists! Sometimes we use herbs to give the hot dogs a lovely aroma.
Enjoy!
Roxy & Ben
Ingredients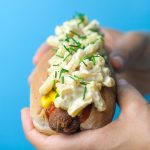 For the chips:
1 x 400g (14.1oz) tin of cannellini beans (rinsed and drained)
250ml (1 cup) water
3 tbsp tamari
1 tbsp tomato puree
1 tsp yellow mustard
225g (7.9oz) wheat gluten
1 tbsp onion powder
1 tbsp garlic powder
2 tsp ground coriander
2 tsp ground cumin
1 tbsp smoked paprika
1 tsp salt
1/2 tsp pepper
30g (1.1oz) breadcrumbs
For the mac 'n' cheese:
200g (7oz) macaroni pasta
160g (5.6oz) cashews
1 garlic clove
1/4 cup nutritional yeast
1 tsp yellow mustard
190 ml (6.4 fl.oz) pasta water
1/2 tsp salt
1/4 tsp pepper
To serve:
8 hot dog buns
tomato ketchup
yellow mustard
chives
Method
Transfer the cashews to a small bowl and leave to soak in hot water.

Transfer the cannellini beans, water, tamari, tomato puree and yellow mustard to a blender and blend until smooth.
Add the wheat gluten, onion powder, garlic powder, coriander, cumin, smoked paprika, salt, pepper and breadcrumbs to a large mixing bowl and stir to combine, then form a 'well' in the middle.
Pour the wet ingredients onto the dry ingredients and combine with a wooden spoon. Once the mixture has started to hold together, bring it together with your hands and knead on a flat surface for 10 minutes.
Leave the dough to rest for 10 minutes.
Meanwhile, prepare the baking paper by cutting 8 squares that are roughly 25cm x 25cm.
Then divide the dough into 8 equal pieces. Roll the first piece into a sausage shape, then wrap it tightly in the baking paper and twist the ends tightly so that the dough is compact. Repeat for the remaining 7 sausages.
Transfer the sausages to a steamer on a medium heat and leave to steam for 50.
Remove the sausages from the steamer and set to one side while they cool. It's important to let them cool slightly so they firm up before you fry them.
Meanwhile, cook the pasta as per the packet instructions, making sure to reserve the pasta water when you drain the pasta.
Prepare the cashew sauce by draining the cashews and adding them to a blender along with the garlic, nutritional yeast, mustard, pasta water, salt and pepper. Blend until smooth, then pour over the drained pasta and stir to combine. Set the mac 'n' cheese to one side while you finish making the hot dogs.
Heat a little oil in a frying pan on a medium - high heat. Unwrap the hot dogs from the baking paper and fry in the pan for 10 mins, turning frequently so they're evenly cooked.
Cut open the hot dog buns and place a hot dog inside. Top with a squeeze of tomato ketchup, yellow mustard, a couple of spoonfuls of the mac 'n' cheese, and a sprinkling of chives.
Did You Make This Recipe?
Don't forget to share your SO VEGAN creations on Instagram and tag us at
@SOVEGAN
!