We love the simplicity of this dish and it's a great option for meal prep. You can also substitute vegan pesto for olive tapenade – or even rose harissa paste (trust us, it totally works!).
Notes
You can easily make this recipe gluten-free using gluten-free gnocchi. It's also worth checking the label of the vegan pesto to be sure it doesn't contain any gluten.
If you don't own an oven-proof pan, simply cook everything in a regular pan. Then at step 6, transfer the mixture to an oven dish, top with the vegan cheese and follow the remaining steps.
You can try making your own vegan red pesto using our recipe for homemade sun-dried tomato pesto in our Sun-Dried Tomato Pesto Arancini Balls (simply store any leftover pesto in a jar in the fridge).
Sometimes we'll switch things up and substitute vegan pesto with rose harissa paste or olive tapenade.
This gnocchi is great for meal-prepping. Store in an air-tight container and refrigerate for up to 3-4 days or freeze for up to 2 months, then defrost fully before reheating in the oven or microwave.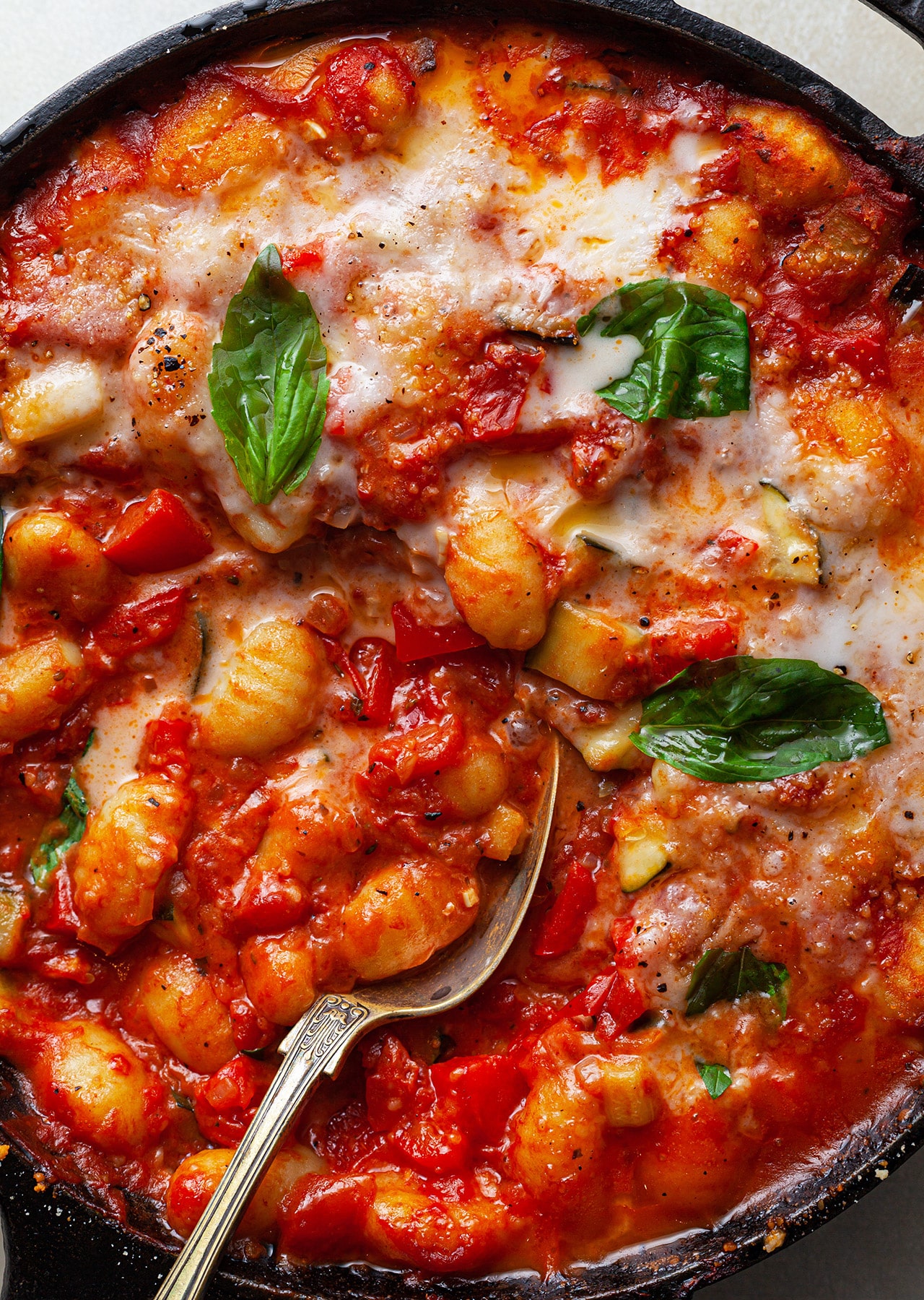 Ingredients
olive oil
1 onion, peeled + finely chopped
3 garlic cloves, peeled + finely chopped
1 courgette, chopped
1 red pepper, chopped
2 x 400g / 14.1oz tins of chopped tomatoes
1 tbsp vegan pesto, we use red pesto (see notes)
1 tsp dried oregano
500g / 18oz vegan-friendly gnocchi, or gluten-free gnocchi
salt + pepper
100g / 3.5oz vegan cheese, we use vegan mozzarella or feta
1 handful of vegan parmesan, optional
1 small handful of fresh basil leaves
Method
Preheat the oven to 180°C fan / 425°F.
Drizzle 2 tablespoons of olive oil in an oven-proof pan approx. 26cm (10") on a medium heat (see notes if you don't own an oven-proof pan). Fry the onion and garlic for 7-8 minutes.
Add the courgette and red pepper. Fry for 5 minutes.
Stir in the chopped tomatoes and simmer for 5 minutes.
Add the pesto, oregano, gnocchi and pinches of salt and pepper. Stir, then remove the pan from the heat.
Crumble over the vegan cheese and sprinkle over the vegan parmesan. Bake for 15-20 minutes or until the gnocchi is cooked.
Leave the gnocchi bake to rest for a few minutes, then top with basil leaves, drizzle over a splash of olive oil and sprinkle over some freshly ground black pepper, and serve. Store in an air-tight container and refrigerate for up to 3-4 days or freeze for up to 2 months.
Did You Make This Recipe?
Don't forget to share your SO VEGAN creations on Instagram and tag us at
@SOVEGAN
!