We love using farfalle pasta in this dish. It just seems to fit the creamy sauce perfectly, but of course you can use any pasta you like.
Instead of spinach, you can also use kale or even throw-in handfuls of rocket for a more peppery flavour.
We usually use an oat-based single cream, but we've also tested this using a soy-based cream and the results were very similar.
You can make this gluten-free using a gluten-free pasta, as well as a gluten-free miso paste, which you should be able to find in the free-from aisle at your local supermarket.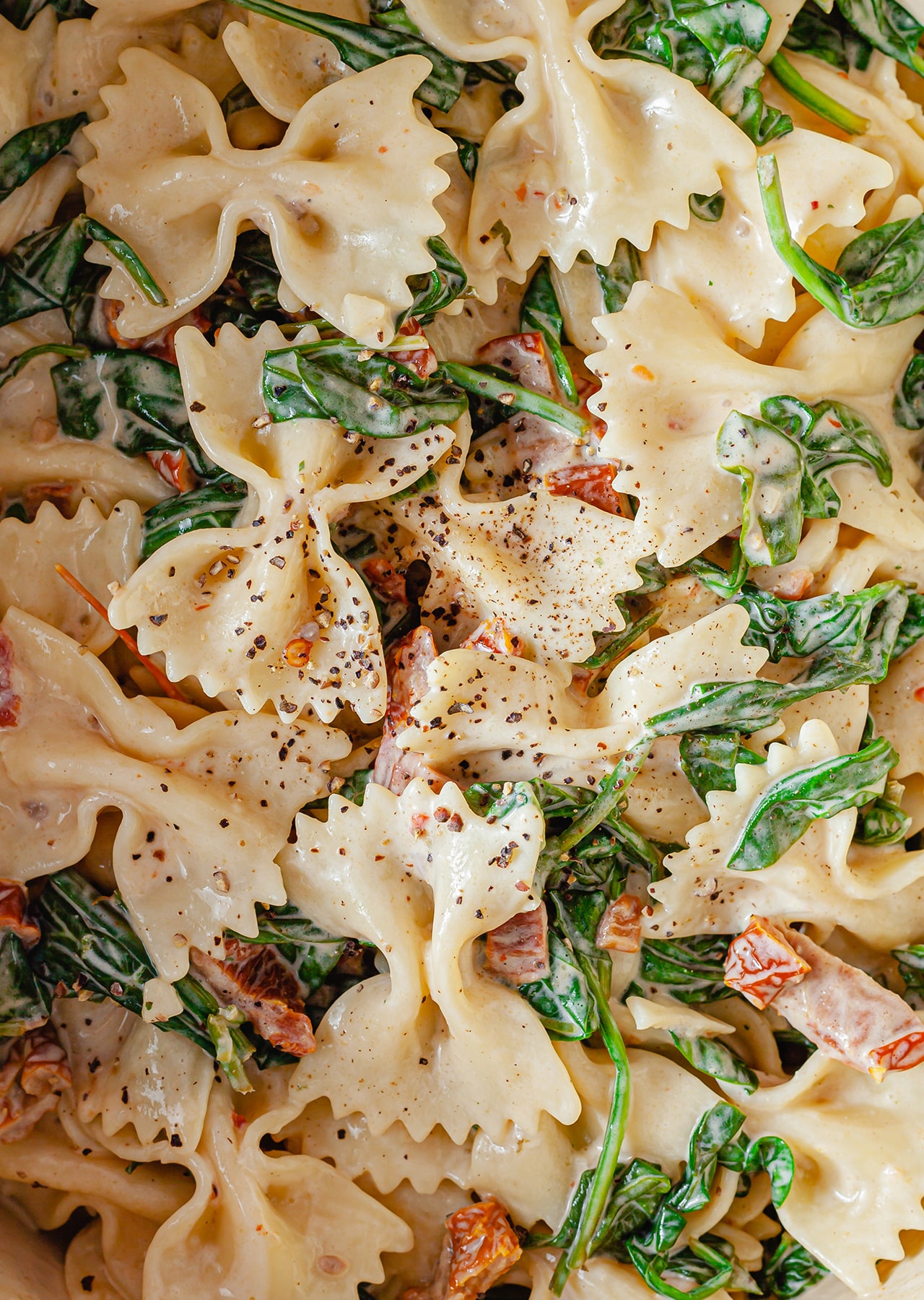 One-Pot Creamy Sun-Dried Tomato Pasta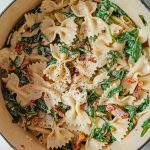 Ben, So Vegan
Pasta is our go-to for quick weeknight meals. And this one pot recipe makes cooking yummy food even easier.
Print This
Ingredients
olive oil
3 garlic cloves, peeled + diced
1/4 tsp chilli flakes
500ml / 16.9 fl.oz vegetable stock
salt + pepper
350g / 12.3oz pasta, or use gluten-free
100g / 3.5oz sun-dried tomatoes in oil, drained + chopped
200ml / 6.7 fl.oz vegan single cream
1 tsp white miso paste (or gluten-free miso paste)
1/2 lemon, juice only
2 tbsp nutritional yeast
150g / 5.3oz baby spinach
Instructions
Add a splash of olive oil to a large pot over a medium heat. As soon as the oil is hot, add the garlic and chilli flakes. Fry for 3 minutes or until the garlic begins to brown.
Next add the 500ml (16.9 fl.oz) of vegetable stock to the pot along with an extra 300ml (10 fl.oz) of hot water from a kettle and a small pinch of salt, then add the pasta. Give everything a stir, bring the pasta to a gentle simmer, then cover and cook for 10 minutes. Give the pasta a stir every couple of minutes. After 7 minutes or so, if there's still lots of water, try cooking the remainder of the time with the lid off.
After 10 minutes the pasta should still be slightly firm. Next add the sun-dried tomatoes, vegan single cream, white miso paste, lemon juice and nutritional yeast to the pot. Give everything a stir and season to taste with extra salt and pepper, then add the spinach and cook through for a minute or so until it has wilted and the pasta is cooked.
We like to serve our pasta with a drizzle of olive oil and a sprinkling of freshly ground black pepper.
Notes
Nutritional information per serving: Calories 460kcal / Protein 16.9g / Fat 11.7g / Sat Fat 1.5g / Carbs 70.6g / Sugar 5.4g / Fibre 6.3g