We love one-pot pasta recipes. OK hang on, let us say that one more time…we absolutely love one-pot pasta recipes!
Sure, at first we were a little unsure about them. It's not exactly a traditional way of cooking pasta.
But if there's one thing we've learned since we started So Vegan, it's rules are there to be broken. This one-pot spicy arrabbiata is our new favourite recipe.
It's the simplest thing you'll ever have to cook and it's bursting with flavour.
The weather has a been all over the place here in London. One minute there's a heatwave, the next it feels like there's a monsoon outside.
We developed this recipe when it was cold and rainy outside, and it was exactly what we needed: warming, hearty and totally fuss-free.
Roxy & Ben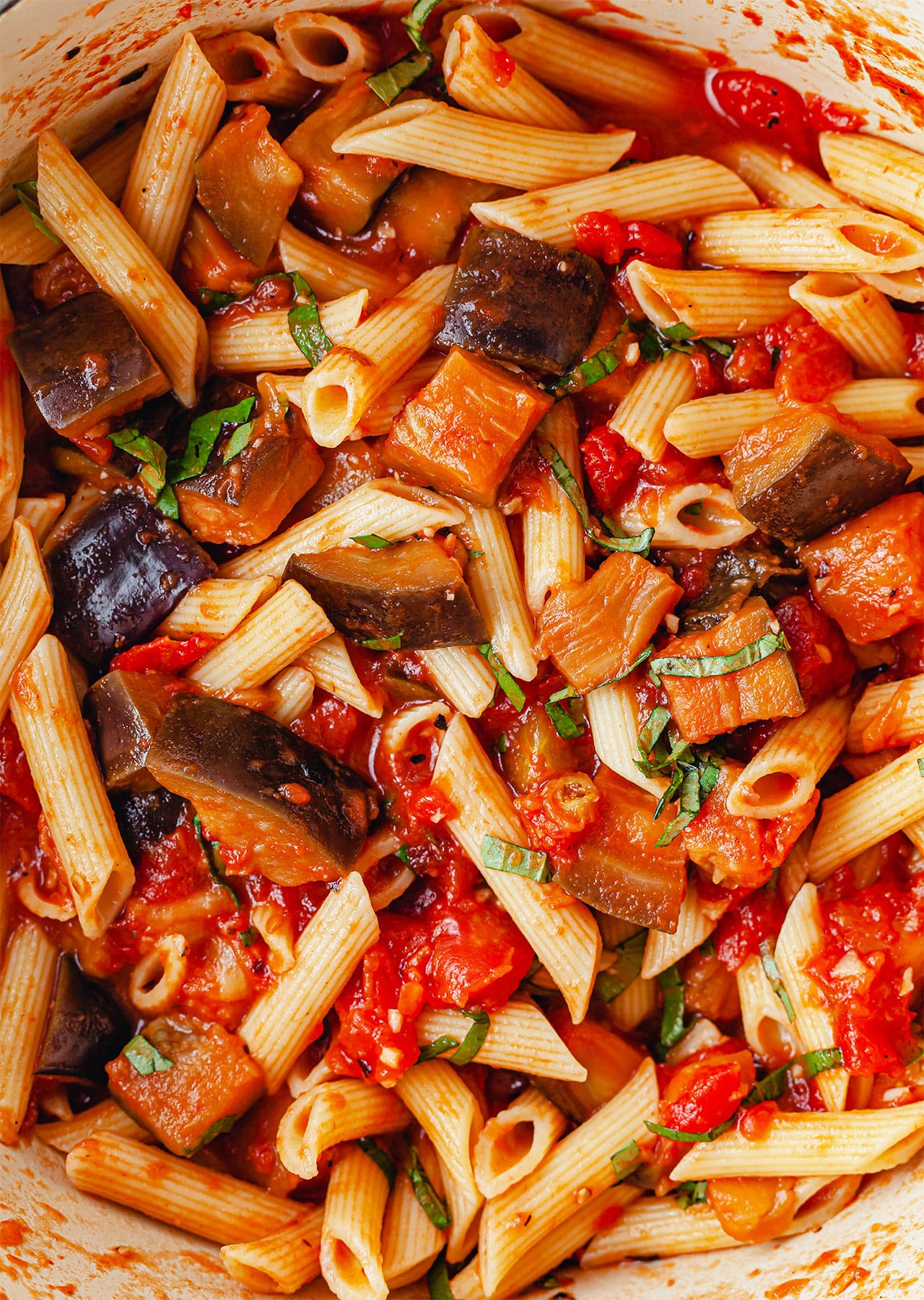 Ingredients
4 tbsp olive oil

1.5 tsp chilli flakes

1 large aubergine

4 garlic cloves
1/2 tsp salt
1/2 tsp pepper
2 x 400 g (14.1 oz) tins of tomatoes
2 tsp balsamic vinegar
350 g (12 oz) penne pasta
large handful of basil, leaves only
vegan parmesan, for serving
Method
Add the olive oil to a large saucepan on a low-medium heat. When the oil is hot, add the chilli flakes and fry for 2-3 minutes or until they begin to darken.

Meanwhile, slice the aubergine into small bite-size pieces. Then add it to the saucepan along with the garlic, salt and pepper, and fry for 4-5 minutes or until the garlic starts to brown, stirring occasionally.

Next, add the tinned tomatoes, balsamic vinegar and 200 ml / 6.8 fl.oz water. Use a wooden spoon to break down the tomatoes, then add the pasta and bring it to the boil. Reduce the temperate to a low setting, cover the saucepan and cook for 15-20 minutes. You'll need to give the pasta a stir every 5 minutes to prevent it from sticking to the bottom of the saucepan.

When the pasta is cooked (it should be al dente) roughly chop the basil and throw it into the saucepan. Stir everything together and season to perfection with extra salt and pepper.

Serve with shavings of vegan parmesan. Yum!
Did You Make This Recipe?
Don't forget to share your SO VEGAN creations on Instagram and tag us at
@SOVEGAN
!