Pan con Tomate literally translates as 'bread with tomato'. It's an incredibly simple but delicious breakfast and tapas dish which is considered a staple of Spanish cuisine.
Notes:
This recipe will create enough for two large slices of bread. We usually enjoy these as a snack or a brunch, but we sometimes make a bigger batch, slice them into smaller pieces and serve as a starter when we host friends for dinner.
You can use any type of bread you like. We love to use sourdough, but baguette, ciabatta and any other type of crusty bread would work really well.
Using ripe tomatoes will give your topping a more intense and balanced flavour.
We also recommend using extra virgin olive oil for the tomato mixture.
Use gluten-free bread to make this recipe gluten-free.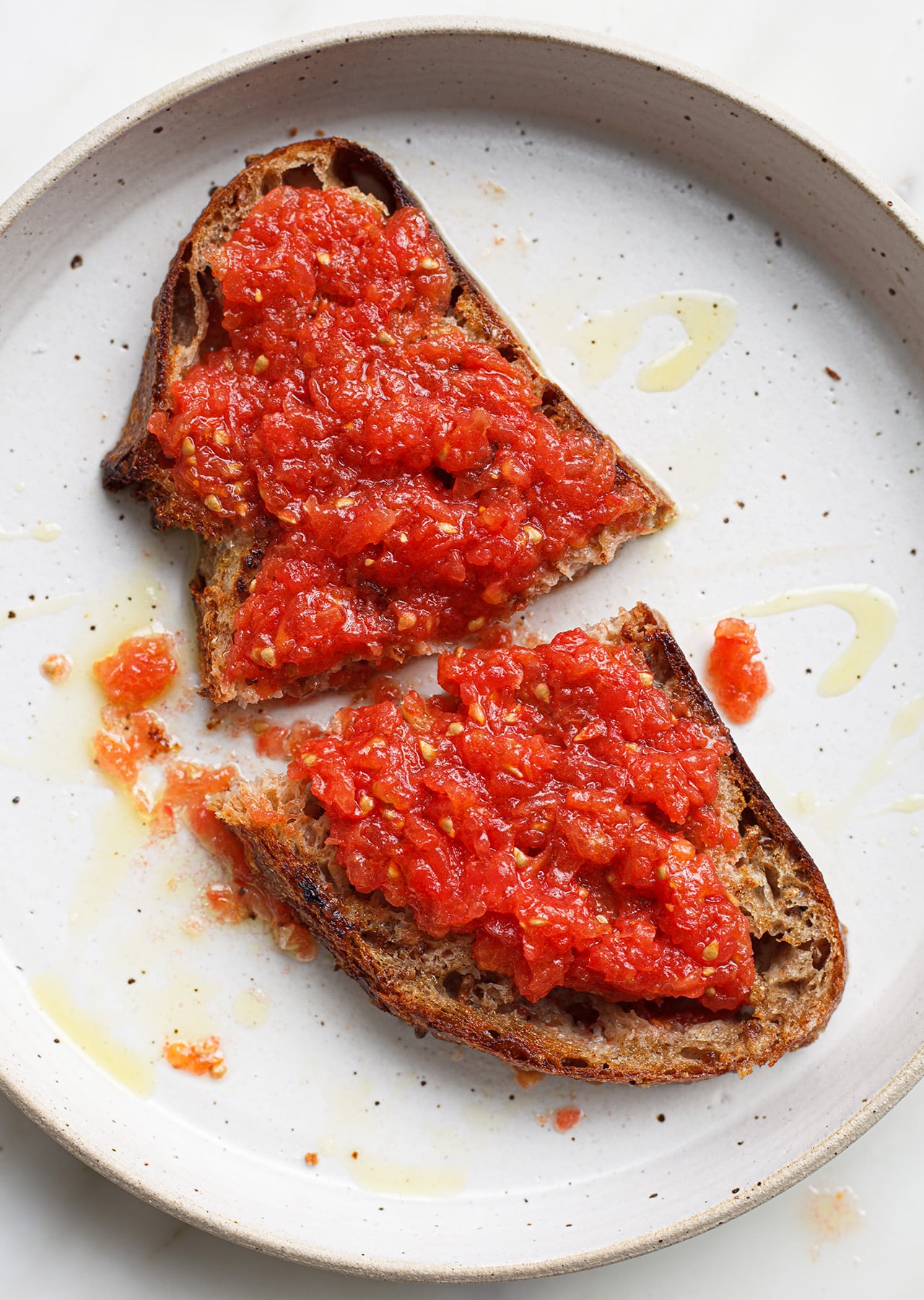 Ingredients
2 thick slices of bread, or gluten-free bread
1 garlic clove, peeled
300g (10.6oz) ripe tomatoes, halved
olive oil
salt
Method
Drizzle a splash of olive oil in a hot pan and toast the bread slices on both sides until they begin to char. Then slice the garlic clove in half and rub the cut side of the garlic over one side of the toasted bread.
Next coarsely grate the tomatoes into a bowl (we use a box grater) and discard the skins. If the tomato pulp contains a lot of water, use a spoon to scoop out and discard some of the water. Then add a generous splash of olive oil and a good pinch of salt. Stir to combine, then taste and add more olive oil or salt if necessary.
Serve the tomato mixture on top of the bread. We like to top with a little more extra olive oil and salt, but this is completely optional.
Did You Make This Recipe?
Don't forget to share your SO VEGAN creations on Instagram and tag us at
@SOVEGAN
!