You can easily make these gluten-free using gluten-free BBQ sauce and burger buns.
Tinned jackfruit is now available in most large supermarkets. Alternatively you can also find it in Asian grocery stores.
We love to serve these buns with an extra squeeze of BBQ sauce.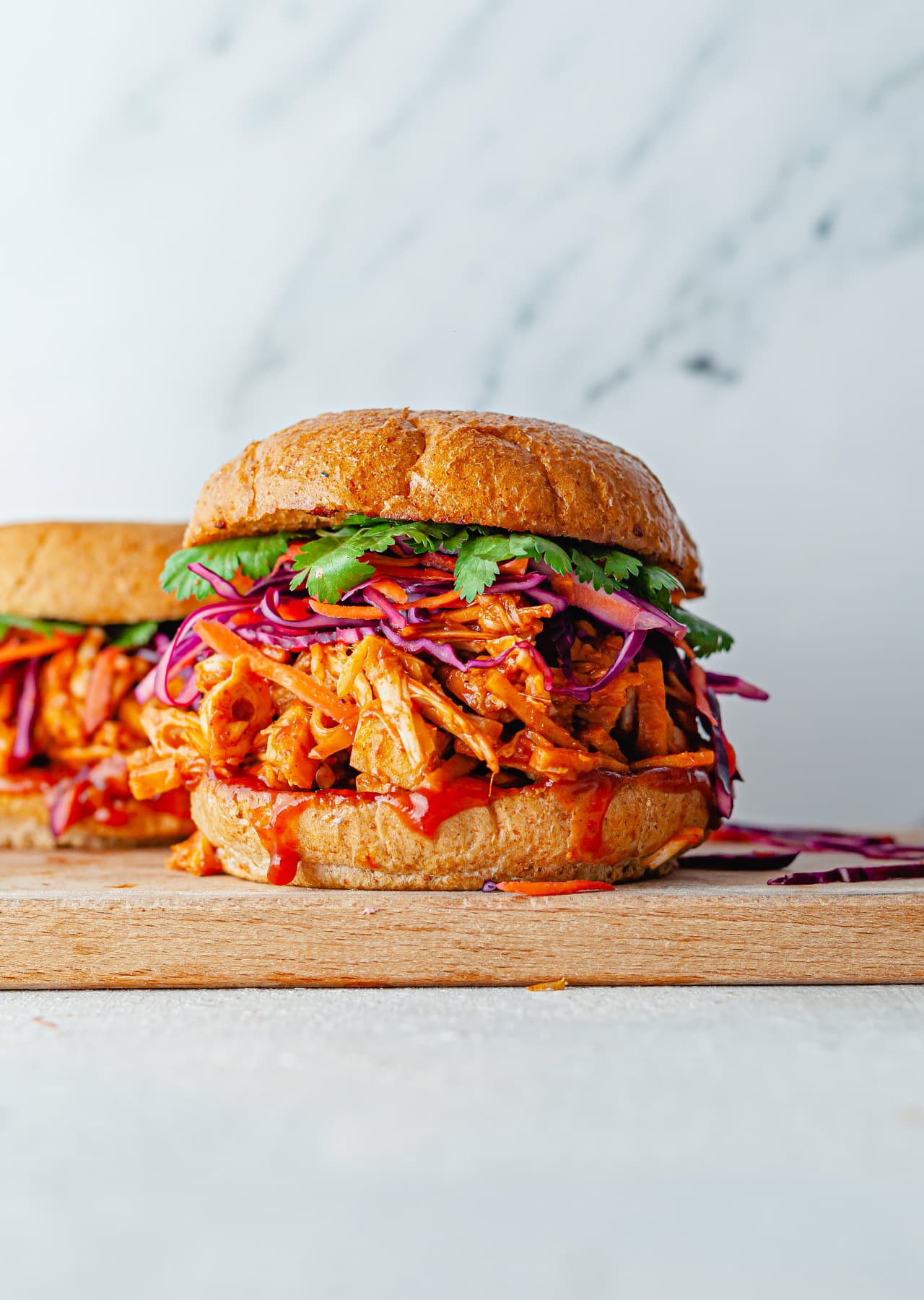 Makes 2 buns.
Ingredients
For the pulled jackfruit…
565g (20oz) can of jackfruit in brine
olive oil
1 tsp paprika
1 tsp ground cumin
1/4 tsp chilli powder
1/2 cup BBQ sauce
1/4 cup water
2 burger buns (or gluten-free buns)
Coriander
For the coleslaw…
Handful of red cabbage
1 carrot
pinch of salt & pepper
1/2 lime (juice only)
Method
1. Drain and rinse the canned jackfruit.
2. Cut out the hard core from each piece of jackfruit. Discard the cores or, to avoid waste, thinly slice the cores and use with the rest of the jackfruit.
3. Heat a little olive oil in a frying pan, add in the jackfruit, cumin, paprika and chilli, and fry for two minutes, stirring frequently.
4. Add the BBQ sauce and cook on a low-medium heat for 20 minutes. Add the water when the sauce thickens and continue to cook. As the jackfruit becomes tender, use a wooden mixing spoon to break it down into pulled jackfruit.
5. Prepare the coleslaw by finely chopping the red cabbage, grating the carrot and tossing in a mixing bowl with lime juice and seasoning.
6. To serve, place a generous spoonful of pulled jackfruit on the bottom half of the bun, followed by a spoonful of coleslaw, a sprinkling of coriander, and topped with the top half of the bun.
#SoVegan