Gochujang is an incredible Korean red chilli paste. It gives our cauliflower bites their fiery flavour!
Gochujang is now quite common in large supermarkets, but if you can't find it you'll definitely be able to locate some in Asian stores. Some brands aren't vegan so it's always worth checking the labels.
It's important not to overcook the cauliflower in the pan, otherwise they'll be too soft and they'll lose that essential 'crunch'.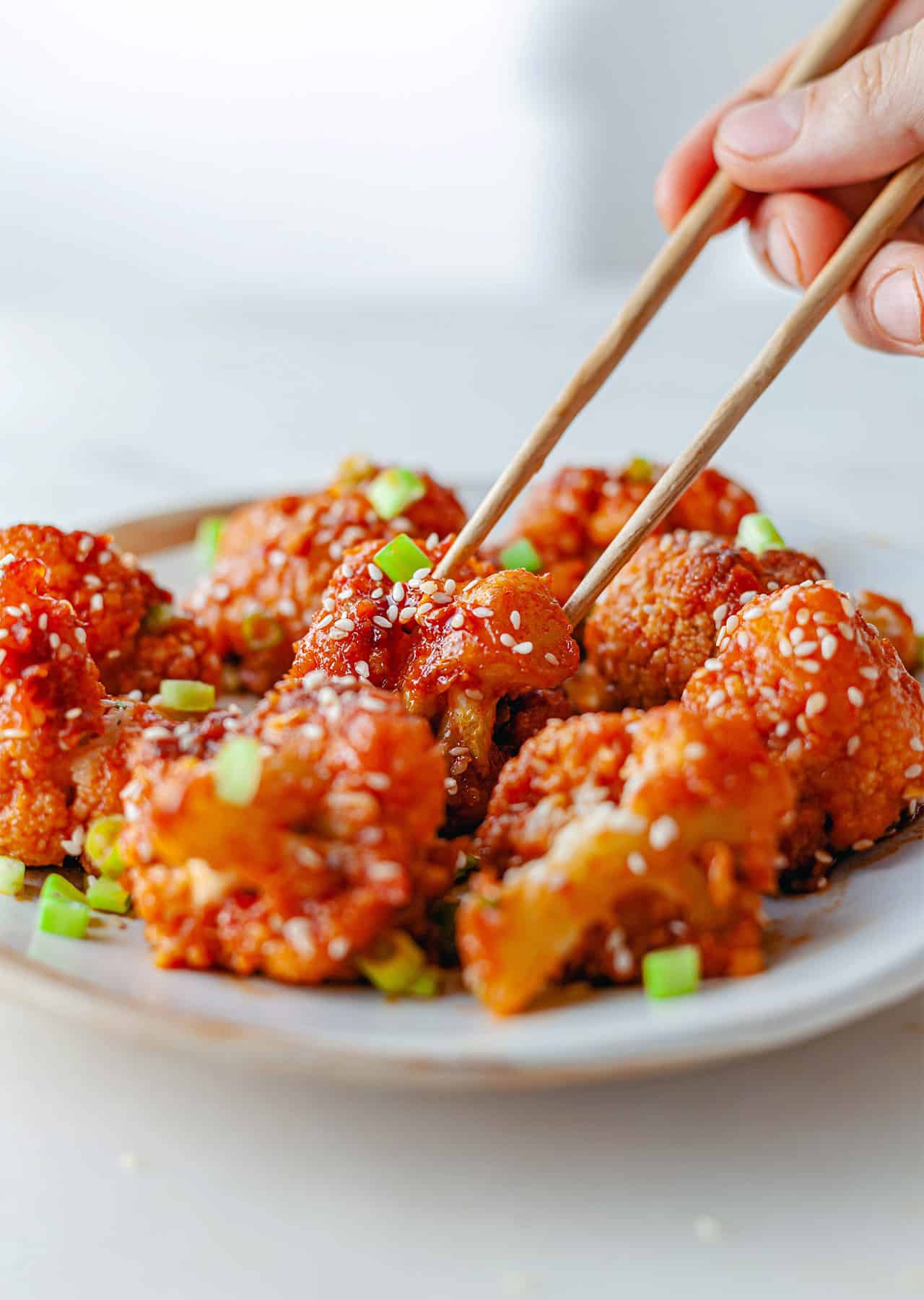 Ingredients
1 cauliflower
5 tbsp plain flour
5 tbsp cornflour
salt
1 tsp baking powder
vegetable oil
For the sauce:
3 tbsp Gochujang sauce
1 tbsp sesame oil
2 garlic cloves, peeled + finely chopped
1/2 thumb of fresh ginger, peeled + finely chopped
2 tbsp light soy sauce
2 tbsp light brown sugar
Optional toppings
spring onion, sesame seeds
Method
Break up the cauliflower into florets. Then combine the plain flour, cornflour, a large pinch of salt, baking powder and 1/2 a cup of water in a large mixing bowl. Add the florets and stir until they're coated in the batter.
Add enough vegetable oil to a wok on a medium heat until the oil is about 1cm deep in the pan. When the oil is hot, carefully add the cauliflower florets - in batches if necessary - and fry for 3-5 minutes until they begin to brown, turning occasionally so they cook on all sides. You want to avoid overcooking the cauliflower and they should still have a good crunch to them. Then transfer the cauliflower to kitchen paper to soak up any excess oil.
Remove the oil from the wok and wipe it clean. Then combine all of the sauce ingredients in the wok and heat it through on a medium heat for 2-3 minutes. Next stir in the cauliflower until they're coated in the spicy sauce.
To serve, top the cauliflower bites with sesame seeds and sliced spring onion.
Did You Make This Recipe?
Don't forget to share your SO VEGAN creations on Instagram and tag us at
@SOVEGAN
!