Get ready for a delicious hot 'n' spicy bowl of goodness!
Bibimbap is a traditional Korean dish and translates to 'mixed rice with meat and assorted vegetables'.
For our vegan version, we rely on roasted mushrooms and an colourful assortment of veggies to build our bowl.
Traditionally, bibimbap is an excuse to use up leftover ingredients in the house so it's fantastic low-waste meal.
It's also served with a spicy sauce, which uses 'gochujang' – a Korean red pepper paste to deliver bags of flavour and heat!
Honestly, this is a dish you'll easily fall in love with!
Here's what you need to know:
This recipe is an open book! Use up veggies you have leftover in the fridge, either serving them raw or roasting them until tender.
You'll find gochujang most Asian stores and some large supermarkets. But not all gochujang paste is vegan so always check the brand before you buy.
The sauce is very spicy! We love the heat and it'll disperse into the vegetables when you stir everything together. But you can easily dial this down by adding splashes of water to the sauce until the heat is more to your liking.
Pretty much any mushroom will do. We used 'mini portobellos', which we found in our local supermarket, but shiitake, chestnut or sliced portobellos would also work well.
Enjoy,
Roxy & Ben
Our hot 'n' spicy Rainbow Bibimbap 🔥 BTW did you know we have a new cookbook? You can pre-order your copy of One Pot Vegan today 👉 sovegan.co/onepv

Posted by So Vegan on Monday, 11 May 2020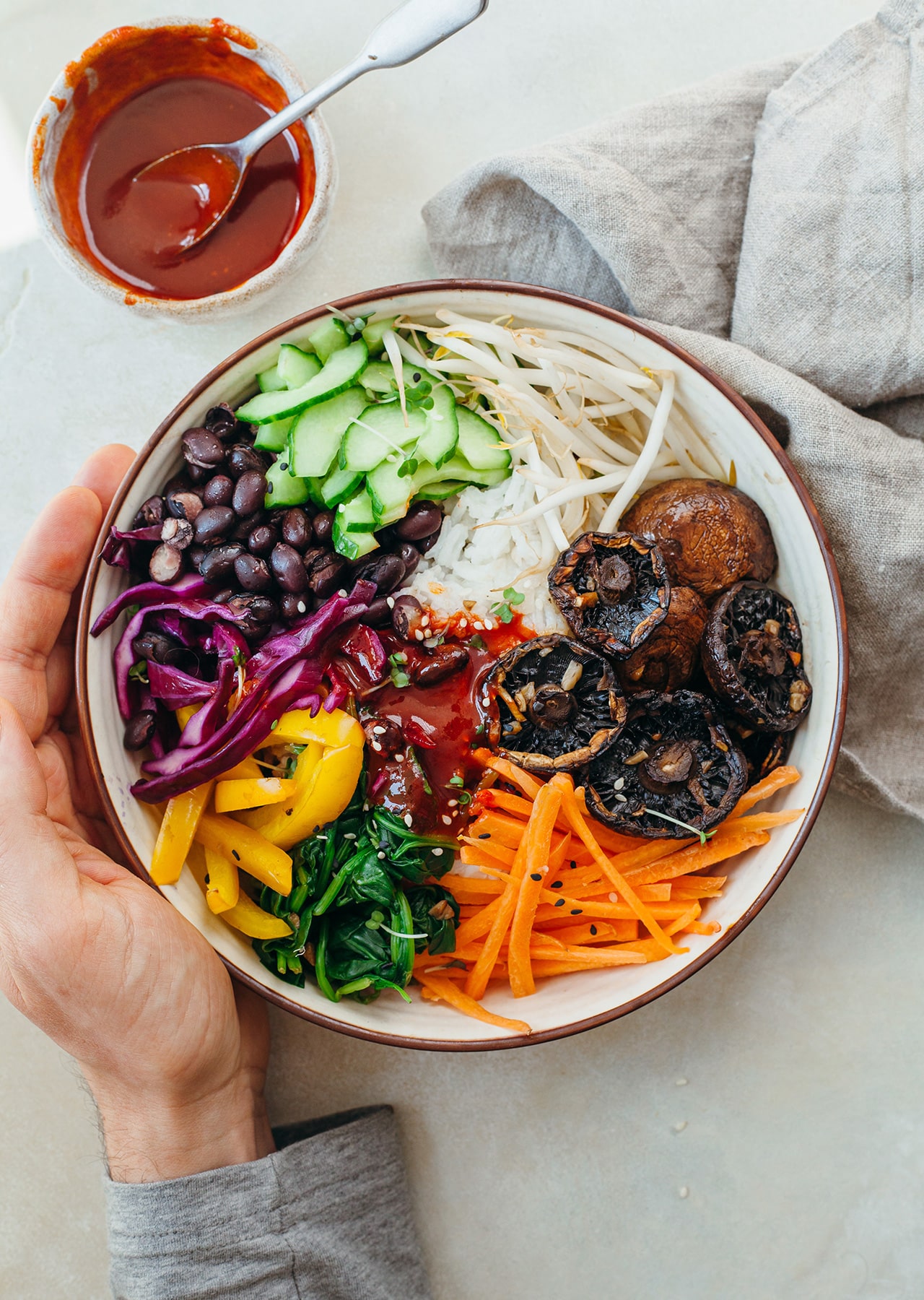 Rainbow Bibimbap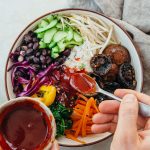 Ben, So Vegan
Get ready for a delicious hot 'n' spicy bowl of goodness! Bibimbap is a traditional Korean dish and translates to 'mixed rice…
Print This
Ingredients
70g / 2.5oz red cabbage
1 tbsp apple cider vinegar
1/2 tsp caster sugar 
3 garlic cloves
300g / 10.5oz mushrooms
1 tbsp light soy sauce
2 tsp sesame oil
salt
200g / 7oz jasmine rice
1 yellow pepper
1 x 400g / 14.1oz tin of black beans
1/3 cucumber
1 carrot
2 large handfuls of spinach
a handful of bean sprouts
sesame seeds, for topping
cress, for topping
For the gochujang sauce:
2 tbsp gochujang paste
2 tsp apple cider vinegar
1 tbsp light soy sauce
1/2 tsp caster sugar
1 tsp sesame oil
Instructions
Preheat the oven to 180°C / 356°F and thinly slice the red cabbage then transfer it to a bowl. Add the apple cider vinegar and caster sugar, stir, then leave to one side for the cabbage to pickle.
Peel and dice the garlic. Add the mushrooms whole to a large tray, scatter over the garlic, then drizzle over the light soy sauce and 1 tsp of sesame oil. Add a small pinch of salt and give everything a mix, then roast for 15 minutes.
Rinse the rice until the water runs clear, then transfer it to a saucepan. Add 350ml / 12.3fl.oz of boiling water and a pinch of salt, bring to a boil, then lower the heat, cover and simmer for 15-20 minutes or until all the water is absorbed and the rice is cooked.
Slice the yellow pepper and drain and rinse the black beans. Roughly chop the cucumber and thinly slice the carrot. Add the yellow pepper and black beans to the tray, drizzle over 1 tsp of sesame oil and sprinkle over a small pinch of salt. Give everything a mix, then roast for 5 minutes.
Add all the gochujang sauce ingredients to a bowl and stir to combine. Then add the spinach to a saucepan over a medium heat with a splash of water and stir until the spinach is wilted.
To build the bibimbap bowls, add half the rice, followed by half of the mushrooms, yellow pepper, black beans, cucumber, carrot, wilted spinach, pickled red cabbage and bean sprouts. Pour half of the gochujang sauce into the middle of the bowl and sprinkle over some sesame seeds and cress. When you're ready to eat, stir the sauce into the ingredients and get stuck in!