This vegan lasagne has so much rustic charm it's unreal.
The ragu sauce is deliciously decadent and has a wonderful depth of flavour.
Then there's the béchamel sauce. It's satisfyingly creamy and slightly aromatic from the nutmeg, and we combine it with melty vegan cheese for the top layer.
Genuinely, this has to be one of the most enjoyable home-cooked meals we've ever developed.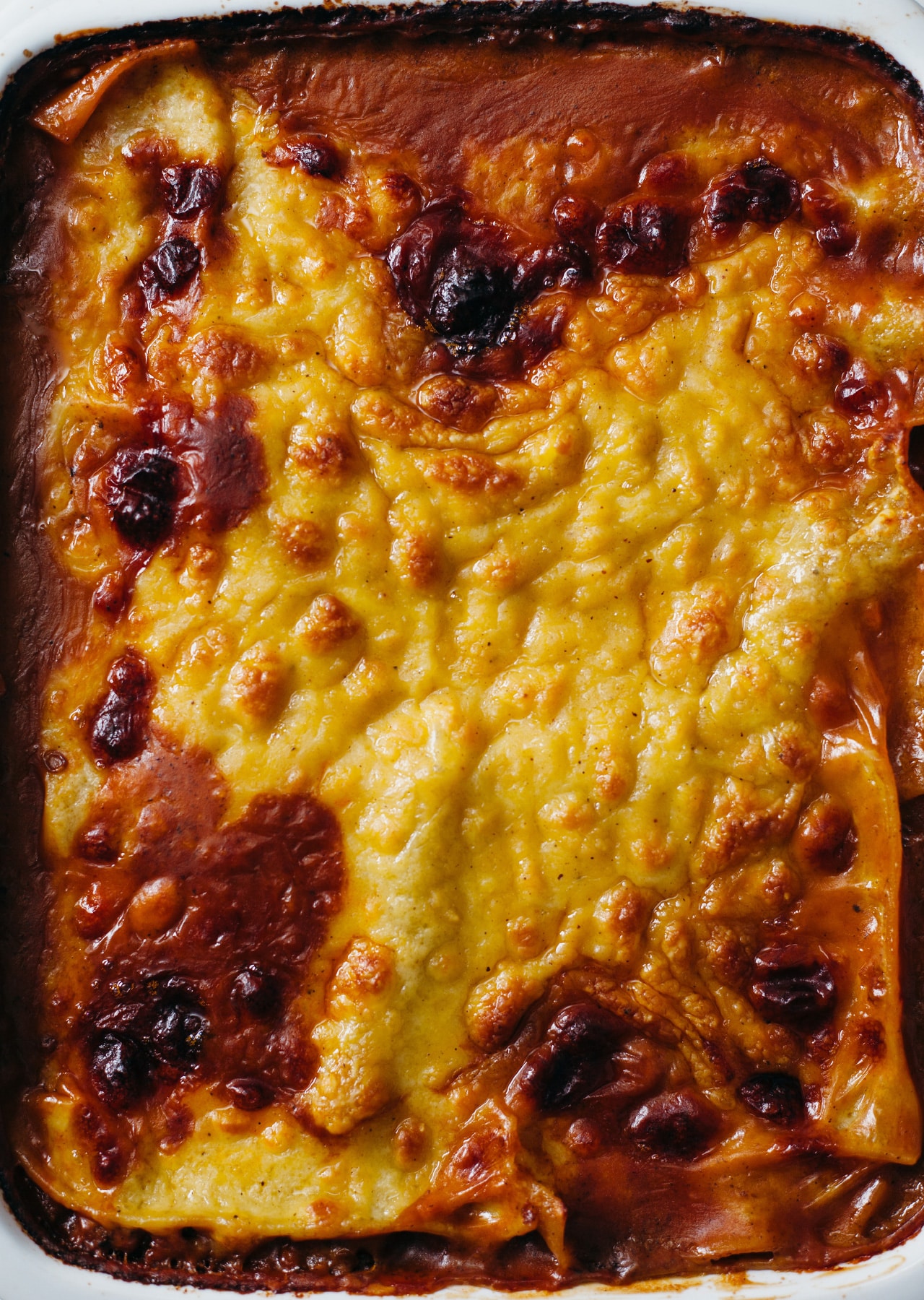 This is also a very 'meaty' lasagne.
Or at least as meaty as you'll get while still being vegan!
The minced mushrooms (we use closed cup mushrooms but you can use any variety you like) and lentils form the bulk of the dish.
Then the miso paste delivers all of that incredible umami flavour.
Try to find unpasteurised miso paste if you can. It's far better balanced compared to cheaper alternatives.
Alternatively you can sub miso paste for soy sauce, although it won't be quite as 'rich'.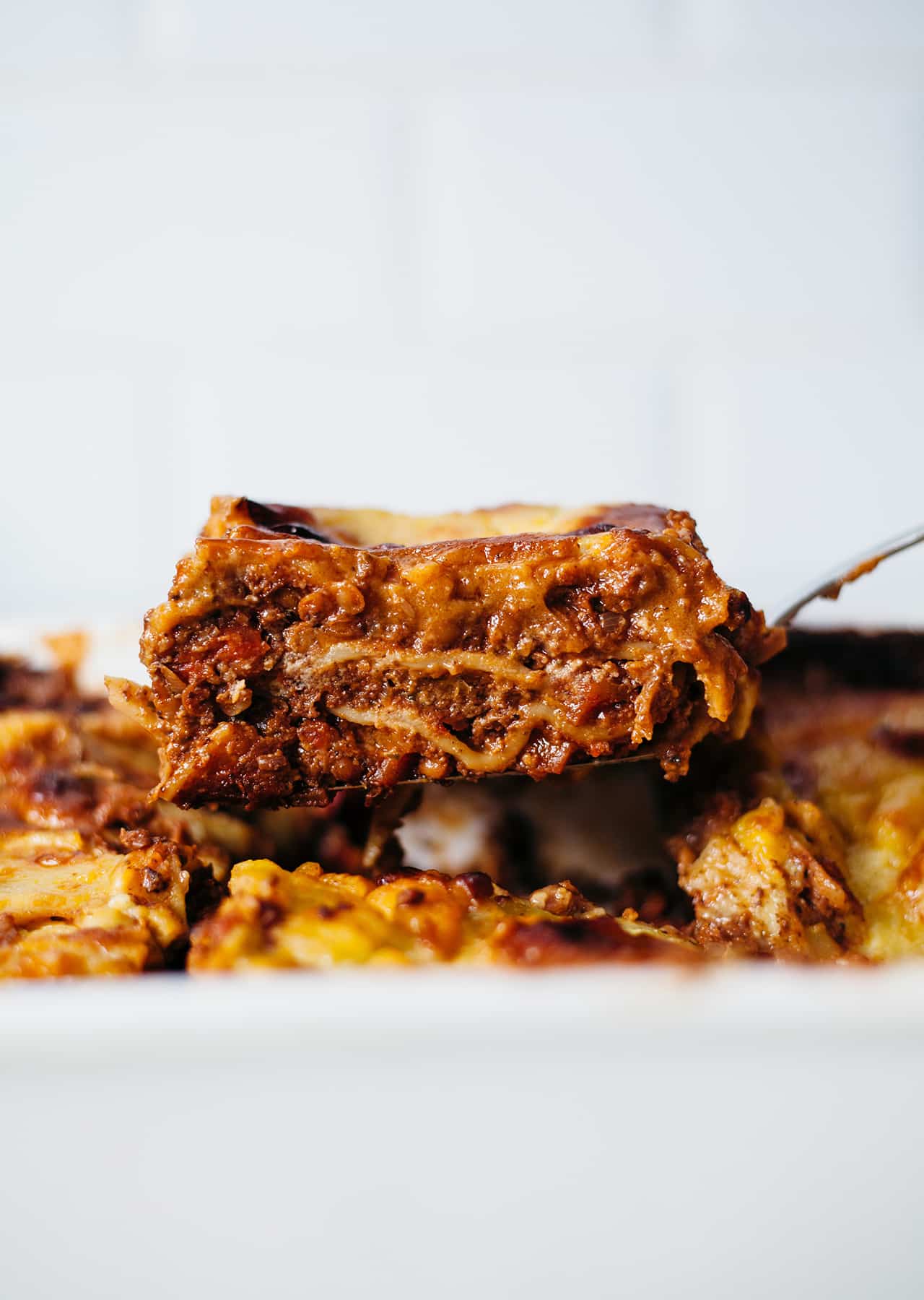 Oh, and btw, do you follow us on YouTube? Head over there and subscribe to find exclusive videos and recipes!
Hope you enjoy,
Roxy & Ben
Ingredients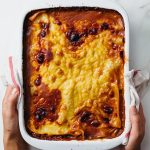 For the ragu:
2 red onions
4 garlic cloves
3 carrots
1 tbsp vegan margarine
500g / 17.6oz mushrooms
1 x 400g / 14.1oz tinned brown lentils
2 x 400g / 14.1oz tinned chopped tomatoes
250ml / 8.4 fl.oz red wine
3 tbsp miso paste (we use brown-rice miso paste)
3 tbsp tomato puree
1 tbsp fresh thyme
1 tbsp fresh rosemary
1 tbsp oregano
pepper
For the béchamel:
100g / 3.5oz vegan margarine
120g / 4.2oz plain flour
800ml / 27 fl.oz oat milk
salt and pepper
1 tbsp apple cider vinegar
1 tsp dijon mustard
1/2 tsp onion powder
1/4 tsp ground nutmeg
150g / 5.3oz grated vegan cheese
9-12 lasagne sheets
Method
Peel and dice the red onion and garlic, and roughly chop the carrot.
Add 1 tbsp of vegan margarine to a large saucepan on a medium heat. As soon as it has melted, add the red onion, garlic and carrot, and fry for 10 minutes, stirring occasionally.
Slice the mushrooms in half and add them to a food processor. Pulse a dozen or so times until the mushrooms have turned into a mince-like texture. Alternatively chop the mushrooms into small pieces. Transfer the mushrooms to the saucepan and fry for 20 minutes or until there's almost no moisture left.
Drain and rinse the lentils under cold water. Then add them to the saucepan along with the remaining ragu ingredients, including a generous pinch of pepper. Leave to simmer on a low-medium heat for 20 minutes. When the ragu is ready, give it a final taste and season with extra salt, if necessary (though the miso paste might already make the sauce salty enough).
Preheat the oven to 180°C / 356°F fan-assisted.
When the ragu has 5 minutes or so left, start preparing the béchamel sauce. Start by adding the vegan margarine to a large frying pan on a medium heat. As soon as it has melted, add the flour and use a wooden spoon to mix the ingredients together into a rough paste. Give the paste a few minutes on its own in the pan to cook the flour, then start adding the oat milk in stages, using a whisk to mix until it turns into a smooth sauce. Season with salt and pepper, then add the apple cider vinegar, dijon mustard, onion powder, and nutmeg. Give the sauce a good stir with a whisk and leave it on the heat until it begins to thicken. The sauce should be creamy and still slightly runny.
Now you're ready to start assembling the lasagne! Start by adding a layer of the ragu along the bottom of a deep oven dish (just enough to cover the base), then add enough lasagne sheets to cover the ragu, making sure they don't overlap. Depending on the size and shape of the dish, we'll usually snap lasagne sheets into pieces to fill any gaps. Then add roughly 1/3 of the béchamel sauce, just enough to cover the lasagne sheets, followed by half of the remaining ragu. Top again with lasagne sheets, followed by another 1/3 of the béchamel sauce, then add the remaining ragu.
Next add the vegan cheese to the remaining béchamel sauce and stir it through for a couple of minutes over a low-medium heat. When you're ready, add the final layer of lasagne sheets, then top with the cheesy béchamel sauce.
Cook for 45-50 minutes in the oven until the cheesy sauce is burnt around the edges and the sauce is bubbling through.
Leave the lasagne to sit for 10-15 minutes before serving. Then slice and be prepared to eat the most delicious vegan lasagne evvvvvver.
Did You Make This Recipe?
Don't forget to share your SO VEGAN creations on Instagram and tag us at
@SOVEGAN
!