Tomato and basil.
The OG of flavour combinations.
It stands the test of time and manifests itself in so many ways.
Here we combine it with cooked quinoa in a gloriously simple soup.
The quinoa is full of protein and a good source of energy.
This means the soup will keep you fuller for longer compared to your regular soup!
Roasted tomatoes, fresh basil, crispy croutons. What could go wrong?
Here are a few things you'll need to know:
We use shop-bought vegan single cream made using either oat or soy. Alternatively you could use coconut cream.
Make sure your tomatoes are ripe! This way they'll be perfectly sweet and the flavour will balance well with sharpness of the earthy onion and garlic.
You will also need a handheld / immersion blender or alternatively you can transfer the soup to a regular blender.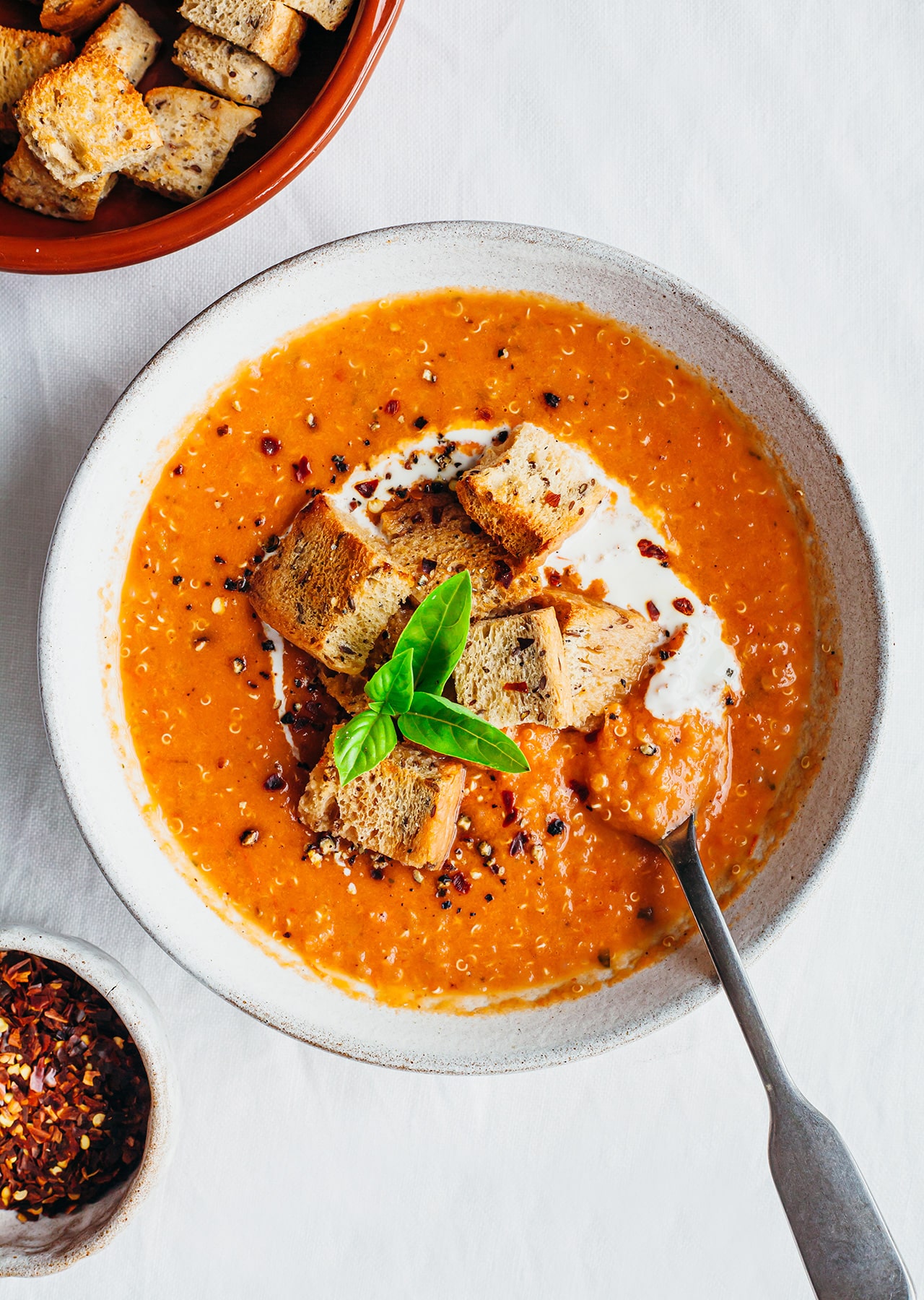 Roasted Tomato & Quinoa Soup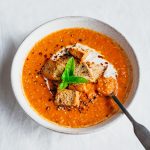 Ben, So Vegan
Roasting the tomatoes is a fantastic way to bring out their sweetness. And the quinoa adds extra fibre and nutrients.
Print This
Ingredients
1.4 kg / 50oz ripe tomatoes
2 onions
salt & pepper
olive oil
120g / 4.2oz quinoa
2 slices bread
6 garlic cloves
800ml / 27fl.oz low-sodium vegetable stock
large handful basil (20g / 0.7oz), plus extra for topping
1/4 tsp chilli flakes, plus extra for topping
1/2 tbsp balsamic vinegar
3 tbsp vegan single cream, plus extra for topping (we use oat or soya)
Instructions
Preheat the oven to 220°C / 428°F fan-assisted.
Slice the tomatoes in half and the onions into sixths (leave the skins on). Throw both onto a large baking tray, season generously with salt and pepper and drizzle with olive oil. Toss to combine with your hands, then turn all the tomato halves cut side up. Roast for 20 minutes.
Next, rinse the quinoa in a sieve then transfer to a saucepan. Add 600ml (20 fl.oz) of hot water, cover and cook until soft, before draining and leaving uncovered to one side.
Once the tomatoes and onion finish roasting, remove the tray from the oven. Cut the slices of bread into cubes and throw them on top of the tomatoes along with the garlic cloves (in their skins). Roast for a further 5 minutes.
Remove the tray from the oven and leave to cool.
Once cool enough to touch, transfer the toasted bread to a plate and save for later. Then peel the garlic and remove and discard the onion skins. Add both to a large saucepan along with the tomatoes and all their juices.
Add the vegetable stock, fresh basil, chilli flakes, balsamic vinegar and cream to the saucepan and blend with a hand held blender until smooth. Add the cooked quinoa and heat through on a medium heat.
Serve in bowls and decorate with a swirl of cream, the toasted bread and a pinch of chilli flakes and black pepper. This will stay fresh in the fridge for 3-4 days or simply freeze for as long as you want!