Salt and pepper chicken is a street food snack with origins in Taiwan.
Our version uses golden and crispy tofu, which we combine with a fragrant and peppery spice mix for a delicious restaurant-style dish.
You can eat this as a snack or combine it with rice and a chilli sauce for a wonderful meal.
Notes:
This dish commonly uses ground white pepper, but we prefer to use whole black peppercorns, which we crush in a pestle and mortar (you can also use a pepper mill). We think this gives the dish a more robust and fragrant flavour profile. However if you prefer, you can use 1 tsp of ground white pepper or ground black pepper.
The extra-firm tofu we use doesn't require pressing, but depending on the brand you use – you might need to first press the tofu for 15-20 minutes to remove as much moisture as possible.
There's a trick to cooking tofu. You'll want to fry the tofu at a high temperature to give it a crispy coating and a soft middle. If you fry the tofu for too long, the tofu might take on a rubbery texture. Likewise, if you don't fry it long enough, it won't stay crispy for very long.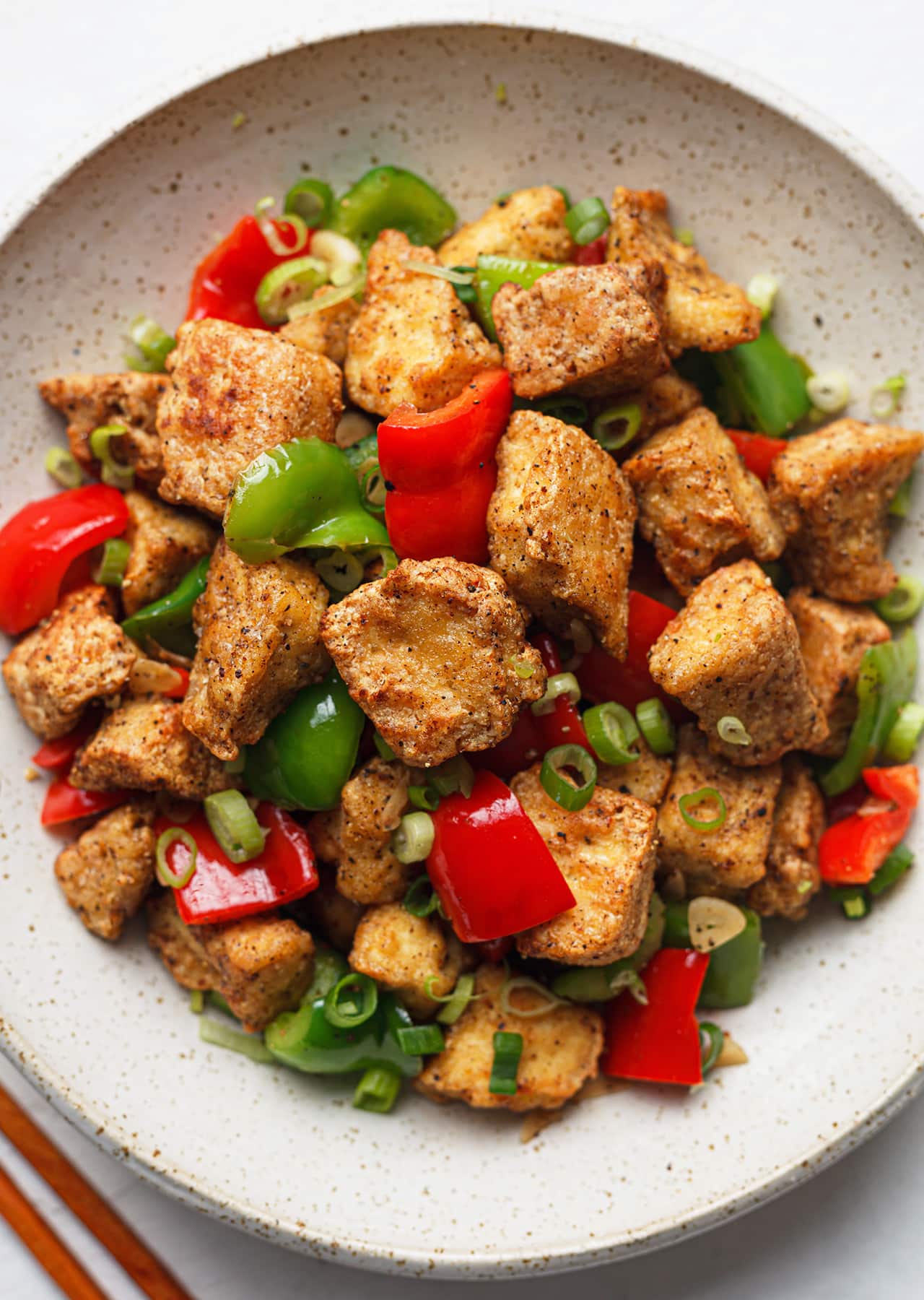 Ingredients
1.5 tsp black peppercorns, see notes
1 tsp salt
2 tsp caster sugar
1/2 tsp Chinese 5 spice
600g (21oz) block of extra-firm tofu, drained (see notes)
4 tbsp cornflour
vegetable oil
2 bell peppers, diced (we use red + green)
6 garlic cloves, peeled + sliced
2 spring onion, chopped
Method
Crush the peppercorns in a pestle and mortar or grind them in a pepper mill, then combine the crushed pepper with the salt, sugar and Chinese 5 spice in a bowl. This is your spice mix.
Tear the tofu into bite-sized pieces, then pat the tofu dry with a clean tea towel. Add the tofu to a large mixing bowl and pour over half of the spice mix. Gently mix until the tofu is coated evenly in the spice mix, then add the cornflour and gently stir until the tofu is also fully coated in the cornflour.
Pour some vegetable oil into a wok or high-sided frying pan on a medium-high heat. The oil should be roughly 1cm (0.4") deep. When the oil is hot (you can test this by dropping a crumb of tofu into the oil - the oil will be ready if the tofu sizzles as soon as it hits the oil), cook the tofu in two batches until it's lightly golden all over and crispy, which will take around 4-6 minutes depending on the temperature of the oil. It's important to cook the tofu in batches so you don't overcrowd the pan. Be careful not to overcook the tofu - otherwise it can take on a rubbery texture.
When the tofu is cooked, transfer it to kitchen paper to soak up any excess oil. Pour the oil into a bowl and set aside (you can reuse the cooking oil in another recipe, if you like), leaving a small residue of oil in the wok to cook the peppers and garlic.
Add the wok back on a medium-high heat, then add the peppers and garlic. Cook for a minute just to soften the peppers slightly, then add the tofu back to the wok along with the remaining spice mix. Give everything a final stir, then transfer to a serving plate and top with the spring onion.
Did You Make This Recipe?
Don't forget to share your SO VEGAN creations on Instagram and tag us at
@SOVEGAN
!