We use small 100ml (3.5 fl.oz) jars, and the contents fit perfectly inside without leaving loads of leftovers.
You'll also want to work fairly quickly after you've created the chocolate layer to prevent the chocolate cooling down.
The trick is to get all your caramel ingredients ready, so all you need to do is drain the dates and throw them in the blender along with everything else.
We also like to leave these out for at least 15 minutes, or ideally longer, at room temperature before serving. This helps to soften the chocolate so it's extra creamy and mixes into the salted caramel when you attempt to get a big spoonful of it all.
Our biscuit of choice is ginger biscuits. They add a slightly spicy kick to your first bite.
Without the toppings these pots will keep in the fridge for 3–5 days.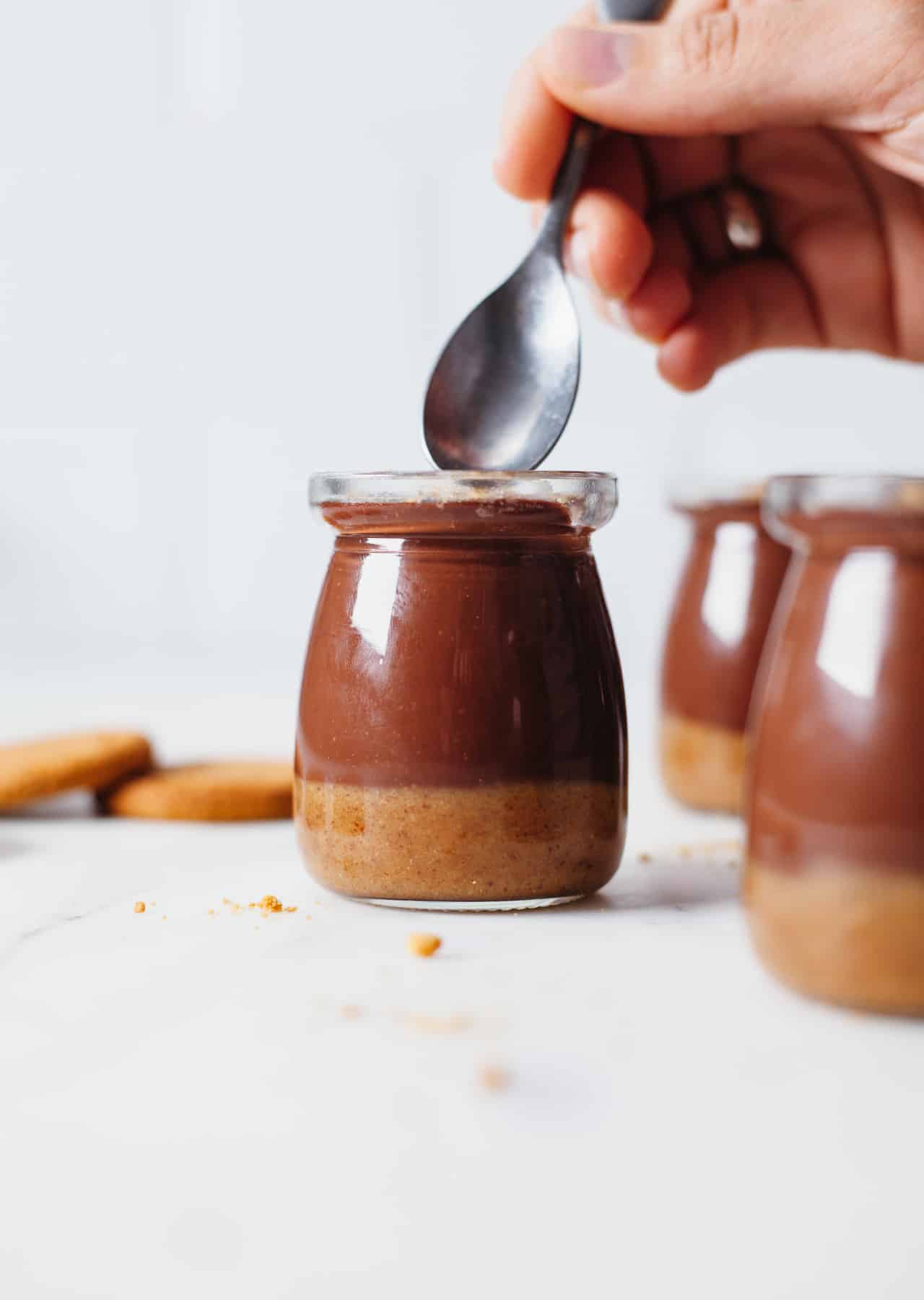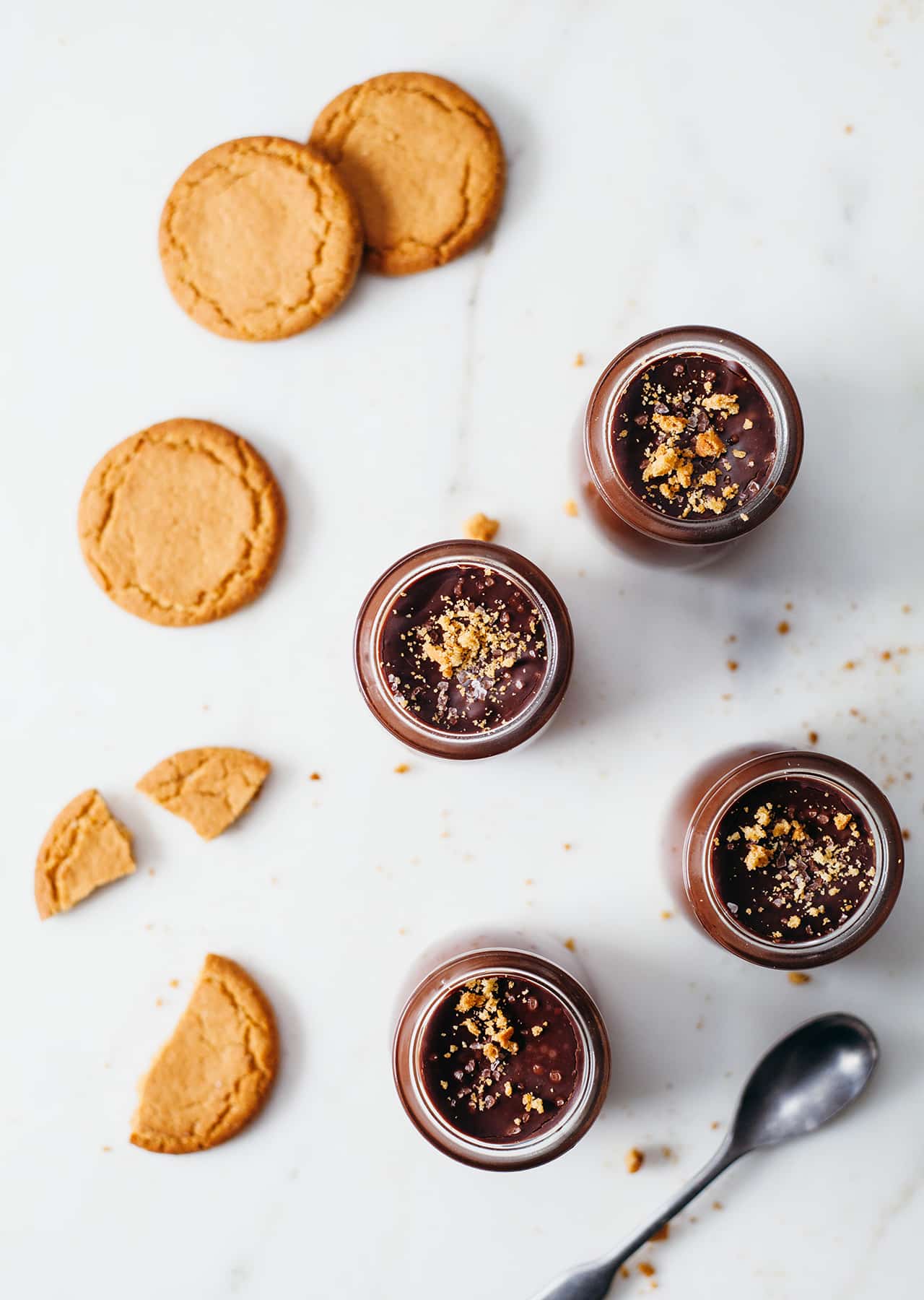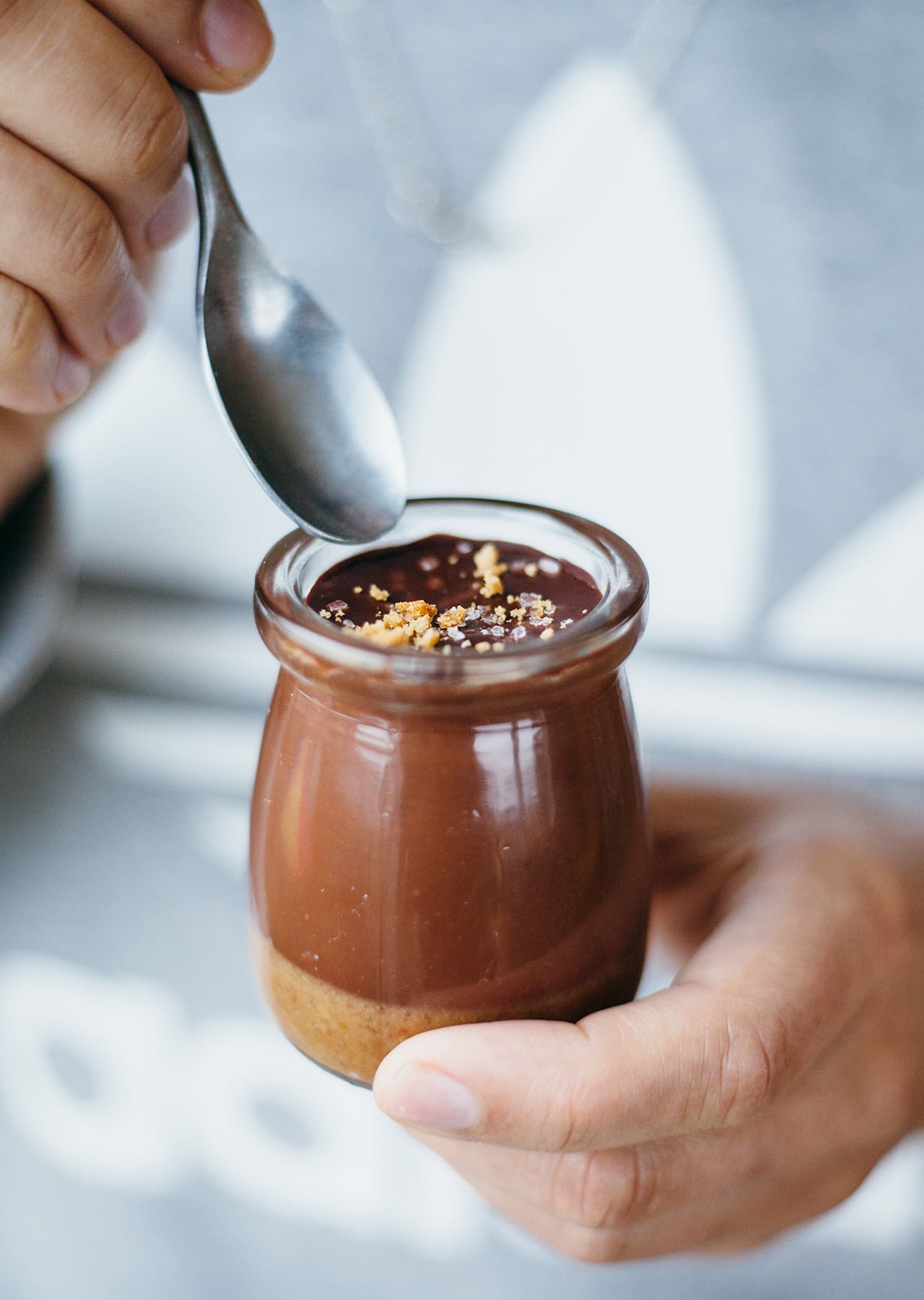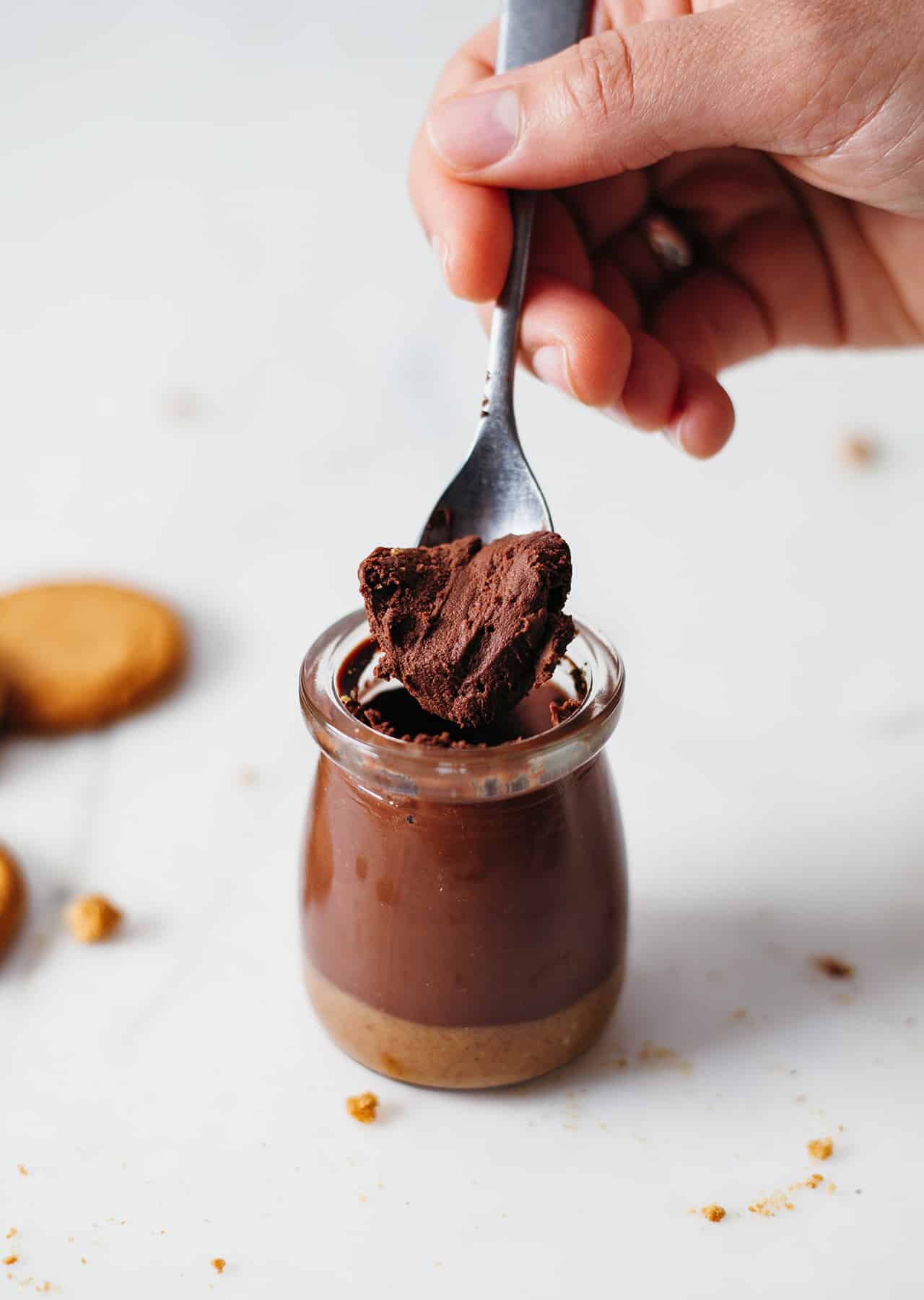 Ingredients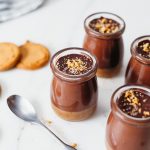 For the caramel layer:
8 dates, pitted (we use Medjool)
60ml / 2 fl.oz tinned coconut milk
1 tsp vanilla extract
1 tbsp maple syrup
1/2 tsp salt
For the chocolate layer:
150g / 5.3oz dark chocolate
200ml / 6.7 fl.oz tinned coconut milk
1 tbsp cocoa powder
1 tbsp maple syrup
1 tsp vanilla extract
For the toppings:
Method
Add the dates to a bowl and cover with hot water from a kettle. Leave to soak while you complete the next step.
Next start creating the chocolate layer. Break the dark chocolate into small pieces directly into a mixing bowl, then leave to one side. Add the coconut milk to a saucepan over a low-medium heat, bring it to a gentle simmer, then remove the saucepan from the heat and pour the hot coconut milk over the chocolate. Give it a really good stir to combine the chocolate and coconut milk, then stir in the cocoa powder, maple syrup and vanilla extra until it reaches a smooth consistency. Leave to one side.
Working quite quickly, drain the dates and add them to a fast-powered blender. Add the coconut milk, vanilla extract, maple syrup and salt, and blend until smooth. Alternatively you can use a handheld blender.
Using a teaspoon, distribute the caramel layer evenly into the bottom of the pots. Give them a shake to flatten the layer of caramel. Next, again using a teaspoon, distribute the chocolate layer evenly into the pots until all the chocolate is used up or the pots are completely full. Leave to cool at room temperature, then leave the pots to cool in the fridge for at least 2 hours.
15 minutes before you're ready to serve, remove the pots from the fridge and sprinkle some salt and crushed biscuits on top. Wait for the chocolate to soften slightly, then serve. They'll also keep in the fridge for 3-5 days.
Did You Make This Recipe?
Don't forget to share your SO VEGAN creations on Instagram and tag us at
@SOVEGAN
!