This is the sort of meal you'll look forward to rustling up after a busy day at work. You'll be in and out of the kitchen in less than 30 minutes.
This is a great recipe to use up any leftover crunchy veggies. We usually go for a carrot, baby corn, mange tout, red pepper and courgette.
We use extra-firm tofu which doesn't require pressing. But depending on what tofu you use, you might need to spend 10 minutes or so pressing out the moisture.
Sesame oil has a low smoking point, so it burns easily if the temperature is too high. We prefer to cook the tofu and veggies in vegetable oil, then add the sesame oil near the end to capture its lovely toasted flavour.
This recipe serves 2 people generously. The extra tofu is a great source of protein, but if you prefer smaller portions then this stir-fry will happily stretch to 3 people.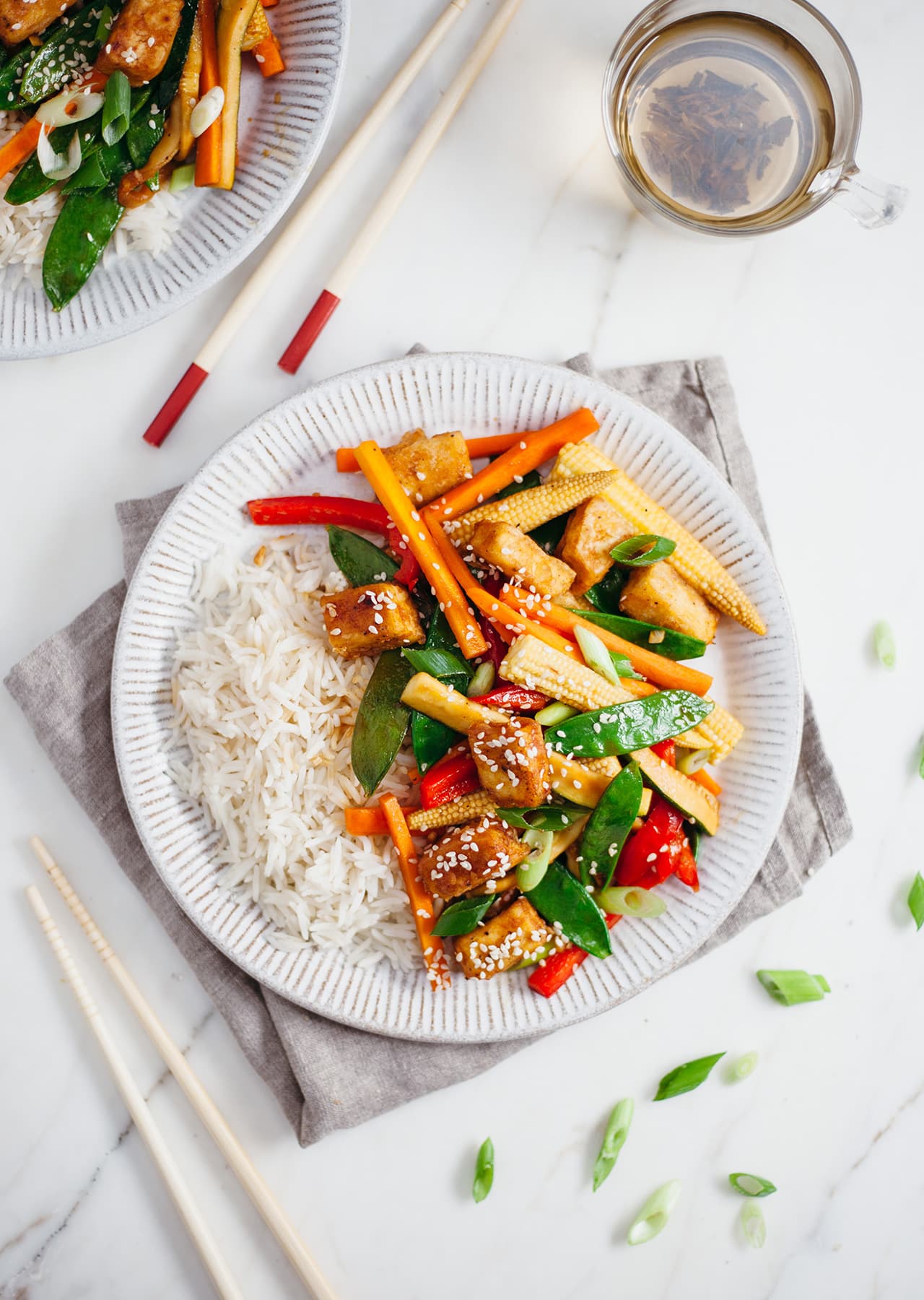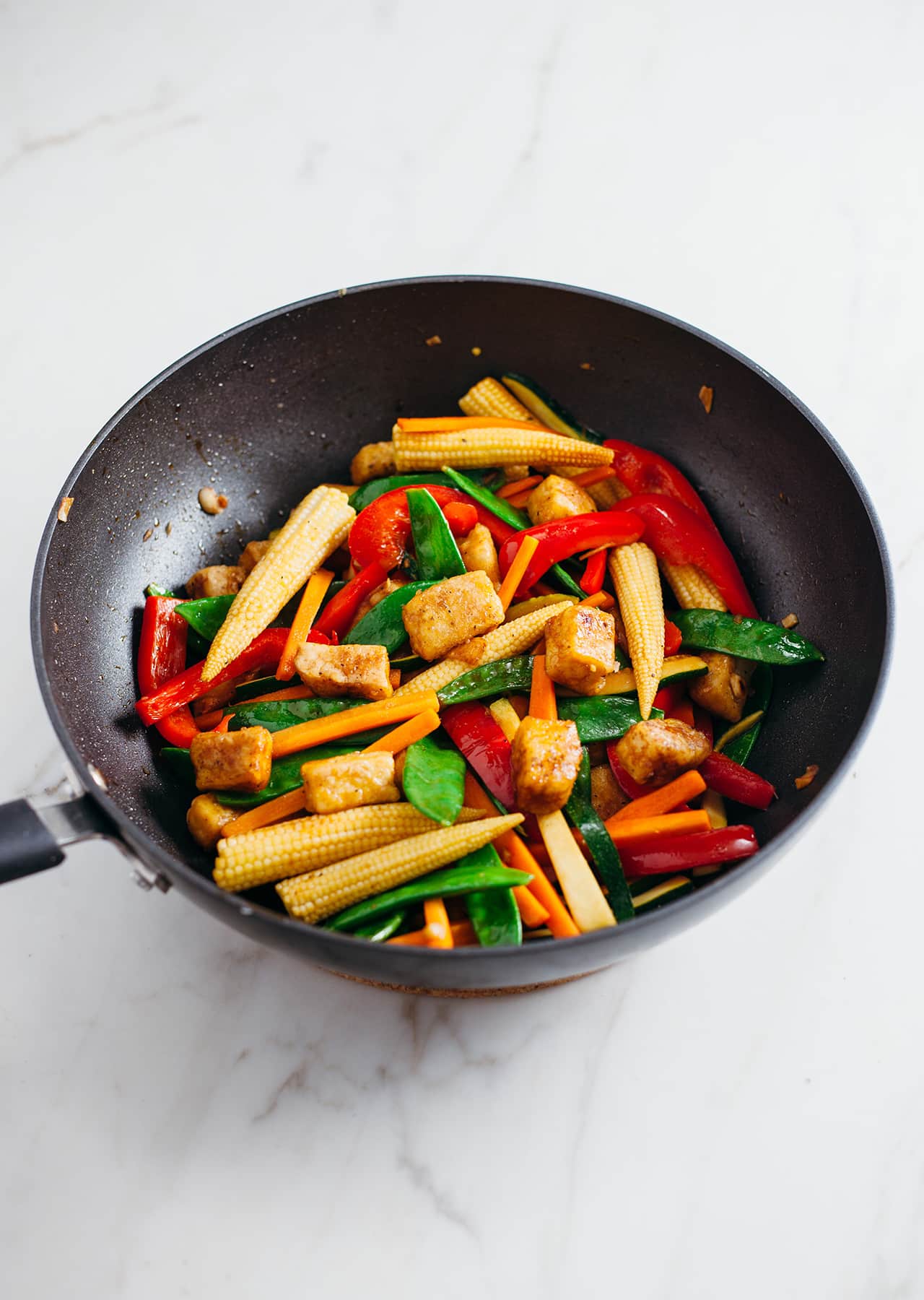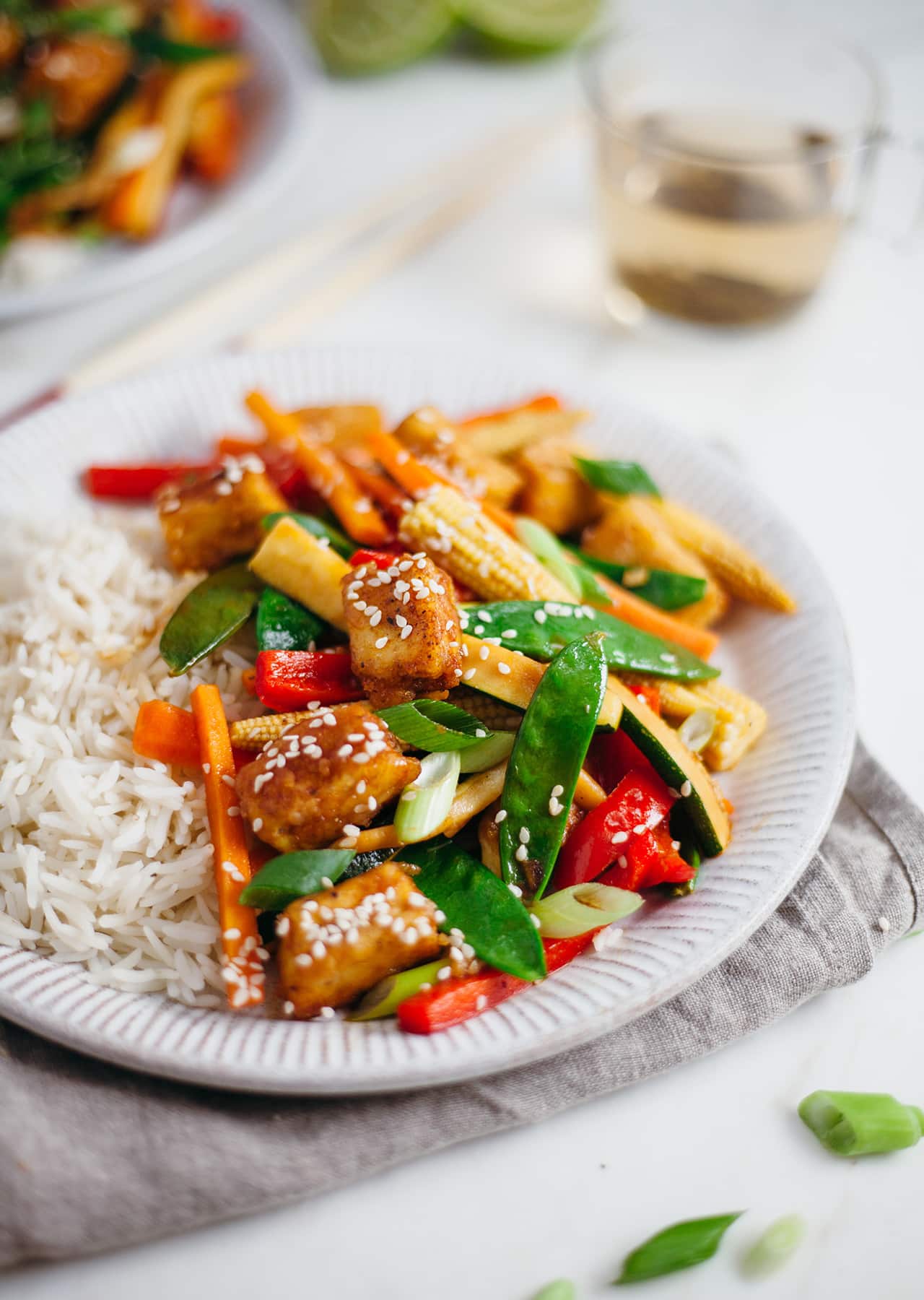 Ingredients
300g / 10.5oz extra-firm tofu
3 tbsp cornflour
salt & pepper
vegetable oil
thumb of ginger
3 garlic cloves
500g / 17.6oz crunchy veggies (carrot, red pepper, courgette, baby corn, mange tout)
2 tsp sesame oil
2 tsp soy sauce
2 tsp maple syrup
1/2 lime, juice only
1 tbsp hoisin sauce
rice for 2 people
optional toppings: spring onion, sesame seeds
Method
If you're using extra-firm tofu, you shouldn't need to press the block to remove any moisture. Alternatively, remove the tofu from its packaging and place it on a plate between a couple of paper towels. Top with a heavy book or mug and leave to press for 10-15 minutes.
Cook the rice as per packet instructions.
Meanwhile, when the tofu is ready, slice it into bite-sized rectangular pieces and season both sides with salt and pepper.
Transfer the cornflour to a plate, then dip each piece of tofu into the cornflour until they're completely coated in cornflour.
Heat a splash of oil in a wok on a medium-high heat. When the oil is hot, add the tofu pieces and fry for 5 minutes on each side or until golden brown. Then remove the tofu from the wok.
While the tofu is frying, prep the remainder of the ingredients. Peel and dice the garlic and ginger, and - depending on which vegetables you're using - slice the carrot, red pepper and courgette into matchsticks. Finally slice the spring onion.
Add another splash of oil to the wok. When it's hot, add the garlic and ginger, and fry for 2 minutes, stirring frequently. Next add the crunchy veggies and fry for 3 minutes, stirring frequently.
Next add the tofu back in, along with the sesame oil, soy sauce, maple syrup, lime juice and hoisin sauce . Give everything a good stir, then fry for 2 minutes, again stirring frequently to make sure everything cooks evenly. When it's ready, season to taste with salt and pepper, and give it a final stir.
Serve alongside the rice, and sprinkle with spring onion and sesame seeds to finish. Yum!
Did You Make This Recipe?
Don't forget to share your SO VEGAN creations on Instagram and tag us at
@SOVEGAN
!