Frittttttters!
This new and improved recipe for our spicy fritters is so fun to make.
They're also a great way of introducing lots of fresh veggies to your diet.
The broccoli is packed with Vitamin C and these fritters will only take a few simple steps, so they're super simple and really easy to make at home.
We like to serve our fritters with a drizzle of lime juice and sweet chilli sauce.
Don't forget, if you love simple and tasty vegan food, then you'll totally love our debut 5-ingredient cookbook So Vegan in 5, which is available to buy right now.
Enjoy!
Roxy & Ben
Spicy Fritters 🌶

Love this? Then you'll also love our debut cookbook #SoVeganIn5 sovegan.co/cookbook

Posted by So Vegan on Tuesday, 28 May 2019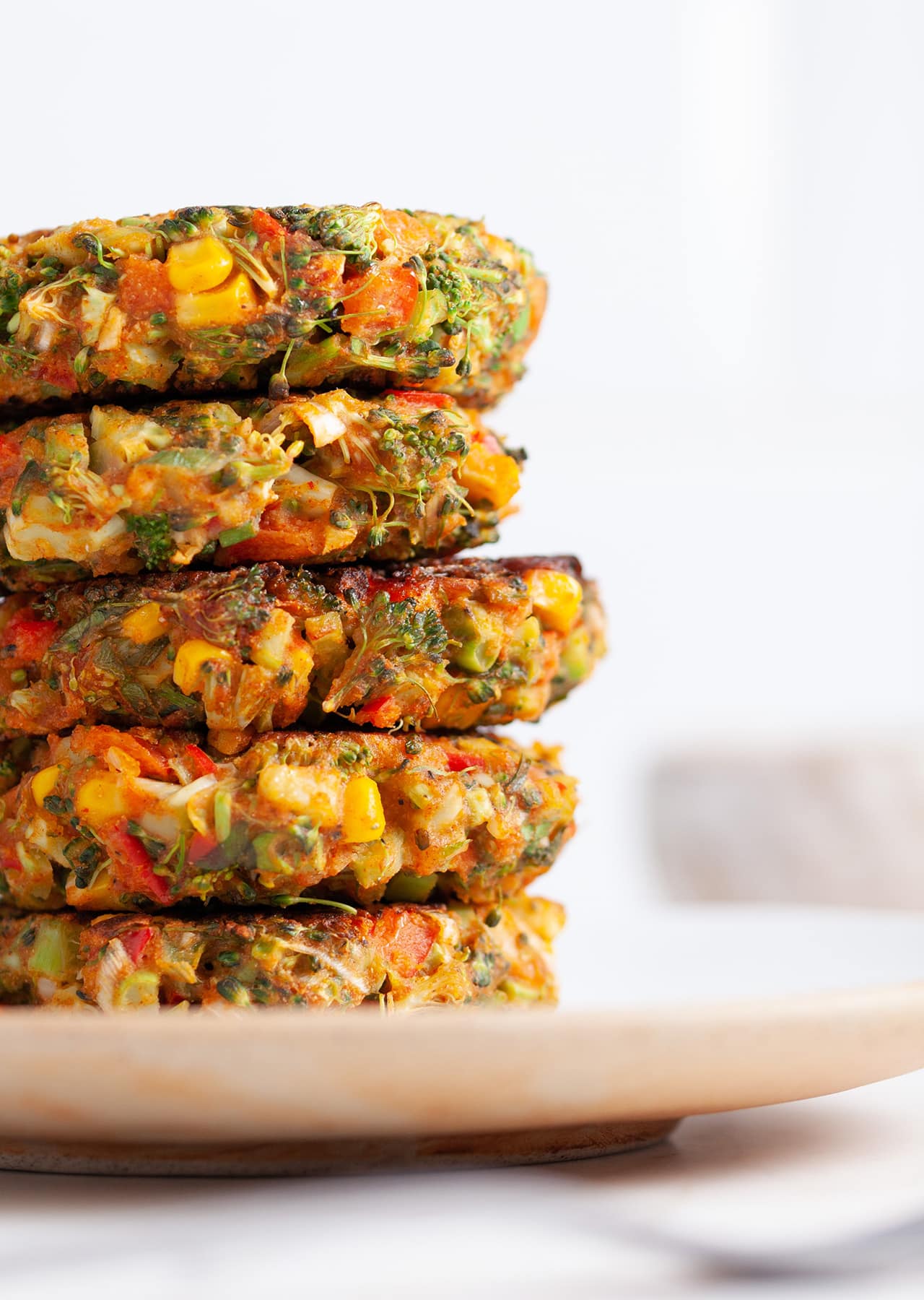 Ingredients
1 broccoli (approx. 350g / 12.3oz)
1/2 red pepper
3 spring onions
1 red chilli
4 garlic cloves
handful of fresh coriander
125g / 4.4oz chickpea flour
80g / 2.7oz tinned sweetcorn
2 tsp paprika
1/4 tsp chilli powder
salt & pepper
To serve (optional)
vegan yoghurt
small handful of fresh mint leaves
sweet chilli sauce
Method
Pick the florets off the broccoli, finely chop the florets into small pieces. Note: don't bin the stem of the broccoli. You can use it to make a soup!

Deseed the red pepper and red chilli, and finely chop both into small pieces. Then finely chop the spring onion and coriander. Finally peel and dice the garlic.

Add all the chopped veg to a mixing bowl along with the remaining ingredients and 4-5 tablespoons of water. Stir until fully combined. Try adding more water if the fritters aren't holding together.

Heat a little oil in a frying pan on a low-medium heat. While the oil heats up, divide the mixture into 8 and shape each eight into a round fritter. Add 2-3 fritters to the frying pan at a time, cover the pan with a lid and fry for 5-8 minutes on each side or until golden brown. It's important to cook the fritters for long enough so the chickpea flour cooks in the middle. Repeat until all of the fritters have been used up, adding more oil to the frying pan as you go so the fritters don't stick to the pan.

Roughly chop the mint and stir it into a few tablespoons of vegan yoghurt.

Serve the fritters alongside the sweet chilli sauce and mint yoghurt.
Did You Make This Recipe?
Don't forget to share your SO VEGAN creations on Instagram and tag us at
@SOVEGAN
!