We use a brand of extra-firm tofu which doesn't require pressing. But if yours needs pressing, place a clean tea towel on a plate and place the drained tofu on top. Then balance a heavy object on top (we use a cast iron pot) and leave the tofu to drain for 15 minutes.
You can substitute the tahini for peanut or almond butter if you prefer.
Sometimes we make our own pickled red cabbage by thinly slicing the cabbage and leaving it to pickled for an hour or so in 1-2 tbsp of apple cider vinegar.
You can also make this gluten-free using tamari instead of soy sauce.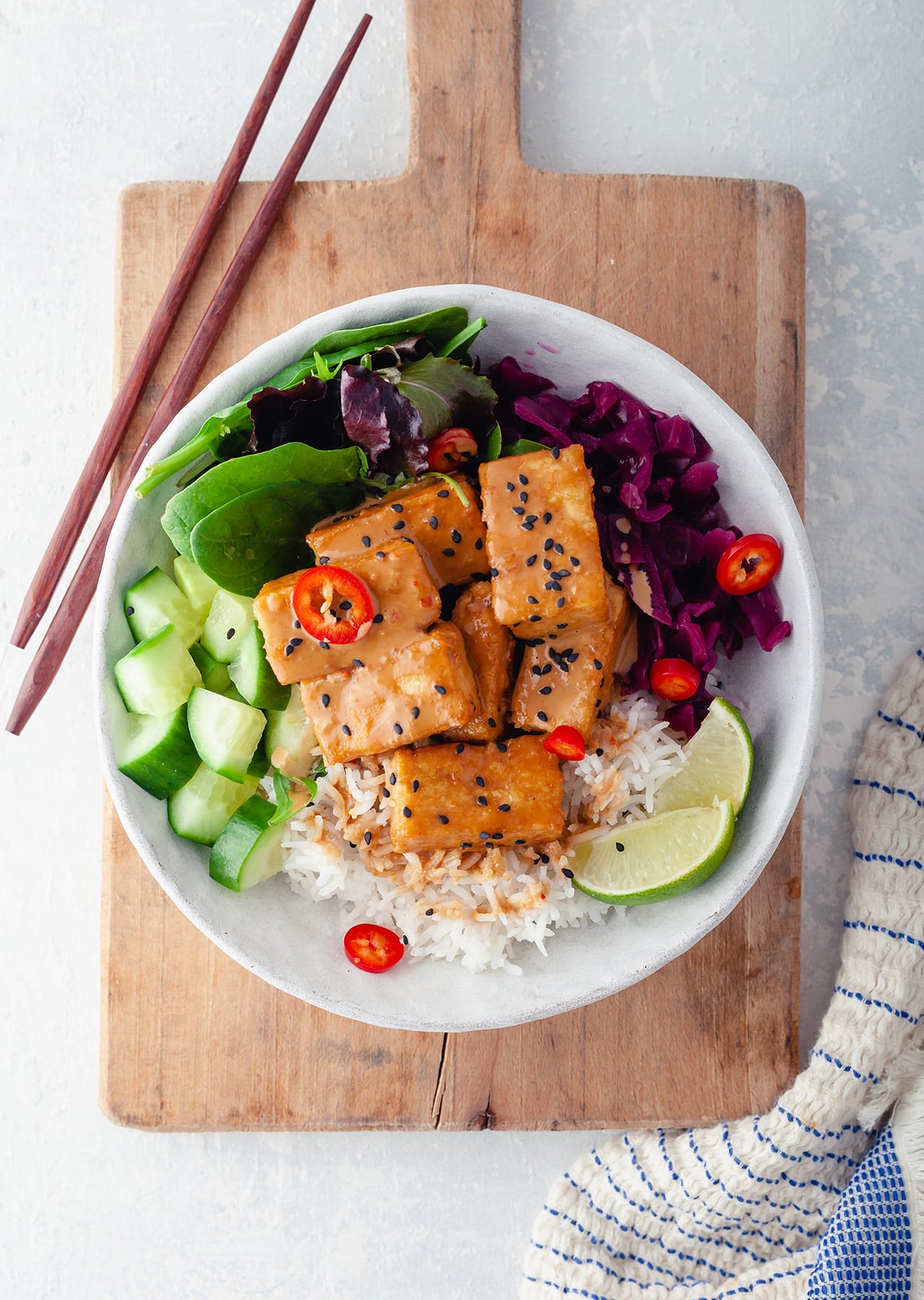 Tahini Tofu Power Bowl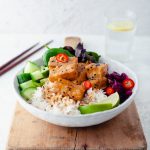 Ben, So Vegan
Packed with protein and bags of flavour, this healthy tofu bowl is the perfect nutritious meal
Print This
Ingredients
300g / 10.6oz packed of extra-firm tofu, pressed and cubed
1 1/2 tbsp cornflour
salt + pepper
vegetable oil
For the sauce:
3 tbsp tahini
1 tbsp soy sauce or tamari
2 tsp maple syrup
1/2 thumb of fresh ginger, grated
1 garlic clove, grated
1/2 red chilli, finely chopped
5 tbsp light coconut milk
1/2 lime, juice only
To serve:
160g / 5.6oz rice (we use basmati)
100g / 3.5oz pickled red cabbage, drained
1/3 medium cucumber, chopped
a few handfuls of salad leaves (we use spinach and rocket)
1/2 red chilli, sliced
1/2 lime, sliced into wedges
1/2 tsp black sesame seeds
Instructions
Add the tofu, cornflour and pinches of salt and pepper to a mixing bowl. Mix until the tofu is covered in the cornflour. Add a splash of vegetable oil to a frying pan on a medium heat. As soon as the oil is hot, add the tofu and fry for 10-15 minutes or until the tofu is golden and crispy on each side.
Meanwhile cook the rice as per the packet instructions and combine all the sauce ingredients in a bowl until smooth.
Add half of the rice, pickled red cabbage, cucumber and salad leaves to each bowl. Stir the crispy tofu cubes into the tahini sauce, then add half of the tofu to each bowl and drizzle over the remaining sauce. Top each bowl with the chilli, sesame seeds and serve with lime wedges.
Notes
Nutritional information per serving: Calories 667 kcal / Protein 28.8g / Fat 35.3g / Sat Far 6.9g / Carbs 60.1g / Sugar 8.9g / Fibre 7.3g