Yum.
It doesn't get much easier than this delicious Thai yellow curry.
We've packed in lots of our favourite veggies and kept things super simple, leaving you with a fuss-free and flavoursome meal that you'll be able to knock together in less than 20 minutes.
It's warm, filling and super tasty. You guys will love it!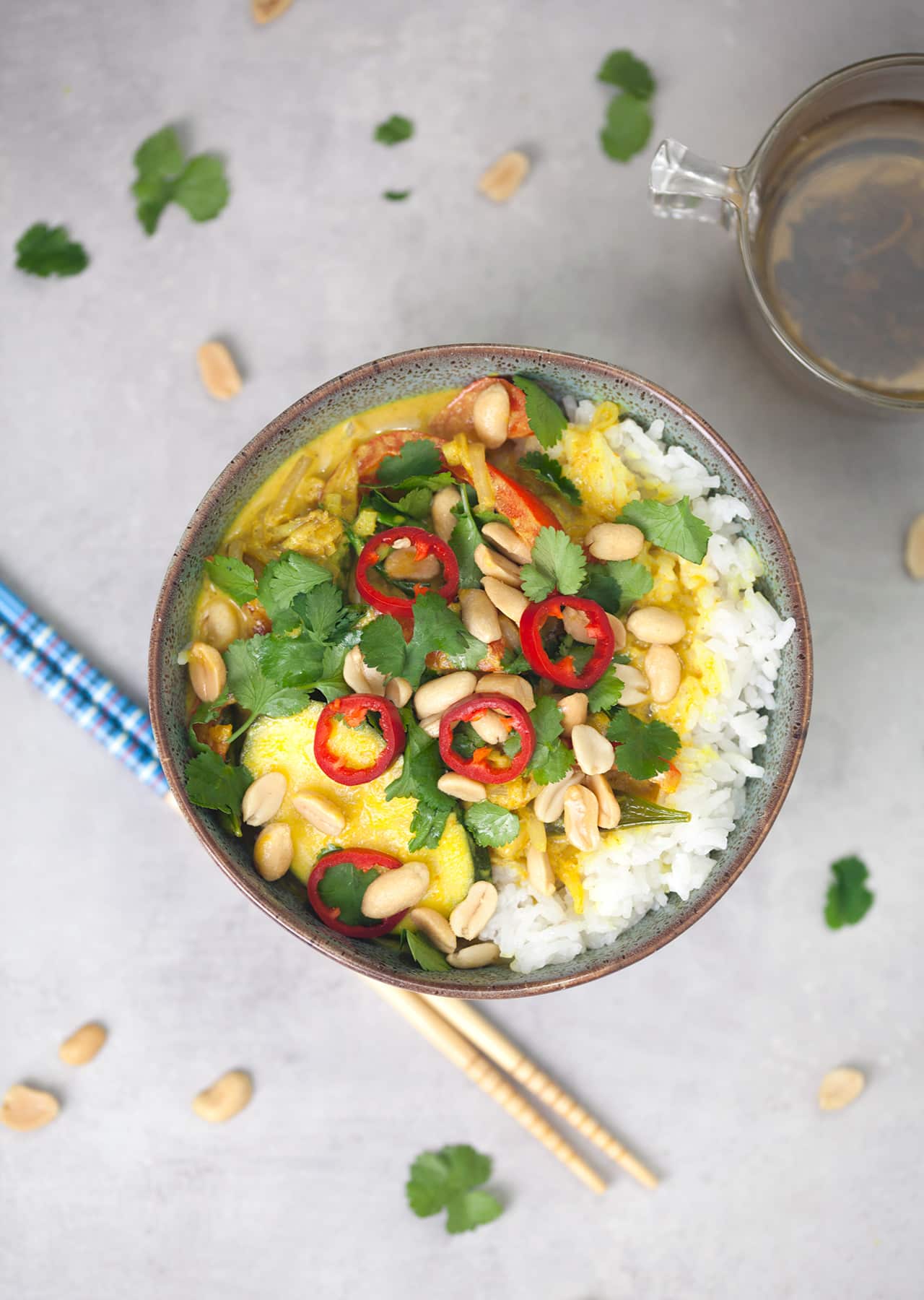 Thai yellow curry paste is ideal because it's normally always vegan. Whereas green and red curry pastes usually contain unwanted non-vegan ingredients.
We usually have a pot ready and waiting for us in our fridge so we can prepare this quick and easy treat when we're in a rush.
The paste we use is already quite salty, so we avoid adding extra salt. But trust your palette and season to perfection.
Oh, and in case you didn't know, our debut cookbook So Vegan in 5 is available to pre-order right now!
You'll find over 100 super simple 5-ingredient recipes, making it easier than ever before to cook delicious plant-based meals at home.
You can find out more about the cookbook here. Thanks as always for the support!
Roxy & Ben
Ingredients
350g (12oz) jasmine rice
1 tbsp coconut oil
4 shallots
3 garlic cloves
1 courgette
2 red peppers
100g (3.5oz) sugar snap peas
1/2 thumb fresh ginger
1 x 400ml (13.5oz) tin of coconut milk
2 tbsp Thai yellow curry paste
1 tbsp tamari
1/2 tbsp white granulated sugar
1/2 tbsp turmeric
100g (3.5oz) beansprouts
For serving:
handful of fresh coriander
handful of salted peanuts
2 fresh red chillies
1 lime
Method
Rinse the rice under cold water until the water runs clear. Then transfer it to a saucepan and add 600ml (2.5 cups) of boiling water. Bring the water to the boil, then reduce the heat to low and cook the rice with the lid on for 15-20 minutes until tender, then remove from the heat and leave the rice to one side.

Heat the coconut oil in a wok on a medium-high heat. Meanwhile peel and roughly chop the shallots, then add them to the wok and fry for 3 minutes, stirring frequently.
Peel and chop the garlic, then add it to the pan and fry for 2 minutes, stirring frequently.
Next, prepare the veggies. Chop the ends off the courgette and slice it into 1cm thick pieces. Slice the red peppers, discarding the stem and the seeds as you go. Then trim the tips off the sugar snap peas. Add courgette, red peppers and sugar snap peas to the wok and fry for 3 minutes, stirring frequently.
Peel the ginger and finely dice it into small pieces, then transfer it to the wok and fry for 2 minutes, stirring frequently.
Then add the coconut milk, Thai yellow curry paste, sugar, tamari and turmeric, and simmer on a low heat for 8 minutes, stirring occasionally.
Meanwhile, roughly chop the coriander, slice the lime into quarters and slice the red chillies, discarding the seeds. Then leave the toppings to one side.
Finally, add the beansprouts and simmer for 2 minutes. Season to taste with salt (the curry paste we use is already quite salty, so we avoid adding any extra salt).
Serve the curry in bowls over the jasmine rice and top with the coriander, salted peanuts, fresh chilli and a squeeze of lime juice.
Did You Make This Recipe?
Don't forget to share your SO VEGAN creations on Instagram and tag us at
@SOVEGAN
!