These wicked millionaires took on a few forms before we settled on this fun pretzel version.
The crumbly shortbread base goes so well with the gooey date caramel and the lovely chocolate topping.
Good luck not eating them all in one go!
These are best served immediately but they'll keep for a couple of days in an airtight container.
Enjoy!
Roxy & Ben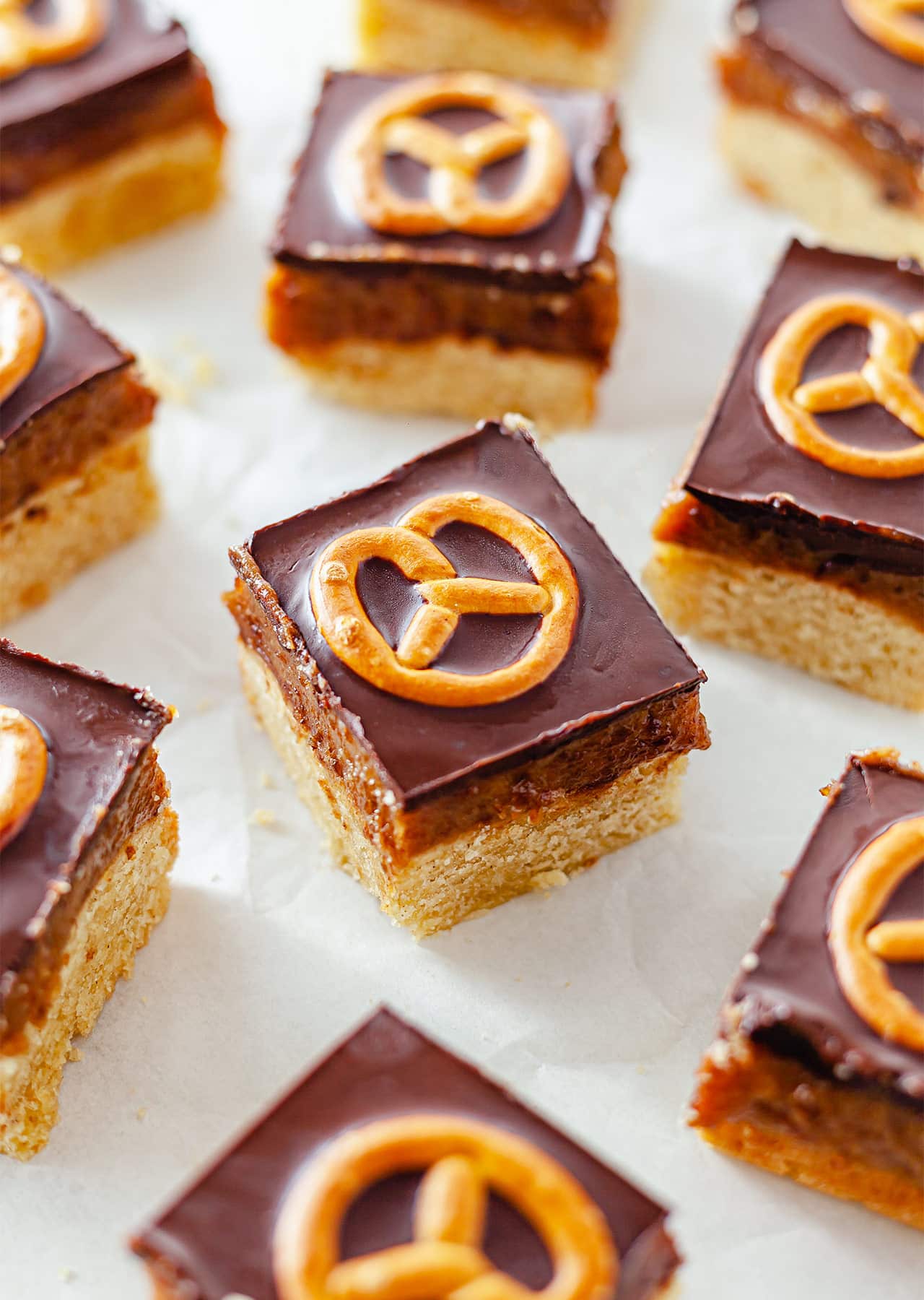 Ingredients
80 g (2.8 oz) caster sugar

150 g (5.3 oz) dairy-free margarine

1 tsp vanilla extract

240 g (8.4 oz) plain flour 

12 Medjool dates (or a different type of date)

2 tbsp almond butter

2 tbsp maple syrup

6 tbsp soya milk

pinch of salt

100 g (3.5 oz) vegan dark chocolate, 70%

2 tbsp coconut oil

16 pretzels
Method
Preheat the oven to 180°C fan / 400°F and line a 7" x 7" baking tin with baking paper so it covers the base and the sides.

Using a wooden spoon, cream the sugar, margarine and vanilla together in a mixing bowl. Then add the flour and a pinch of salt and bring the dough together first with the wooden spoon and then with your hands.

Transfer the dough to the lined baking tin and even it out with your fingers so it lines the base. Bake for 20 minutes until lightly golden.

Remove the baking tin from the oven and leave to cool while you prepare the caramel. Remove the stones from the dates and add the dates to a food processor along with the almond butter, maple syrup, soya milk and a generous pinch of salt. Blend until smooth, scraping down the sides as you go. Transfer the caramel to the baking tin and smooth out with a spatula.

Add a little water to a saucepan on a medium heat and place a heatproof bowl on top, making sure the bottom of the bowl doesn't touch the water. Add the chocolate and coconut oil to the bowl and leave to melt, stirring occasionally. Then pour the chocolate sauce over the caramel layer of the millionaires and gently tilt the tin to even it out.

Then decorate the top of the millionaires with pretzels and leave to cool before placing in the fridge for 2 hours to set.

Remove from the fridge 20 minutes before serving. Then slice into mini squares.
Did You Make This Recipe?
Don't forget to share your SO VEGAN creations on Instagram and tag us at
@SOVEGAN
!