You can easily make this gluten-free using gluten-free breadcrumbs and buns.
Instead of brown rice, you can also use an equal amount of another grain such as cooked farro or quinoa, which also contain lots of healthy nutrients.
It's important to strain as much moisture out of the cooked rice as possible, otherwise the burger mixture might be too wet.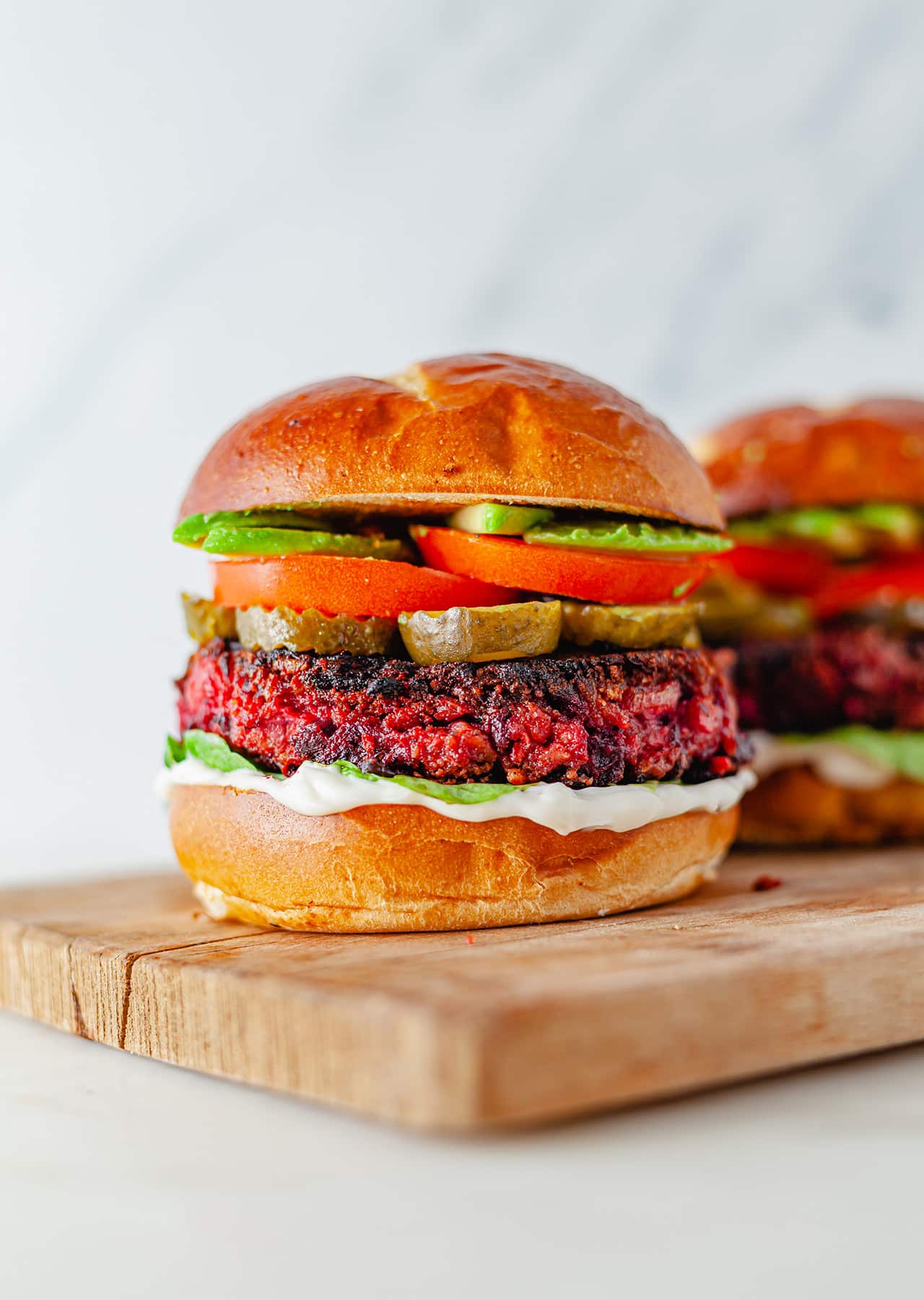 Makes 4 burgers:
Ingredients
For the burgers…
1/3 cup brown rice
1 ½ cups water
4 tbsp olive oil
1 onion finely chopped
2 cloves garlic
1 cup cooked beetroot grated
1 cup raw walnuts
1 ½ cups tinned black beans
2/3 cup breadcrumbs (or gluten-free breadcrumbs)
1 tsp each of chilli flakes, cumin, paprika, salt, pepper
To serve…
4 vegan burger buns (or gluten-free buns)
vegan mayonnaise
1 avocado, sliced
lettuce leaves
tomato sliced
gherkin sliced
Method
1. Place rice and water in saucepan. Cover with lid and bring to boil, then simmer for 30 minutes. When cooked, drain as much moisture out of the cooked rice as possible.
2. Meanwhile, put 2 tbsp oil in pan. Once hot add onions and cook until tender. Add garlic, beetroot and cook for further 2 minutes.
3. Grind walnuts until fine.
4. Drain and towel-dry beans. Place in large bowl and mash until only a few whole beans remain.
5. Place rice, onion mix, walnuts, breadcrumbs and seasoning in black bean bowl. Mix together and form 4 burgers or 5 smaller burgers.
6. Put 2 tbsp oil in pan. Once hot, fry burgers for 6 minutes on each side (or until nicely browned).
7. Meanwhile, cut buns open and toast either side.
8. Assemble burger with vegan mayo, avocado, lettuce, tomato and gherkin.