The truth is we were never big fans of mac 'n' cheese growing up.
But for some reason, ever since we decided to go vegan we've been obsessed with this creamy, cheesy and carb-tastic meal.
Maybe it's because – as vegans- it almost feels like forbidden fruit.
So creating our own indulgent vegan version seemed like a no brainer.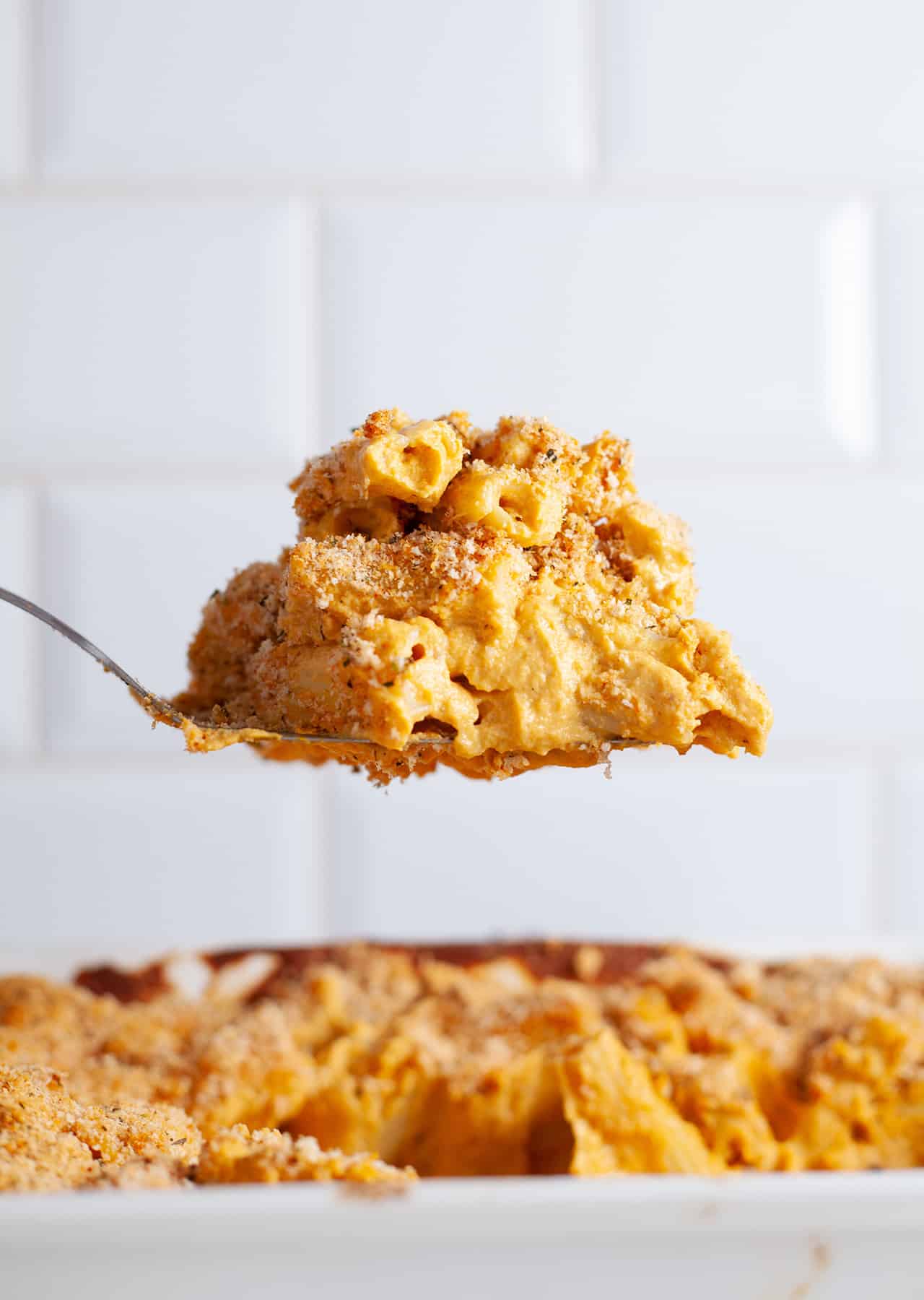 This is also an awesome recipe for hiding veggies (ideal if you're feeding some fussy eaters!).
The cauliflower, potato, sweet potato and carrots are all packed with lots of much-needed nutrition.
So don't feel guilty if you gobble this all down yourself!
And don't forget, if you love this, then you'll totally love our debut 5-ingredient cookbook So Vegan in 5, which is available to buy right now.
Enjoy,
Roxy & Ben
Our Creamy Mac 'N' Cheese is a great way to hide veggies if you're feeding fussy eaters 😉

Love this? Then you'll also love our cookbook So Vegan In 5: sovegan.co/cookbook

Posted by So Vegan on Thursday, 27 June 2019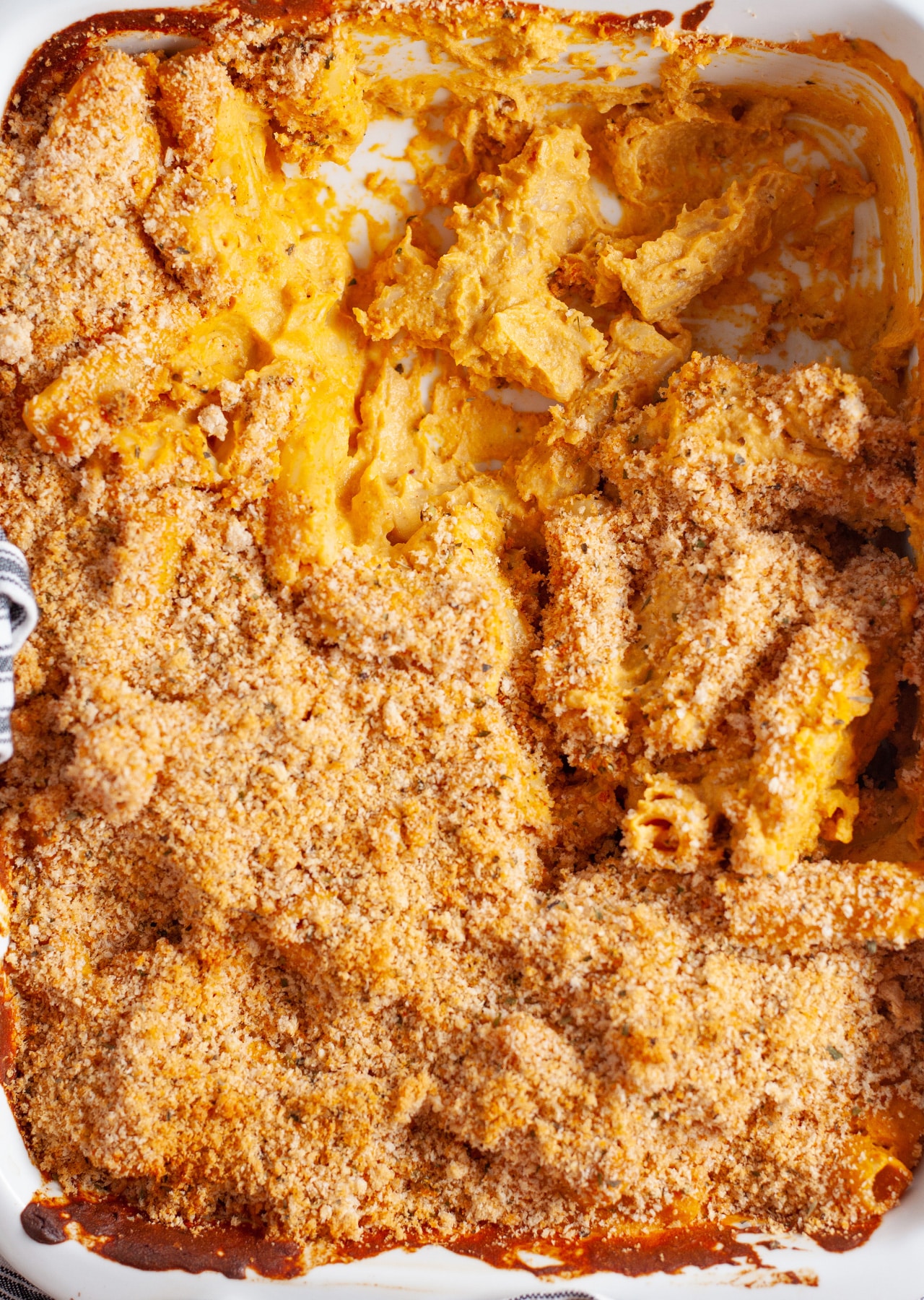 Creamy Mac 'n' Cheese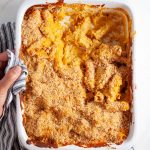 Roxy, So Vegan
The truth is we were never big fans of mac 'n' cheese growing up. But for some reason, ever since we decided…
Print This
Ingredients
100g / 3.5oz cashews
250g / 8.8oz cauliflower
200g / 7oz sweet potato
200g / 7oz white potato
2 medium carrots
1 onion
pinches of salt & pepper
drizzle of olive oil
2 tsp paprika
2 garlic cloves
1 tsp miso paste (or sub for soy sauce)
1/2 lemon
20g / 0.7oz nutritional yeast
4 tsp dijon mustard
750ml / 3 cups plant based milk
400g / 14.1oz pasta
For the breadcrumbs
1 cup breadcrumbs
1/2 tsp paprika
2 tsp mixed herbs
1 tbsp olive oil
Instructions
Preheat the oven to 200°C / 390°F fan assisted.

Transfer the cashews to a small bowl and cover with hot water straight from the kettle while you carry out the next steps.

Trim the cauliflower into florets. Slice the sweet potato, white potato and carrots, and cut the onion into 8 pieces. Add all the veggies to a large baking tray and season with salt, pepper and the paprika, and drizzle with olive oil. Combine with your hands, then bake for 10 minutes.
Remove the baking tray from the oven, add the garlic cloves, then bake again for another 10 minutes.
Meanwhile cook the pasta as per packet instructions.
Drain the cashews and add them to a blender along with the juice of the lemon, nutritional yeast, miso paste, dijon mustard and plant-based milk. Then remove the veg from the oven (but leave the oven turned on) and peel the onion and garlic, and add both to the blender along with all the remaining veg. Blend to create a smooth 'cheesy' sauce.
Drain the pasta and add to a baking dish, then pour the cheesy sauce on top. Stir to combine.
Add all the breadcrumb ingredients to a small bowl and stir to combine. Then sprinkle all over the mac and cheese. Bake for 10 minutes.
Remove the mac 'n' cheese from the oven and serve! Delicious!