Nostalgic food is always the best.
That feeling when you bite into your childhood favourite food and all those fond memories come flooding back.
Priceless.
Snickers bars were a wonderful treat growing up, and we simply weren't prepared to give them up when we decided to go vegan.
So here it is. Our simple, indulgent and epic homemade recipe for salted caramel vegan Snickers bars.
If you can't find oat flour, simply blend rolled oats until fine.
These are best enjoyed chilled from the fridge. But sometimes we take them out with us in lunch boxes and they stay firm, though the chocolate does get a little messy!
And don't forget, if you love this, then you'll totally love our debut 5-ingredient cookbook So Vegan in 5, which is available to buy right now.
Enjoy!
Roxy & Ben
Homemade Snickers Bars 😲

Love this? Then you'll also love our debut cookbook #SoVeganIn5! sovegan.co/cookbook

Posted by So Vegan on Friday, 21 June 2019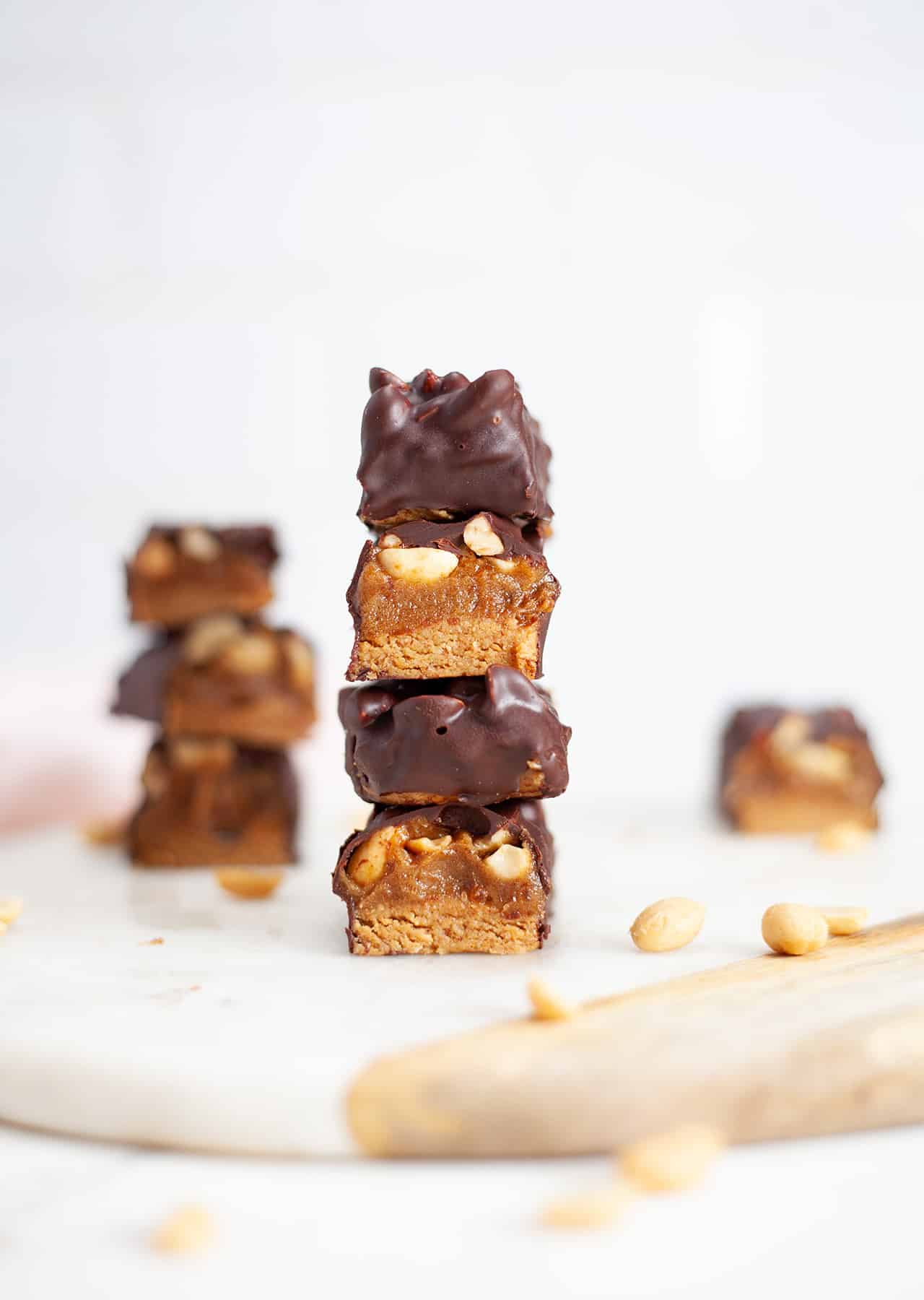 Salted Caramel Snickers Bars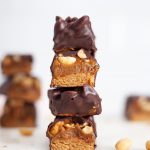 Roxy, So Vegan
Nostalgic food is always the best. That feeling when you bite into your childhood favourite food and all those fond memories come…
Print This
Ingredients
10 Medjool dates

1 tsp vanilla extract

large pinch of salt

10 tbsp oat flour (or simply blend oats until fine)

4 tbsp golden syrup (or corn syrup)

60g / 2.1oz cup peanut butter

150g dairy-free  dark chocolate

3 handfuls of salted peanuts
Instructions
Transfer the Medjool dates to a small bowl and cover with hot water straight from the kettle. Leave to one side to soak while you carry out the next steps.
Line a rectangular tin or box approx. 7″ x 5″ with baking paper.
Combine the oat flour, golden syrup and peanut butter in a mixing bowl until smooth, like nougat. Transfer the nougat to a lined box and use your fingers to ease it into the corners and flatten it out.
Remove the stones from the medjool dates, then add the dates to a food processor along with the vanilla extract, a pinch of salt and 4 tbsp of water. Blend until mostly smooth, scraping down the sides as you go. Transfer the salted caramel to the lined box and spread it out evenly over the nougat.
Sprinkle the salted peanuts on top until the caramel is fully covered, and transfer the snickers to the freezer for 2 hours.
When the 2 hours are nearly up, melt the dark chocolate in a microwave or in a bowl over a pan with hot water on a low heat.
Then remove the bars from the freezer and slice into 5 bars. Using a large slotted spoon, transfer the first bar over the chocolate and spoon the chocolate over the bar until it's completely coated in chocolate. Then place it on a cooling rack or a piece of baking paper. Repeat until the remaining bars are covered in chocolate, then leave them to set, ideally in the fridge.
These will last for at least 10 days in the fridge. Enjoy!