Instead of flipping the omelette, we simply put a lid on it and let the steam cook the mixture. This is an important step because if you don't fully cook the chickpea flour, it'll give the omelette an unwanted bitter taste.
We throw this together with some fried veggies, but you can add any twist you like.
Use soy-free milk to make this recipe soy-free.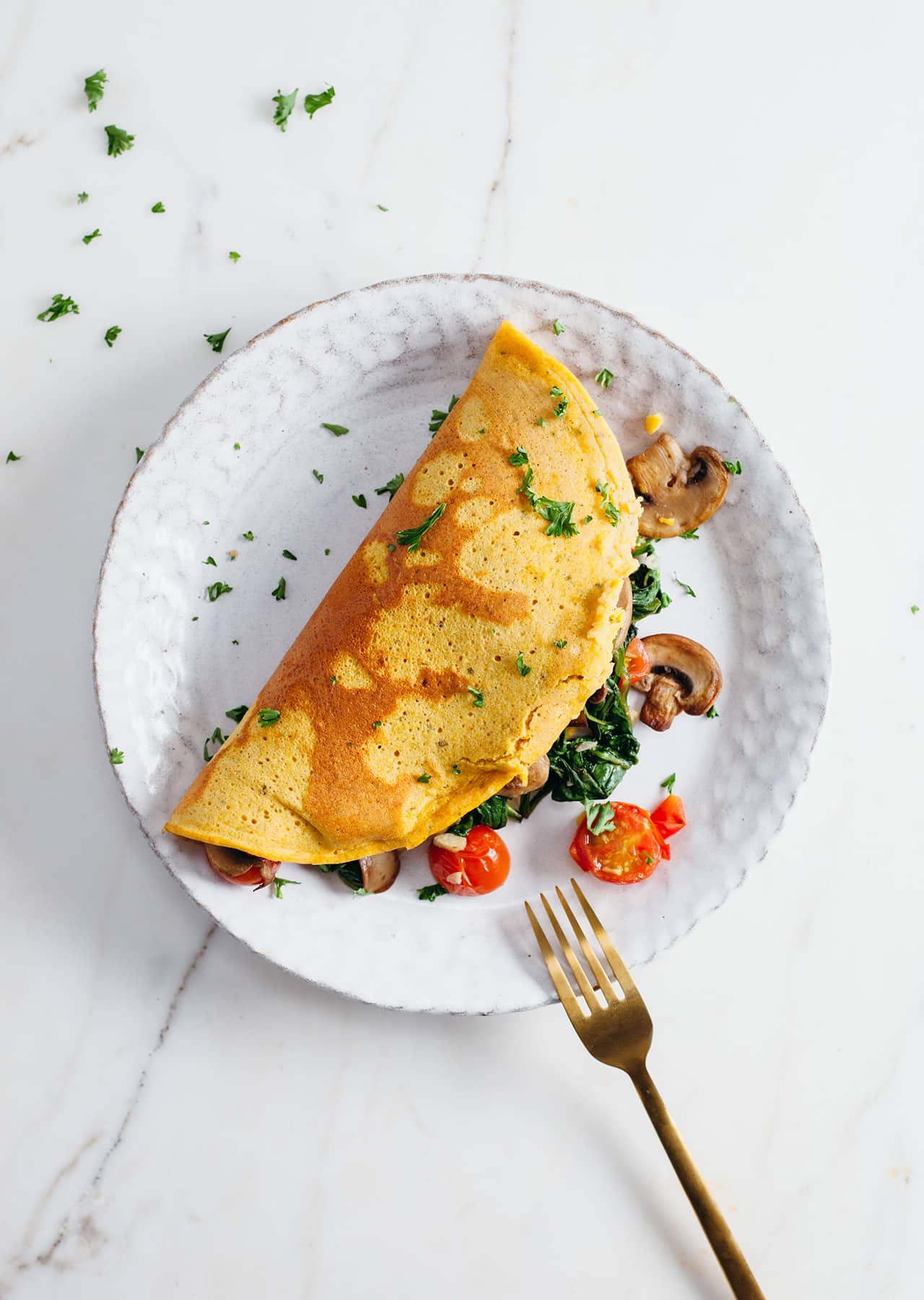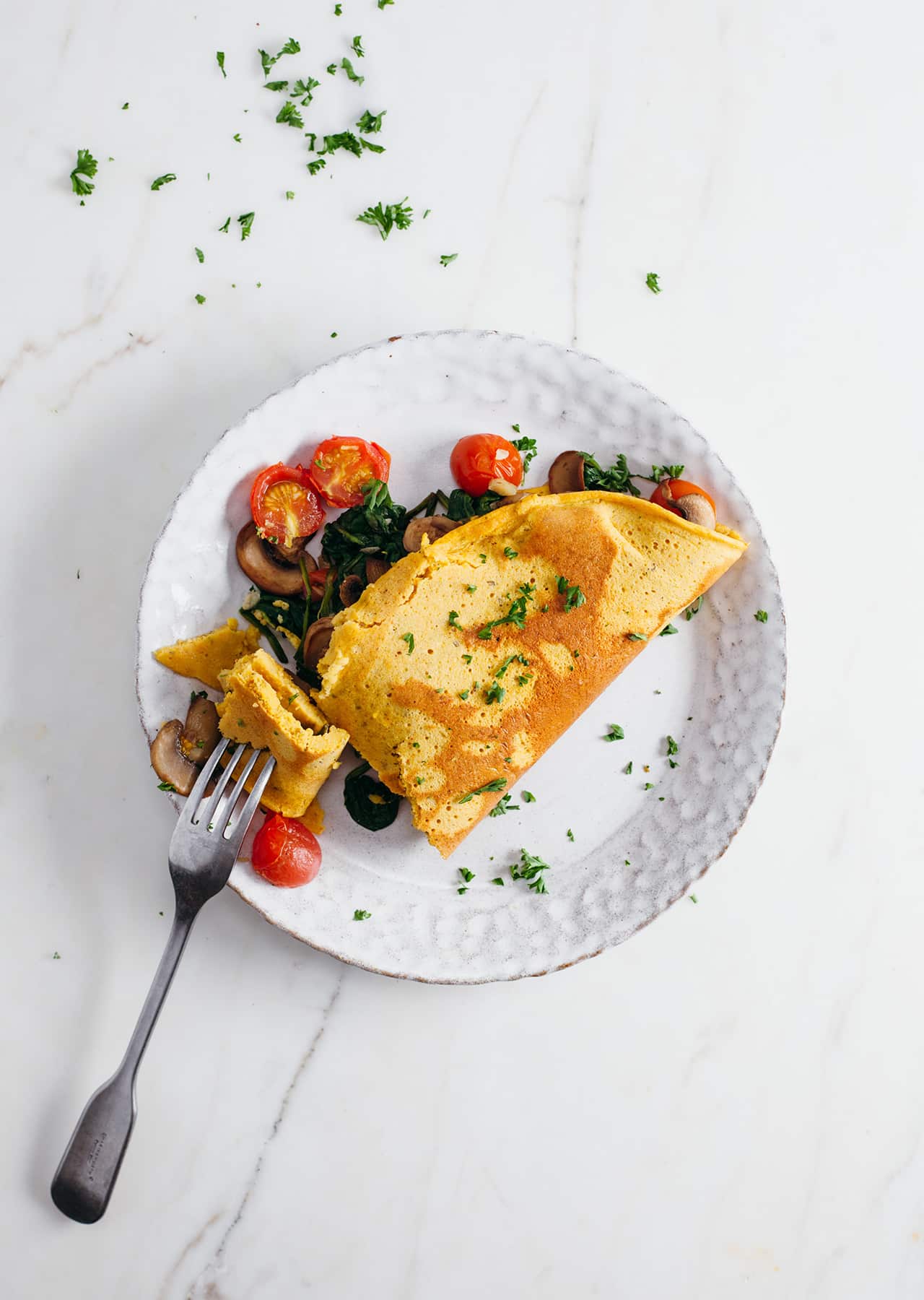 Our new Vegan Omelette. What a time to be alive 🙌

Looking for tasty vegan recipes? Check out our cookbook So Vegan In 5: sovegan.co/cookbook

Posted by So Vegan on Saturday, 27 July 2019
Ingredients
oil for frying
300g / 10.5oz mushrooms
2 garlic cloves
handful of cherry tomatoes
2 handfuls of spinach
salt and pepper
100g / 3.5oz chickpea flour
1 tbsp nutritional yeast
1/4 tsp turmeric
1/4 tsp paprika
1 tsp oregano
1/2 tsp onion powder
1/4 tsp baking powder
180ml / 6 fl.oz plant-based milk (we use oat milk)
2 tsp apple cider vinegar
handful of curly parsley
Method
Add a splash of oil to a frying pan on a medium heat. Roughly slice the mushrooms and add them to the pan. Fry for 15 minutes or until golden brown, stirring occasionally.
Peel and dice the garlic. Add it to the pan and fry for a minute, stirring occasionally.
Slice the cherry tomatoes in half. Add them to the pan along with the spinach and season with salt and pepper. Fry for 5 minutes, stirring occasionally. When the veggies are ready, transfer them to a tray and leave to one side while you carry out the next few steps (tip: we usually leave the veggies in the oven on a very low heat to keep them warm).
Combine the chickpea flour, nutritional yeast, turmeric, paprika, oregano, onion powder, baking powder, oat milk and apple cider vinegar in a large mixing bowl. Whisk the ingredients together until the mixture is completely smooth.
Wipe out to pan you used earlier, add a splash of oil and place on a low-medium heat. When the oil is hot, pour in half of the mixture and move the pan around to form a circle and until the omelette is approx. 18cm (7inches) in diameter. Cover with a lid and steam fry for 5 minutes. Add half of the cooked veggies from earlier to one side of the omelette and carefully fold the remaining half on top. If it feels like the omelette is about to break, leave it to fry for another minute then try again.
Remove the omelette from the pan and serve on a plate. Roughly chop the parsley and sprinkle it on top. Enjoy!
Did You Make This Recipe?
Don't forget to share your SO VEGAN creations on Instagram and tag us at
@SOVEGAN
!