The jar of mixed herbs we use contains basil, parsley, thyme and sage.
Opt for soy-free milk to make this recipe soy-free.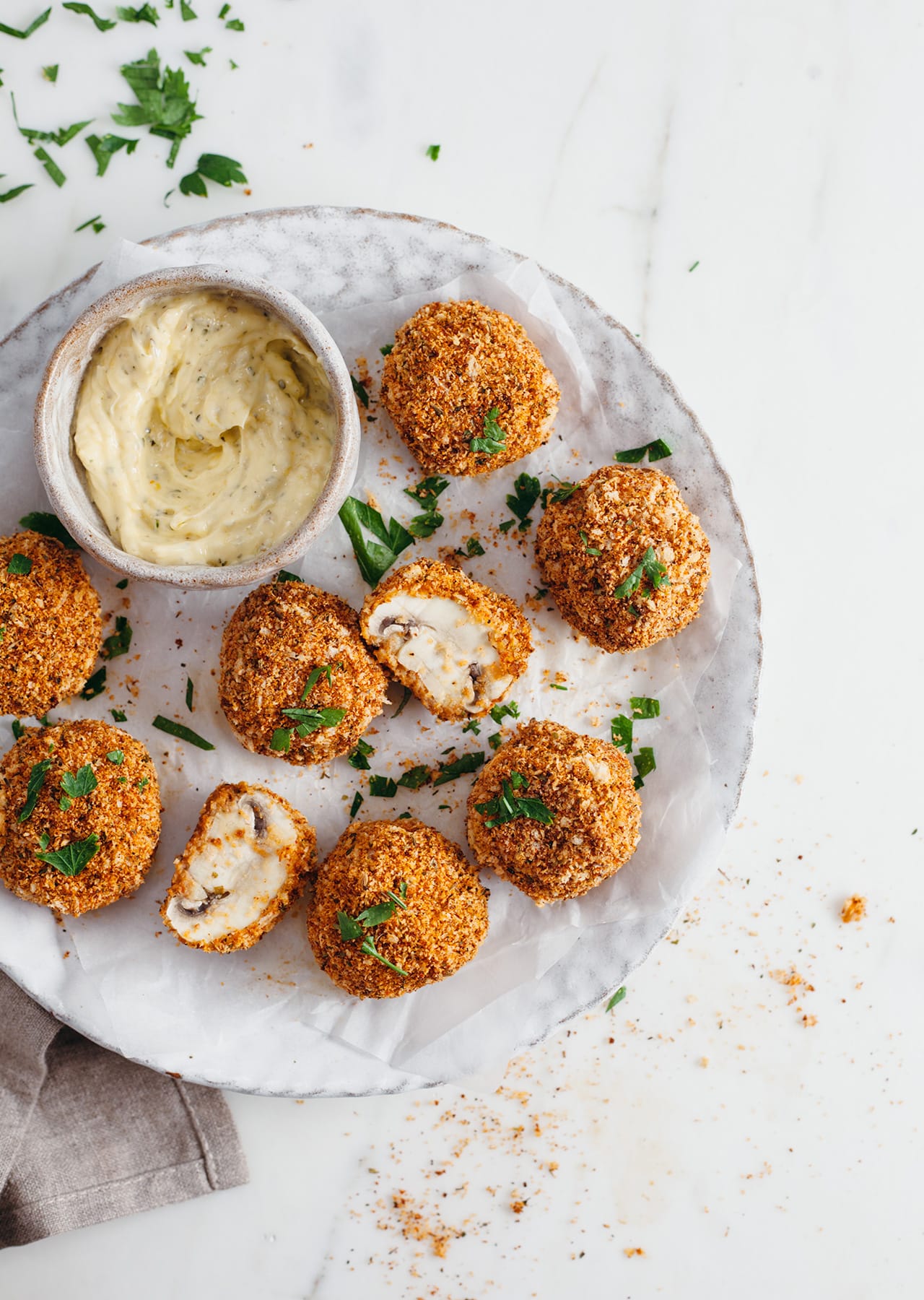 Baked & Breaded Garlic Mushrooms

Baked & Breaded Garlic Mushrooms ✌️

Looking for tasty vegan recipes? Check out our cookbook So Vegan In 5: sovegan.co/cookbook

Posted by So Vegan on Tuesday, 30 July 2019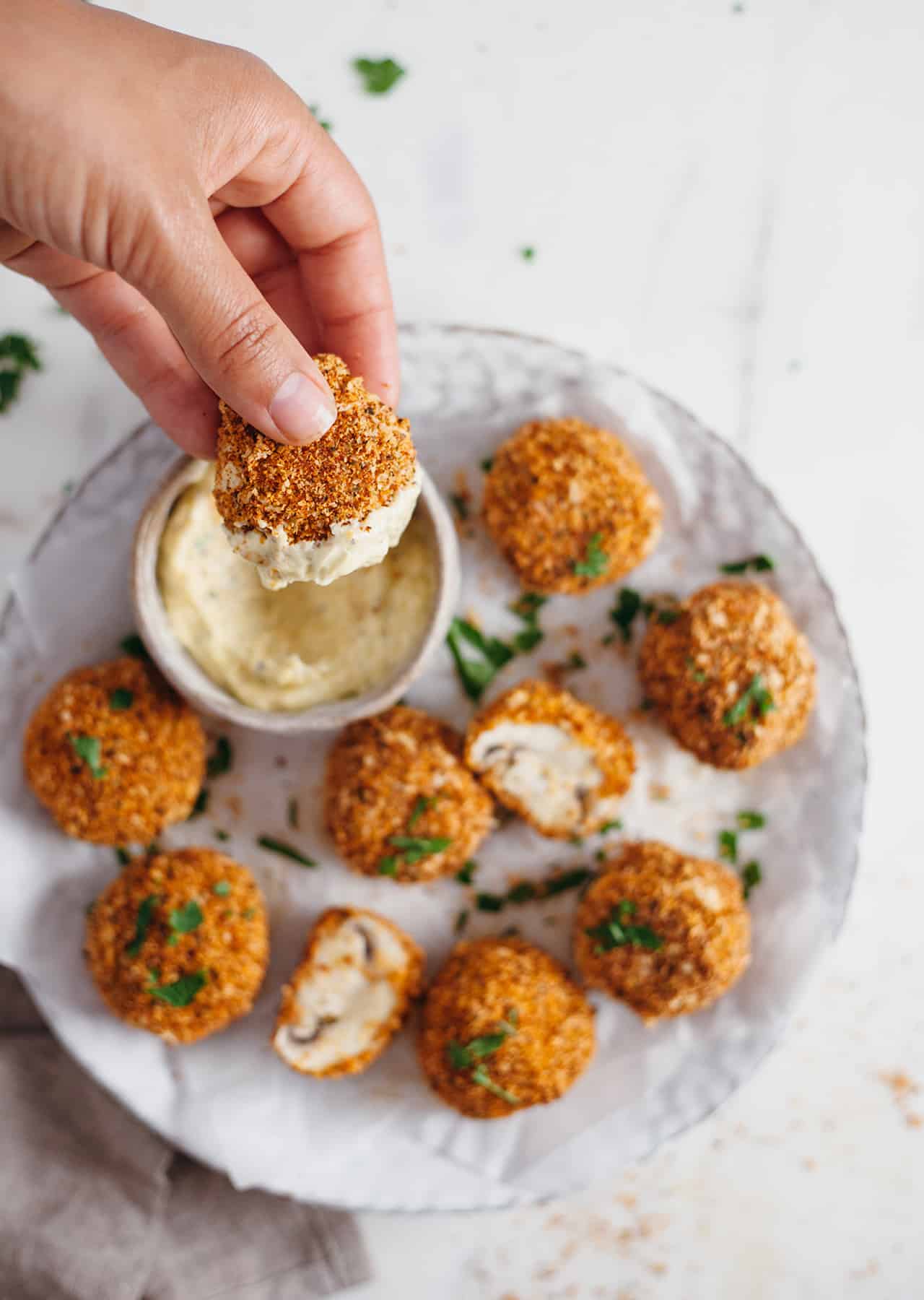 Ingredients
400g / 14oz closed cup mushrooms
5 garlic cloves
50g / 1.8oz plain flour
100ml / 3.4fl.oz plant-based milk
70g / 2.5oz panko breadcrumbs (see note)
2 tsp onion granules
2 tsp mixed dried herbs (basil, parsley, thyme, sage, etc)
2 tsp smoked paprika
1 tsp soy sauce
1 tsp olive oil
salt & pepper
small handful of fresh parsley (optional)
For the vegan garlic butter:
4 tbsp vegan spread or margarine
1 garlic clove
pinch of salt
1 tsp nutritional yeast
1/4 tsp mixed herbs
Method
Preheat the oven to 230°C / 446°F and line a large baking tray with baking paper.
Brush the mushrooms to remove any dirt and trim the ends off the stems. Then peel and dice the garlic, and use your fingers to poke approximately 1/4 of a garlic clove into the gills of each mushroom. Make sure the garlic is pushed into the gills to prevent it from falling out when you coat it in the batter and breadcrumbs.
In a bowl, whisk together the plain flour and plant-based milk until smooth like a batter.
In another separate bowl, add the panko breadcrumbs, onion granules, mixed herbs, smoked paprika, soy sauce, olive oil, and generous pinches of salt and pepper. Stir until fully combined. If the oil and soy sauce 'clumps' together, use your fingers to break it down into the breadcrumbs.
Dunk each mushroom in the batter gills facing up, and use a spoon to coat the mushroom fully in the batter, being careful so the garlic doesn't fall out. Shake off any excess batter, then dunk each mushroom straight into the breadcrumb mixture, making sure the entire mushroom is coated in breadcrumbs. Then transfer each mushroom to the pre-lined baking tray.
Bake in the oven for 8 minutes.
Meanwhile, combine all the vegan garlic butter ingredients in a bowl and stir to combine. Leave to one side.
Serve the breaded mushrooms on a plate and cover with chopped parsley (optional). Then get ready to dip in the amazing vegan garlic butter! Result.
Notes
Note: if your panko breadcrumbs are large, add them to a food processor and pulse them half a dozen times to break them down. They need to be small to mix in well with the spices and herbs. Also, if you can't find panko, simply blitz some bread in a food processor and pop it in the oven for a few minutes at a high temperature to make it crispy.
Did You Make This Recipe?
Don't forget to share your SO VEGAN creations on Instagram and tag us at
@SOVEGAN
!