Spaghetti and meatballs is a tried-and-tested classic.
In fact, before we were vegan, it was one of the first home-cooked dinners we shared together when we first started dating!
Inspired by one of the greatest Disney films of all time, Lady and the Tramp, we're super chuffed we managed to get this vegan version ready just in time for Valentine's Day.
It's the perfect home-cooked meal to share with your loved one on the most romantic day of the year.
This recipe should make 12 vegan meatballs, so it's a generous portion for only 2 people. But we always find ourselves tucking into the leftovers anyway.
And if you love this, then you'll totally love our debut 5-ingredient cookbook So Vegan in 5, which is out right now.
Roxy & Ben
Vegan Spaghetti & Meatballs 🍝
Full recipe: sovegan.co/meatballs

Posted by So Vegan on Thursday, 14 February 2019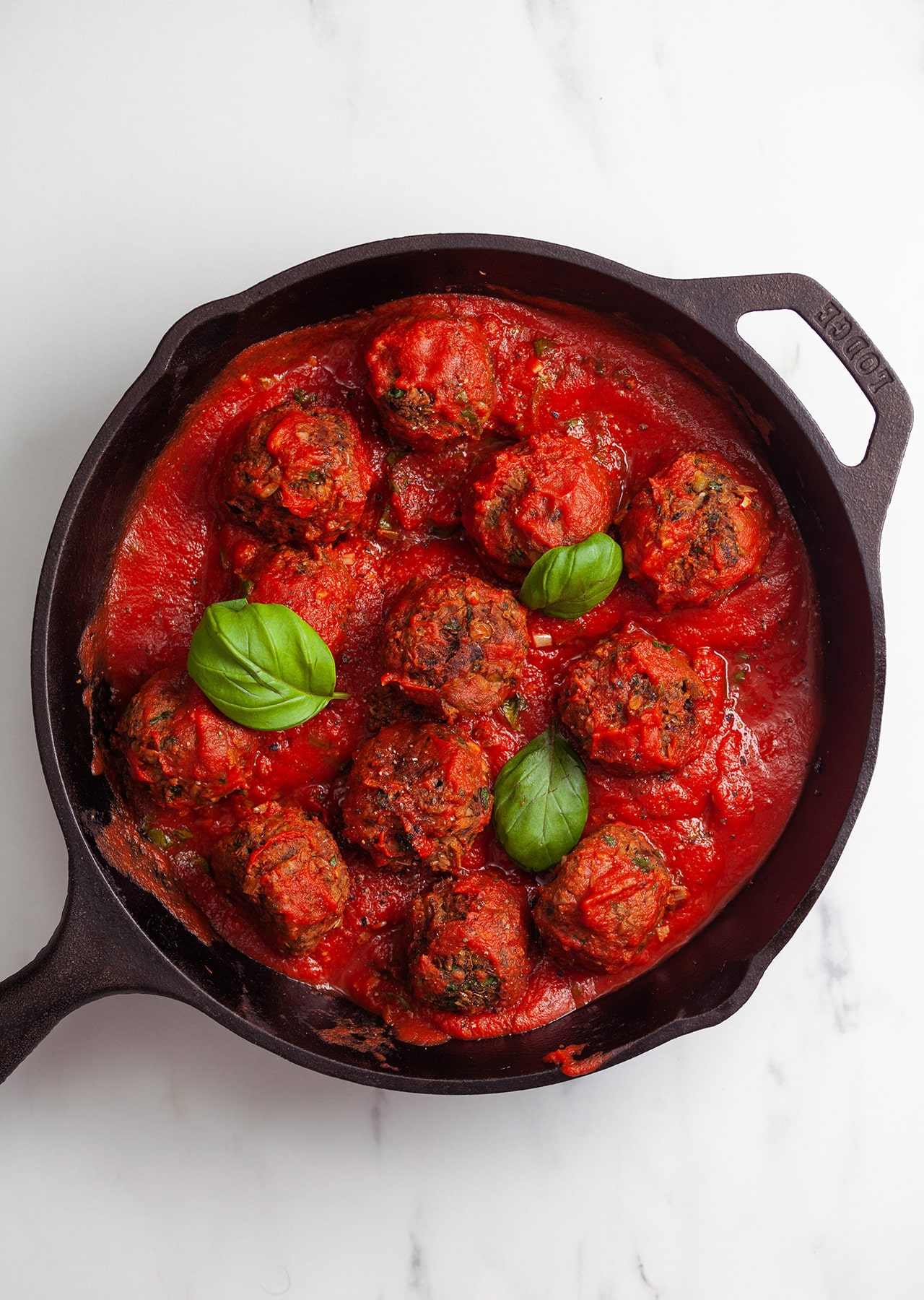 Ingredients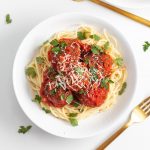 For the vegan meatballs:
100g (3.5oz) green lentils
1 onion
4 garlic cloves
1 tbsp ground flax seeds
4 tbsp rolled oats
2 tbsp black olive tapenade
40g (1.4oz) sun-dried tomatoes
3 tbsp nutritional yeast
2 tsp dried oregano
handful of fresh flat-leaf parsley
For the tomato sauce:
2 garlic cloves
500g (17.6oz) passata or chopped tinned tomatoes
small handful of fresh basil
To serve:
spaghetti for 2 people
fresh flat-leaf parsley
vegan parmesan
The cupboard essentials:
Method
Rinse the lentils under cold water. Add the lentils to a saucepan and cover with 400ml (approx 1.5 cups) of water. Bring the lentils to the boil, then cover and leave to simmer for 15-20 minutes until they're cooked but not completely soft.
Meanwhile, add a drizzle of olive oil to an oven-proof frying pan over a medium heat. Peel and dice the onion, then transfer it to the pan and fry for 8 minutes. Peel and dice the 4 garlic cloves, add them to the pan and fry for 3 minutes. Then transfer the onion and garlic to a food processor.
When the lentils are ready, drain any excess water and leave them to steam dry for a few minutes. Meanwhile, combine the ground flaxseeds with 2.5 tbsp of water in a small bowl and leave it for a few minutes to create a flax egg.
Preheat the oven to 200°C fan / 425°F fan-assisted.
Transfer the lentils and flax egg to the food processor, along with the rolled oats, tapenade, sun-dried tomatoes, nutritional yeast, oregano, parsley (remove any big stalks) and a generous pinch of pepper. Pulse the mixture half a dozen or so times until most of the ingredients have combined, but avoid over-processing the ingredients otherwise the balls will fall apart. You shouldn't need to add any salt, but give the mixture a quick taste and add more seasoning if necessary.
Use your hands to shape the mixture into 12 evenly-sized balls, then leave them on a chopping to rest for a few minutes.
Add a drizzle of olive oil to the same oven-proof frying pan you used earlier and leave it to heat up over a low-medium heat. When the oil is hot, carefully add the balls and fry for 6-8 minutes, turning every couple of minutes so the balls get crispy on all sides. Avoid over-handling the balls and use a small spoon to gently turn them in the pan.
Transfer the pan to the oven and bake the meatballs for 10 minutes, then remove from the oven and leave to one side.
Meanwhile, add a drizzle of olive oil to a small saucepan over a low-medium heat. Peel and dice the remaining 2 garlic cloves and add them to the saucepan. Fry for 2-3 minutes until the garlic begins to brown.
Pour the passata into the saucepan, then chop the basil leaves and add them to the saucepan along with a pinch of salt and pepper. Simmer on a low heat for 15 minutes.
Cook the spaghetti in salted water as per the packet instructions.
When the sauce is ready, pour it over the meatballs and give them a stir until the balls are completely coated in the sauce.
Drain the spaghetti, then divide it between two pasta bowls and top with the meatballs. Sprinkle some chopped parsley on top and finish with some grated vegan parmesan. Yum!
Did You Make This Recipe?
Don't forget to share your SO VEGAN creations on Instagram and tag us at
@SOVEGAN
!