French toast, or 'eggy bread' as we used to call it, is one of the most indulgent ways to start the day.
There's nothing better than waking up and devouring a sweet stack of fried toast, drenched in berries and maple syrup.
This is a real treat!
But why use eggs when you can cook our vegan version instead?
Bananas and flax seeds are a great substitute for that 'eggy' texture.
Go for slightly stale bread if you have it. This helps the bread maintain its structure when you dunk it in the wet mixture.
Roxy & Ben
A few things to know:
We use caster sugar because it gives the toast a lighter texture but really any sugar will do.
If you want to avoid using bananas, you could try using a few tablespoons of applesauce for a similar texture.
Valentine's Day French Toast 💘
Full recipe: sovegan.co/toasty

Posted by So Vegan on Wednesday, 13 February 2019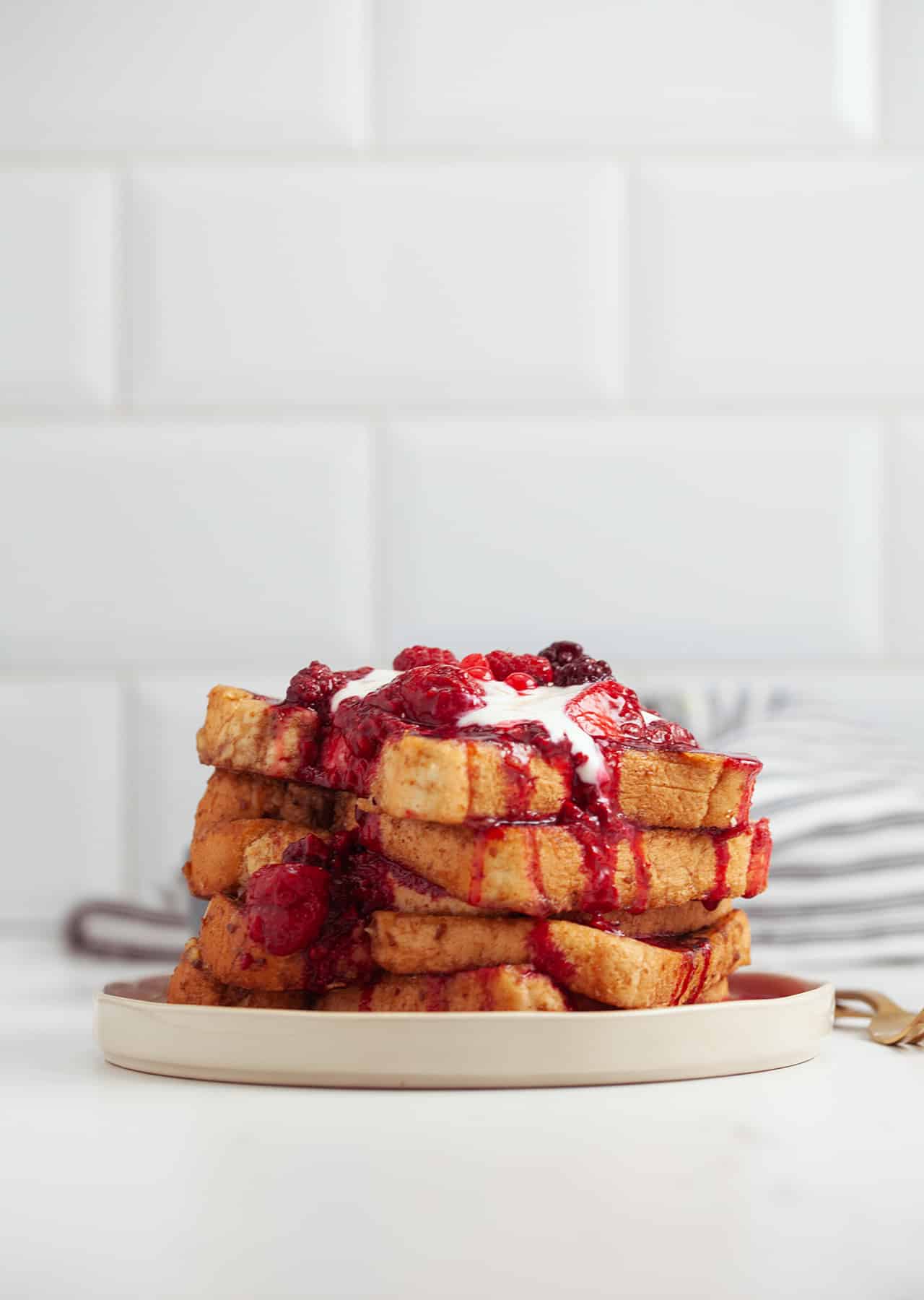 Vegan French Toast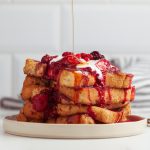 Roxy, So Vegan
French toast, or 'eggy bread' as we used to call it, is one of the most indulgent ways to start the day.…
Print This
Ingredients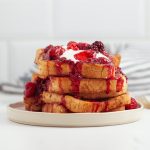 For the French Toast:
2 bananas

250ml (8.5fl.oz) oat milk 

2 tbsp ground flaxseed

2 tbsp caster sugar

1 tsp cinnamon powder

1 tsp vanilla extract

5 thick slices of white bread
Coconut oil for frying
For the toppings:
200g (7oz) mixed frozen berries
2 tsp caster sugar
vegan yoghurt (optional)
maple syrup (optional)
The cupboard essentials:
Instructions
Peel the bananas and add them to a mixing bowl. Mash with a fork until smooth and runny. 

Add the remaining French toast ingredients to the bowl (apart from the bread) along with a pinch of salt, and whisk until fully combined, then set to one side for a few minutes.
Meanwhile add a generous tbsp of coconut oil to a frying pan on a medium heat. Once the pan is hot, dunk a slice of bread into the runny banana mixture so it's fully submerged and completely coated, then carefully add the slice to the frying pan. Fry each slice for 2-3 minutes on each side until crispy. Repeat with the remaining slices of bread, adding more coconut oil as needed (the bread might stick to the pan if you don't add more oil).
Meanwhile, add the frozen berries and 2 tsp of caster sugar to a saucepan on a medium heat and cook for 3-5 minutes, stirring occasionally until the berries have thawed and the sugar has dissolved.
To serve, stack the slices of french toast on one sharing plate or split between two plates. Then top with the berries, spoon a tablespoon (or two) of vegan yoghurt on top and finally drizzle with maple syrup. And tuck in!