Last year we spent a couple of weeks exploring Thailand and its incredible food.
It's safe to say we're now totally obsessed with Thai cuisine.
These 100% vegan Thai fishcakes are our nod to that visit.
Fresh and vibrant, we use nori (seaweed) to capture the taste of the sea and we serve them alongside a simple zesty salad.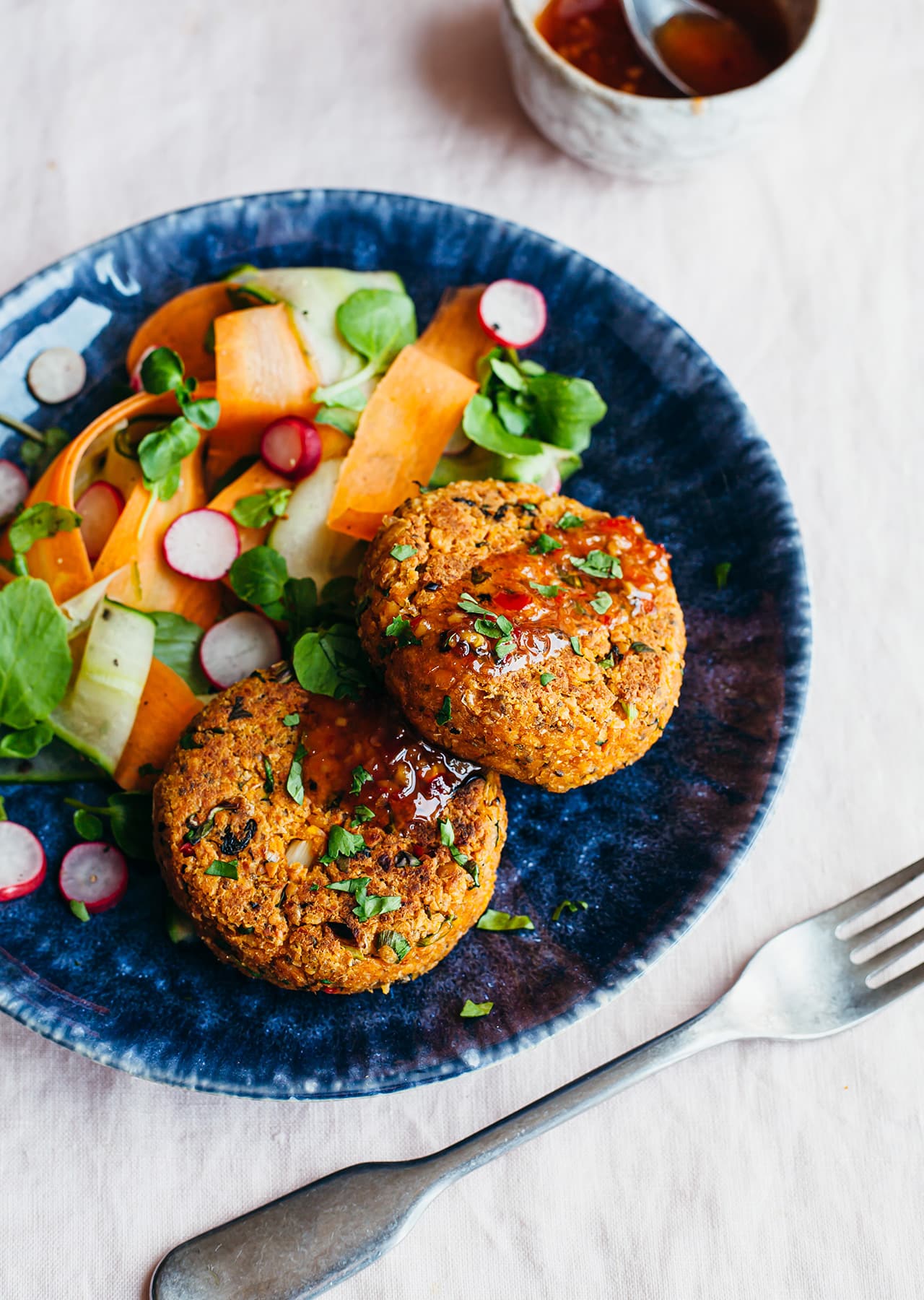 We also combine tofu and chickpeas for a healthy amount of protein.
The chia seeds are a great source of amino acids and they also help combine the ingredients together; preventing them falling apart in the pan.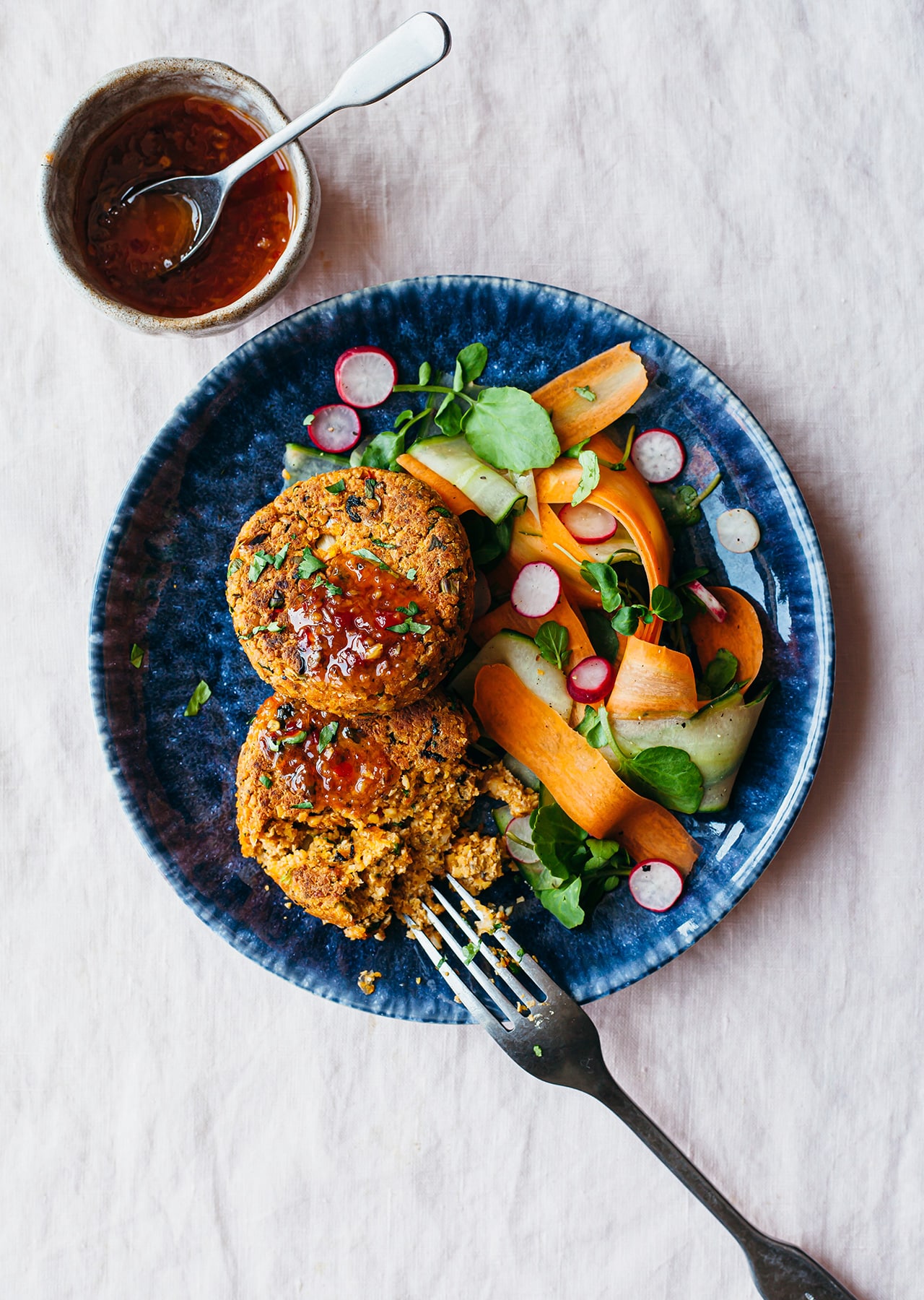 Here's what you need to know:
Not all Thai curry paste is vegan. It's always worth checking the label because some brands will include shrimp paste and other unwanted ingredients. But don't fret because lots of supermarkets will stock a vegan-friendly version.
Some brands of firm tofu will contain lots of moisture and they'll require pressing underneath a heavy object. Other brands will simply require squeezing between your hands.
You can make these gluten-free by using tamari instead of soy sauce, as well as using gluten-free breadcrumbs.
Vegan Thai Fishcakes 🔥 Our new cookbook ONE POT VEGAN is out in less than 3 weeks! We're planting a tree in the Amazon for every pre-order. Order your copy today 👉 sovegan.co/onepv

Posted by So Vegan on Wednesday, 8 July 2020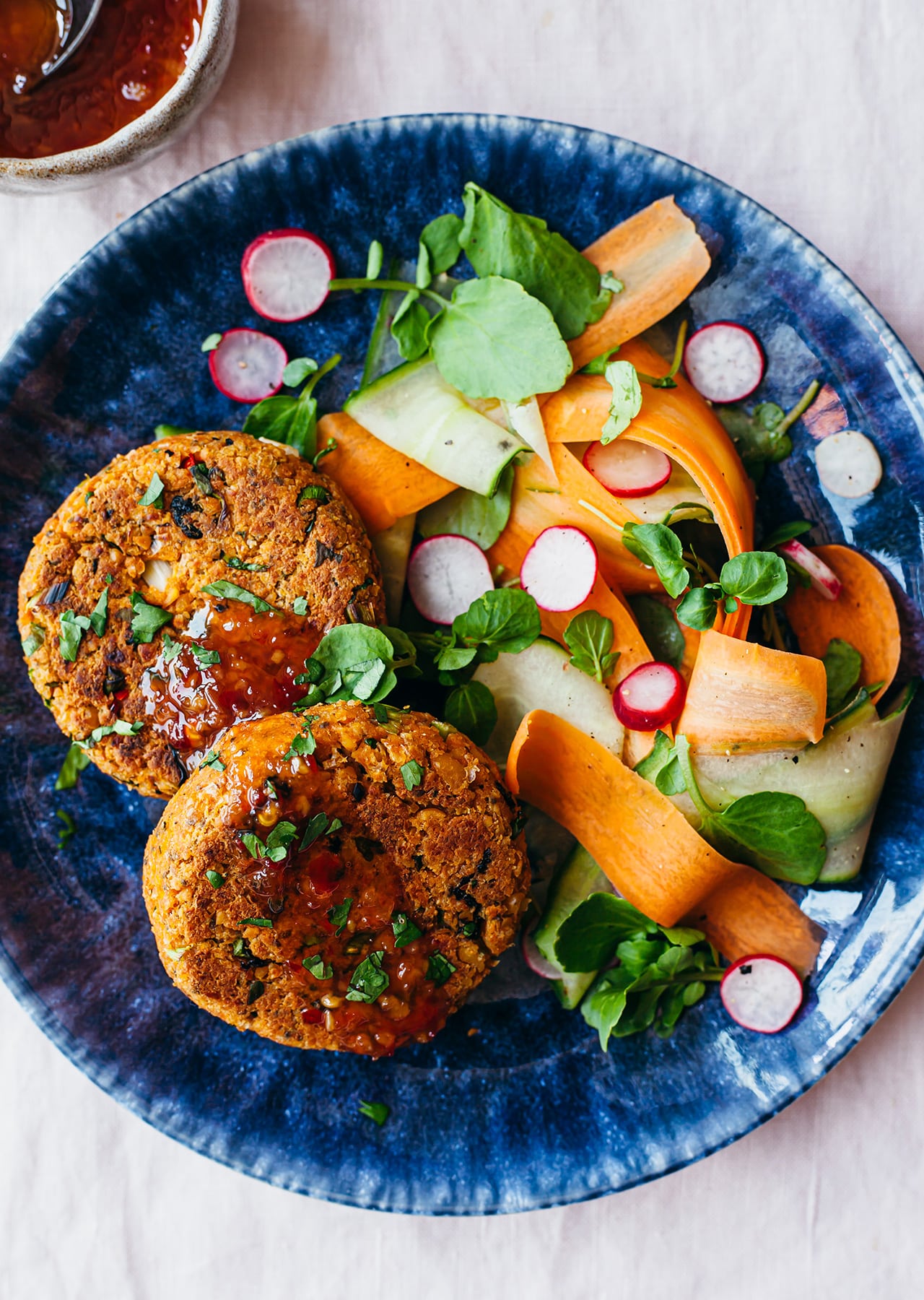 Vegan Thai Fishcakes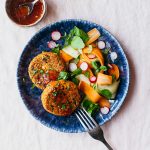 Ben, So Vegan
Last year we spent a couple of weeks exploring Thailand and its incredible food. It's safe to say we're now totally obsessed…
Print This
Ingredients
2 tbsp chia seeds
400g / 14oz firm tofu
2 x 400g /14oz tins of chickpeas
1 tbsp soy sauce
2 sheets of nori
3 tbsp red Thai curry paste (vegan-friendly)
small thumb ginger
4 spring onions
large handful of fresh coriander
1 red chilli
1 lime
75g / 2.6oz (or 1/2 cup) breadcrumbs
salt & pepper
oil for frying
To serve:
1/2 cucumber
1 carrot
handful of radishes
handful of pea shoots
sweet chilli sauce
Instructions
Add the chia seeds to a small bowl along with 4 tbsp water. Stir, then leave to sit so it forms a chia egg while you carry out the next steps.
If needed, press the tofu to remove any excess liquid, then drain and rinse the chickpeas and add both to a food processor along with the soy sauce, nori and red Thai curry paste.
Peel and dice the ginger and add it to the food processor along with the chia egg from earlier. Pulse until mostly broken down, then transfer to a large mixing bowl.
Slice the spring onion, pick the coriander leaves off their stalks and finely chop them, remove the seeds from the red chilli and finely slice the chilli, then add the spring onion, coriander and chilli to the mixing bowl along with the zest from the lime, breadcrumbs and a pinch of pepper. Stir until fully combined. Then shape the mixture into 10 patties, place them on a tray and refrigerate for 30 minutes.
Add a drizzle of oil to a frying pan on a medium – high heat. Fry the fishcakes in batches for 5 minutes on each side or until golden brown.
Meanwhile, to make the side salad, cut the cucumber and carrot into ribbons and slice the radish, then add to a mixing bowl along with the pea shoots, the juice from the lime and pinches of salt and pepper.
Serve the Thai fishcakes alongside the salad and with a drizzle of sweet chilli sauce.