You really can't beat homemade vegetable crisps! We use an array of veggies and spices to make the perfect DIY snack.
Notes:
These will last well for about 3 days if you store them in an air-tight container. If the crisps lose their crispiness, you can reheat them in a hot oven for 10 minutes to dry them out a little.
The trick to homemade vegetable crisps is using a mandolin to slice the vegetables as thinly as possible. The thinner the slices, the crispier your crisps will be! If you don't have a mandolin, we recommend using a sharp knife and taking your time to slice the veggies as thin as possible.
The vegetables will cook at different speeds, so keep an eye on the crisps while they're in the oven and remove any that look like they might be about to burn.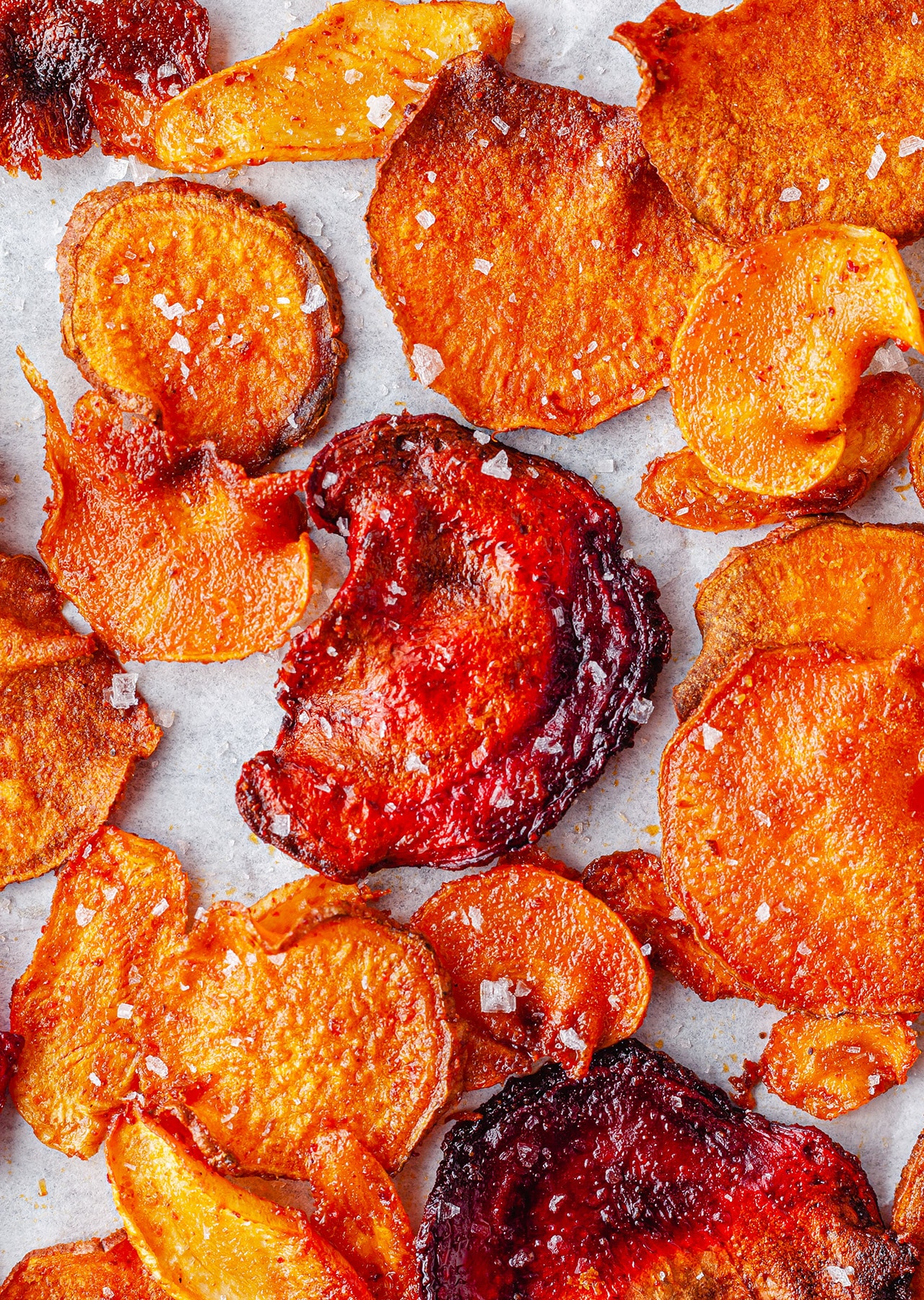 Ingredients
1/2 sweet potato
1 carrot
1 parsnip
1/2 beetroot
4 tbsp olive oil
1 tsp nutritional yeast
1 tsp garlic powder
1/2 tsp salt
1/2 tsp cayenne pepper
1 tsp paprika
Method
First thinly slice the vegetables approximately 2mm thick. We recommend using a mandolin with a safety handle or taking your time with a sharp knife.

Preheat the oven to 140°C fan / 325°F and line a large baking tray with baking paper.

Place the vegetable slices in a mixing bowl and drizzle over the olive oil, then add all the remaining seasoning and spices.

Give everything a good mix, making sure all the vegetable slices are separated and coated with the seasoning. Transfer to the baking tray, making sure the slices don't overlap (note: you might need to use two or three trays, depending on their size).

Place in the oven for approximately 40–50 minutes, checking after 25 minutes and removing any crisps that are already cooked. The beetroot will be the last vegetable ready (it tends to take 20 minutes longer than the other vegetables).
Did You Make This Recipe?
Don't forget to share your SO VEGAN creations on Instagram and tag us at
@SOVEGAN
!