We love how the freshness in this dish!
The creamy tang of feta perfectly complements the earthy richness of the beets in this delicious meal, which can be served up as a simple dinner or an impressive side at barbecues and parties.
Vegan feta is now available in most large supermarkets. If you can't find it, you could try more specialist vegan and plant-based stores.
We like to drizzle a little extra virgin olive oil in the whipped feta but olive oil will do, too
We use a soy-based yoghurt but you can also use an oat-based yoghurt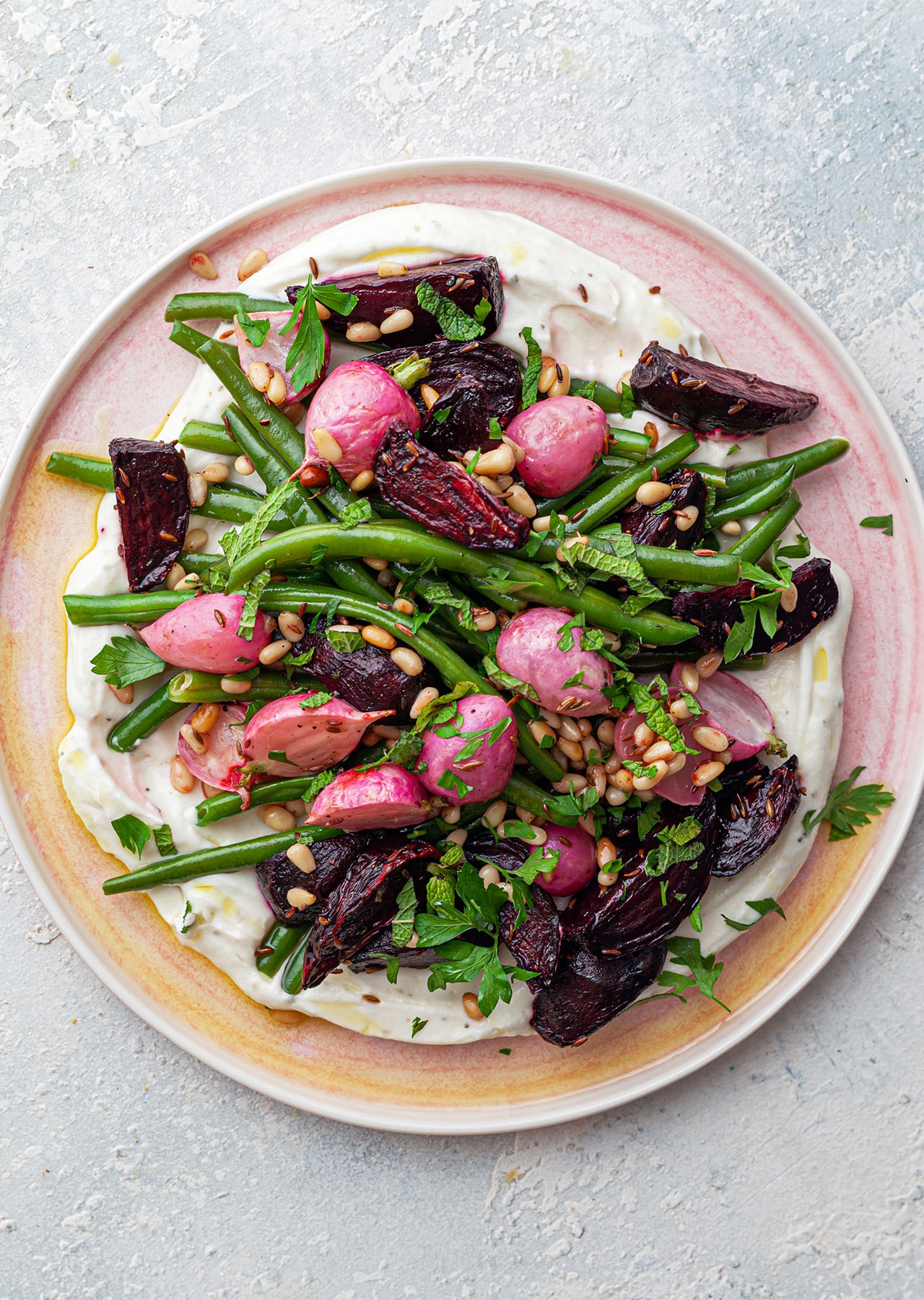 Ingredients
450g (15.9oz) beetroot, peeled + sliced into wedges
olive oil
salt + pepper
250g (8.8oz) radishes
30g (1.1oz) pine nuts
2 tsp cumin seeds
200g (7.1oz) fine green beans, ends trimmed
1 handful of fresh herbs, roughly chopped (we use mint and parsley)
For the whipped feta:
200g (7.1oz) vegan feta
200g (7.1oz) plant-based yoghurt, see notes
1 garlic clove, peeled
1/2 tsp dried oregano
1 lemon, juice only
Method
Preheat the oven to 180°C fan / 400°F.
Add the beetroot wedges to a baking tray. Drizzle with olive oil and sprinkle with salt and pepper. Toss then roast for 30 minutes.
Meanwhile, to make the whipped vegan feta add the vegan feta, plant-based yoghurt, garlic, oregano, lemon juice and a drizzle of olive oil to a food processor and blend until smooth.
Once the beetroot has finished cooking, add the radishes and pine nuts to the baking tray. Drizzle a little more oil over everything and sprinkle with the cumin seeds. Roast everything together for another 5-8 minutes until the pine nuts are golden.
Meanwhile, bring a pot of water to a rolling boil, add the green beans and blanch for 5 minutes until soft. Then drain.
To serve, spread the whipped feta on a serving plate, and top with the roasted beetroot, radishes, pine nuts and the blanched green beans.
Finally finish with a sprinkling of fresh herbs and a drizzle of oil.
Did You Make This Recipe?
Don't forget to share your SO VEGAN creations on Instagram and tag us at
@SOVEGAN
!